Every meal at McDonald's brings customers closer to winning a car, cash prizes, gold bar sets, family holiday packages and more!
The Monopoly Game will return to McDonald's on 3 November 2016 with more extravagant prizes! With more ways to play and more chances to win, customers can look forward to winning a brand new Citroën C4 Cactus, OCBC Bank cash prizes worth S$40,000, Nestle Gold Bar sets worth $25,000, and Star Cruises Family Holiday packages worth more than $7,000, and many more prizes!
"We know that our customers have enjoyed the Monopoly Game at McDonald's in previous years. This time, we are elevating the thrill of the game by offering customers the chance to win bigger and with more chances to win. Every meal with McDonald's will bring them closer to winning!" said Yvonne Low, Senior Director of Marketing, McDonald's Singapore. "More importantly, we are continuously looking for ways to delight our customers – be it by our food or the fun and unique experiences that we have to offer."
3 Ways to Play
From 3 November to 28 December 2016, customers will be entitled to a Monopoly Game Label with every purchase of an Extra Value Meal. This year's edition will see more touch points for customers to play the game including at all McDonald's restaurants which comprises Self Ordering Kiosks and Drive-Thrus, at McCafé counters and via McDelivery. Upsized Extra Value Meals and McDelivery Bundle Meals entitle customers to more Game Labels.
3 Ways to Win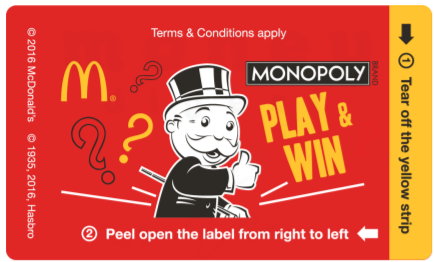 Every Game Label represents a chance of winning an attractive prize in three different ways: Collect to Win, Instant Win and Chance Card.
Collect to Win:

Customers who collect all property Game Labels within the same colour group as shown on the game board will win the prize corresponding to that colour.

Instant Win:

For customers who receive an Instant Win Game Label, they can either redeem the prize by presenting it at any McDonald's restaurant or by following the redemption instructions, indicated on the label, to claim the prize directly from the prize partner's outlet before the expiry date.

Chance Card:

Chance Cards enable customers to enter a Weekly Lucky Draw by registering the given code number on www.mcdwin.com by 30 December 2016. Over a period of eight weeks, five winners will be picked each week to win a NETS Flash-Pay card pre-loaded with a value of S$500. There will be a total of 40 winners at the end of the lucky draw. Registered entries which do not win in a particular week will automatically roll over to the next draw in the following week and finally to the Final Prize Draw on 12 January 2017. Registered entries that have won a Weekly Draw will not be eligible for future draws, including the Final Prize Draw.
Meal Donation
In addition, McDonald's is partnering with The Food Bank Singapore Ltd to allow customers to donate their meals. Those who wish to donate their meals can simply inform the counter crew when they place their order. Donated meals will be valued at $5.00 each and will be presented to The Food Bank Singapore Ltd in the form of McDonald's meal vouchers at the end of the promotion.
For more information on Game Play and Terms and Condition, customer can log on to www.mcdwin.com
About McDonald's Monopoly Game Promotion
The McDonald's Monopoly Game lasts for 8 weeks starting from 0400hr on Thursday 3 November 2016 to 2359hr on Wednesday 28 December 2016, unless the Game Labels run out before then.
Participants have to be a legal resident of Singapore with a valid NRIC or FIN number. Employees and immediate family members of McDonald's, prize partners and McDonald's partner agencies who have assisted in this promotion are not entitled to participate in this game.
McDonald's Monopoly Game Board and Instructions (Available in McDonald's restaurants and via www.mcdwin.com)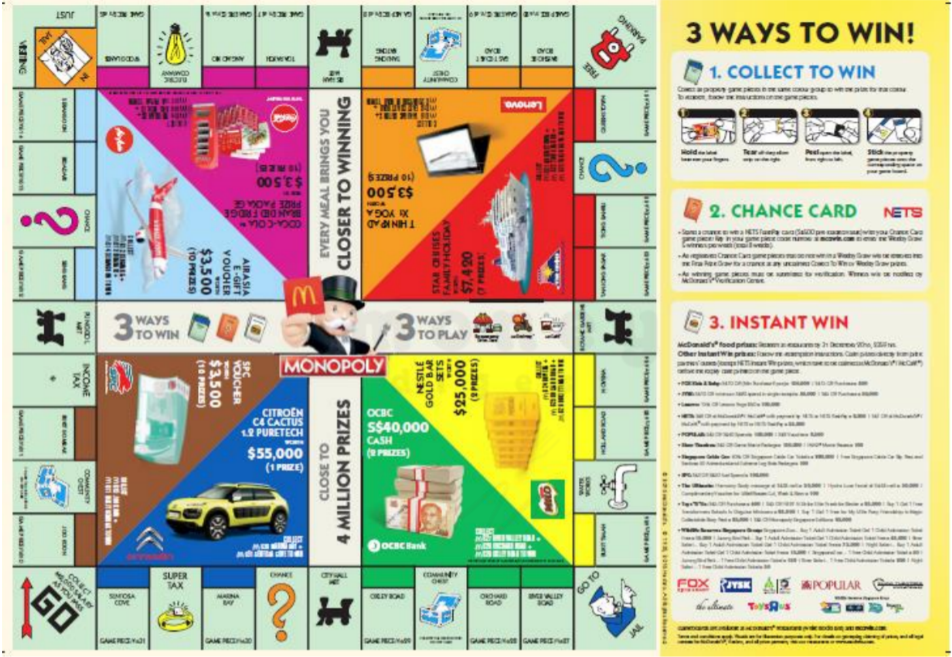 Entitlement of Game Labels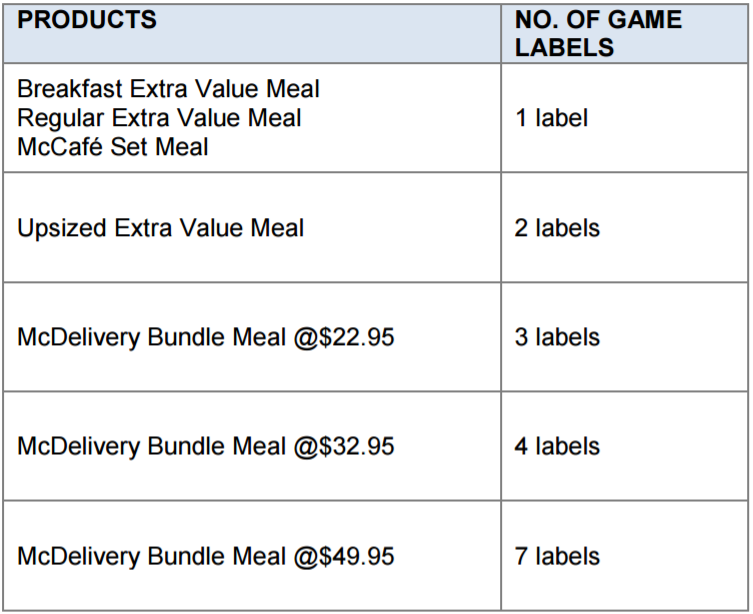 Redemption of Prizes
All Collect to Win and Chance Card Lucky Draw prizes and certain Partner Instant Win prizes can only be claimed if the winner is aged 18 years or above. If the winner is under 18, the winner's parent / guardian must claim the prize on his behalf. Customers can refer to the full Terms & Conditions on www.mcdwin.com for more details.
Collect to Win
Customer has to collect a Declaration Envelope from the Restaurant/ Shift Manager at any McDonald's Restaurant and submit their claim no later than 6 January 2017 to the Verification Centre for validation.
Chance Card
Customer has to register his Chance Card code on www.mcdwin.com by 2359hr 30 December 2016 to enter the Weekly Draw and Final Prize Draw. Lucky Draw winners will be contacted by McDonald's Verification Centre. Winners of Weekly Draws have to submit their prize claim to the Verification Centre no later than 10 January 2017 while winners of Final Prize Draw have to submit their prize claim to the Verification Centre no later than 21 January 2017.
Instant Win
Partner Prizes Customer can refer to the redemption instruction and expiry date printed on the game piece for all Instant Win partner prizes.
McDonald's food prizes can be redeemed in the restaurants by 2359hr on 31 December 2016 during the hours the product is served (as printed on the Game Label).
NETs instant win discount prizes can be redeemed in the restaurants by 2359hr 31 January 2017.
Prize List