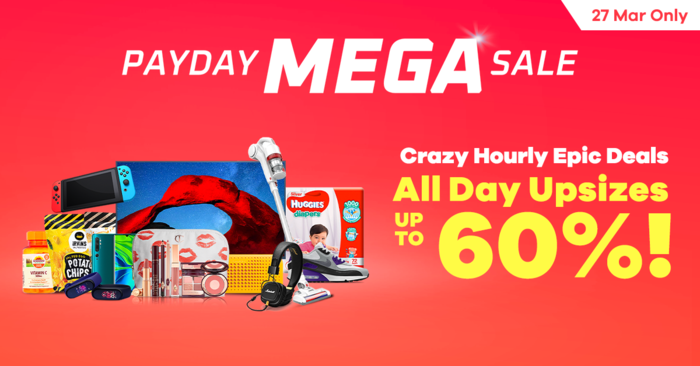 Rain-check, it's Pay-day! With all that hard work you put in, who is to say you don't deserve a good treat?

If you're still feeling guilty about treating yourself, reward yourself with ShopBack's Pay-Day Mega Sale (happening on the 27th Mar) with up to 60% Upsized Cashback. 
Whether you've been counting down to your Pay-day or can't wait to dive into deals to treat yourself, here's 3 things you must know to make this Pay-Day treat even sweeter. Read more to find out! 
1. EPIC HOURLY UPSIZES
Been wanting to buy something while counting down to pay-day? You can now make the most when you shop during ShopBack's Epic Hourly deals! 
Enjoy upsized cashback on your favourite brands such as Amazon, Sephora, ASOS, Cotton On, Circles Life, Adidas and many more. Now, you can treat yourself, without the guilt. 
Here's the ShopBack's Epic Hourly Cheatsheet so you can be sure to get your favourite item AND earn cashback at the same time.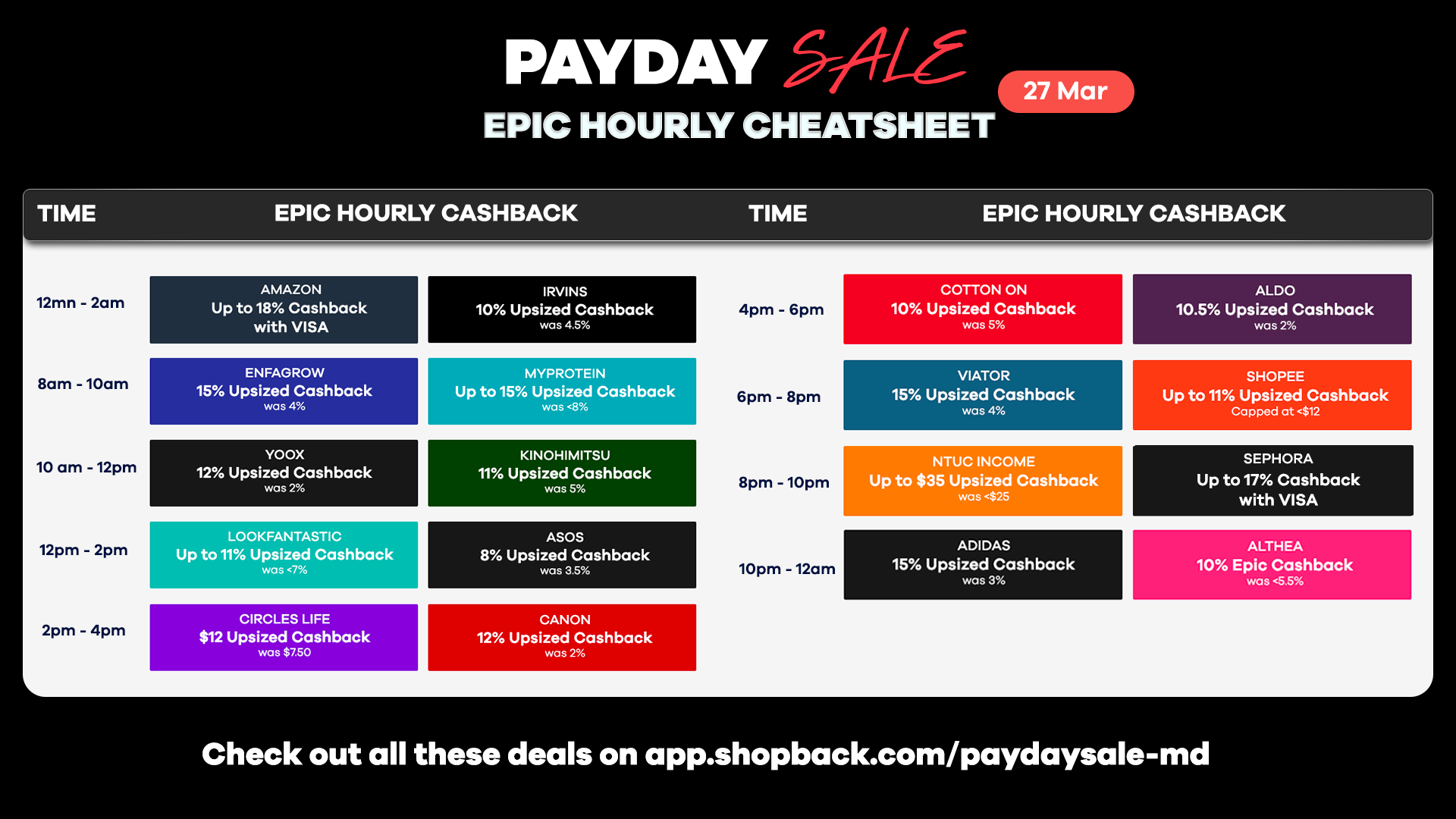 2. VISA USERS
If you've got a VISA Card, Here's an even sweeter deal you can treat yourself to. With the VISA Card, you'll enjoy up to 18% Upsized Cashback when you shop with Amazon & Sephora this Pay-day! 
Simply link your VISA Card to your and shop on Amazon (between 12am – 2am) and Sephora (between 8pm – 10pm) on 27th March to earn extra cashback.*T&Cs Applies

3. EARN WHILE YOU SHOP
Celebrate the simple joys in life with Shopee! On the 27th March, Shopee will be having a Mega Million $ Discount Sale and you won't want to miss it. Catch your favourite brands and even more savings when you shop Shopee through ShopBack. 
New to Shopee? Catch Shopee in ShopBack's Epic Hourly and enjoy up to 11% Upsized Cashback! 
If you want to just take your mind off things and prefer to take it slow with your online shopping, fret not! You can still enjoy upsized cashback on these brands when you shop with ShopBack.
Here are some great ALL DAY upsizes that you would love! From food to electronics, fashion and even health and beauty, there's surely a good deal for you!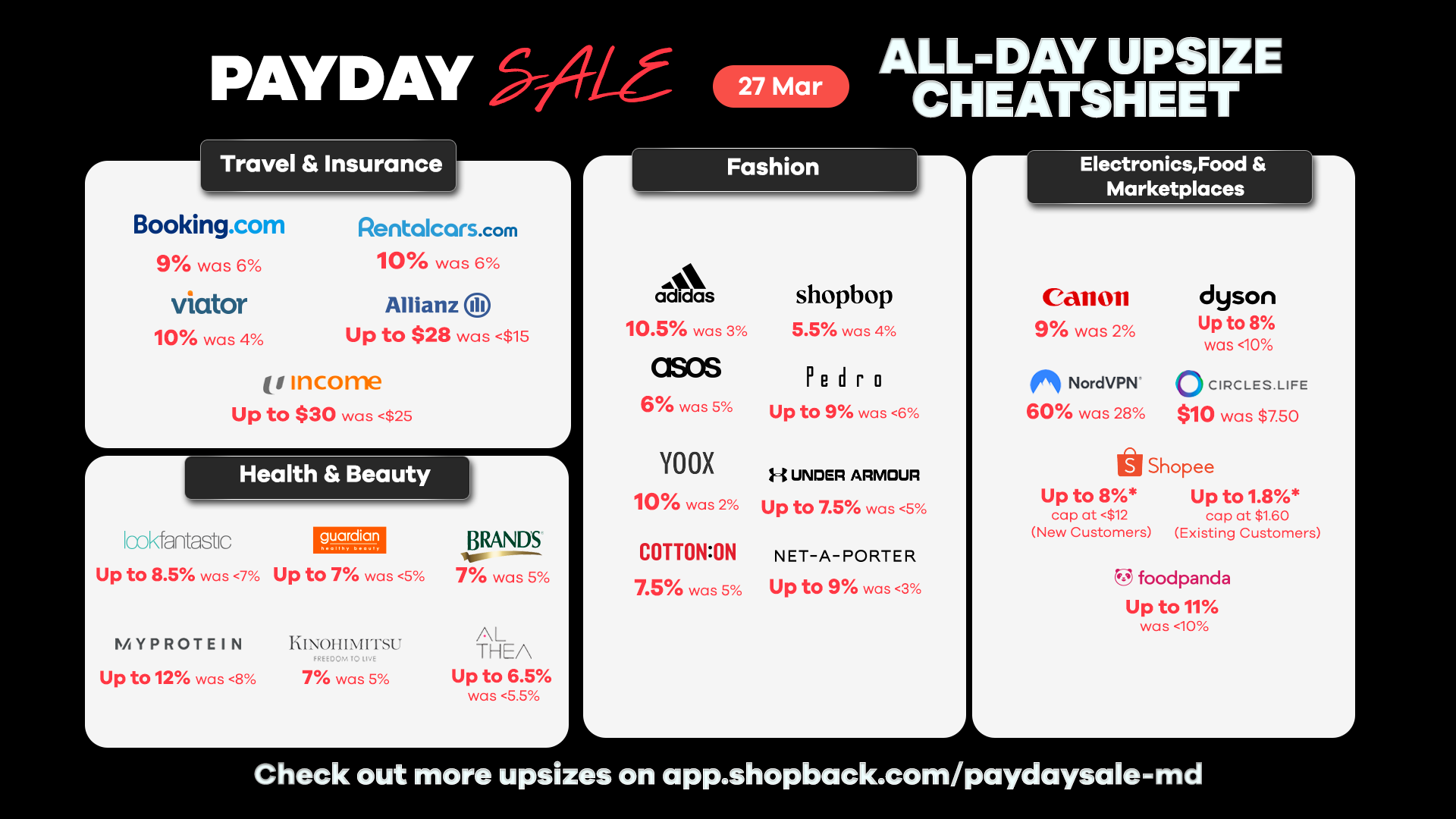 NOT YOUR PAY DAY YET?
Still waiting for your pay to roll in? Rest easy because you can still shop upsized cashback on your shopping! Check out all of ShopBack's Upsizes here, happening from now till 31st March.
---
How ShopBack Works
ShopBack is a platform that allows users to earn up to 30% cashback every time they make an online purchase from 500+ stores like Lazada, Qoo10, Shopee, Foodpanda, Agoda & more. ShopBack is free to join and is available on desktop, app store, play store and on browser extension. Learn more here.