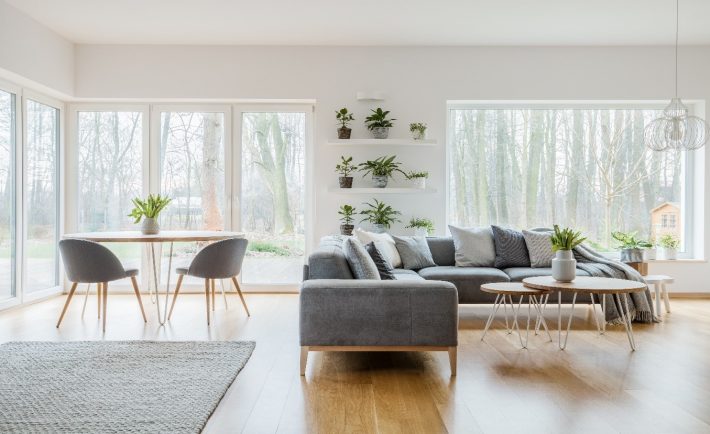 Image Courtesy: Shutterstock
If you feel that beauty lies in simplicity, then Scandinavian interior design is sure to leave you impressed! Right from its emergence in the early twentieth century, this aesthetic embodies a well-conveyed sense of minimalism, backed with versatility. So, it's no surprise why so many interior designers and décor aficionados have fallen in love with it.
So, what exactly is Scandinavian interior design, and what makes it such a popular choice for living room décor?
Let's look at the various elements of this design and why they fit so well in every home!
What Is Scandinavian Interior Design?
Scandinavian design is made up of a few distinct and significant elements. When these elements are brought together properly, the end result is a visually calming and highly functional living space.
Colour, texture, materials, lines, and light are perhaps the most important factors to consider when creating a Scandinavian living room design. In essence, you would want to strike a balance between a functional and minimalist space, while ensuring the whole décor maintains a sense of comfort.
Here are some essential elements to keep in mind for your Scandinavian living room décor.
Light Toned Colour Canvas
Choosing the correct colour palette is amongst the most crucial aspects of Scandinavian design. In all its simplicity, when mindfully chosen, a 'Scandi' colour palette helps bring together the interiors of the whole house together.
To establish a sense of tidiness, Scandinavian living room designs incorporate cleaner, subdued colour palettes that can very well be used in combination with shades of lighter colours to brighten up an entire space.
What's special about this design concept is that colour neutrality builds coherence between different rooms. How so? Scandinavian interior designs make your house feel more like one big, unified space that is both aesthetically pleasing and also very functional.
Inclusion Of Natural Wood
Wood is a key component in Scandinavian interior designs. You can use wood elements on the walls and floors, giving your living room a rather natural appearance and positively affecting your emotions.
That being said, if you'd like to perfect the Scandinavian design, you can't simply use any type of wood you want. You will have to make sure that you only use lighter woods to complement the light colour palette effortlessly.
Light, neutral-toned, and muted woods such as beechwood and pinewood make for great choices. In recent years, mohair, ash, burlaps, and jute throws, have grown in popularity. Depending on your preference, you can also mix and match different wood types to produce the ideal look for your living room.
Functionality
Scandinavian design concepts are more than just about appearance – as functionality plays a huge role here. Come to think of it, isn't it more important to ensure that your home is pleasant to live in than just look good?
Designers have an expression that says, 'form follows function,' and essentially, you could always make the most out of your living space by making it as functional as possible before you start to design it.
The first thing to think about here would be developing a functional layout such as a floorplan that improves comfort and makes moving around simpler. The floorplan of a Scandinavian living room should have adequate open space, with nothing obstructing your line of sight.
Now that we are talking about functionality, another major element that you need to consider is storage. There probably isn't anything worse in the Scandinavian culture than a messy, cluttered room, so including appropriate storage elements is a must to abide by this design.
Your Way To Scandinavian Paradise
Scandinavian interior designs primarily focus on craftsmanship, clean lines, and natural materials, and has continued to stay just as popular as it had been back in the day of its origin. However, there is a lot that goes into ensuring you nail the perfect Scandinavian interiors. While you may want to release your inner hygge, it is still advised that you approach interior designing brands to make sure you get the best interiors.
Reputable interior designing brands such as LivSpace specialise in providing end-to-end solutions for Scandinavian interior designs, as well as a host of other décor options for you to choose from. So, if you want to bring to life your Scandinavian home dreams, get a free consultation from LivSpace and experience the new way of interior designing!