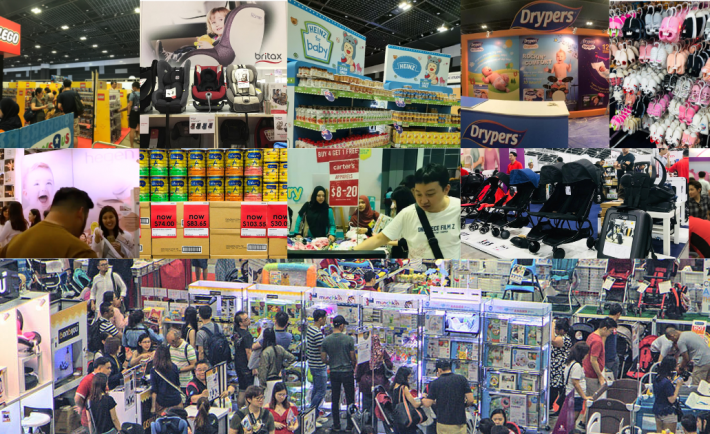 SuperMom x Shopee Baby Fair 2022
https://welovesupermom.com/asia-largest-premium-baby-fair-aug-2022
5 – 7 Aug | MARINA BAY SANDS
11 am – 9pm on Friday and Sat
11 am – 8pm on Sun
The Largest Premium Baby Fair in Singapore
As any parent knows, raising a child can be expensive. From the cost of diapers and formula to clothes and toys, there are a lot of expenses that come with being a parent. Fortunately, the Shopee X Supermom Baby Fair has everything you need at low prices. Whether you're looking for Baby Cots, Strollers, Car Seats, Breast pumps, Baby Wipes, Confinement Packages, Confinement Herbs or just about anything else for yourself and your baby, you'll be sure to find it at the baby fair. And since all of the big brands and products are being offered at discounted prices, you'll be able to save big on everything you need.
Here's Why You Shouldn't Miss Supermom x Shopee's Baby Fair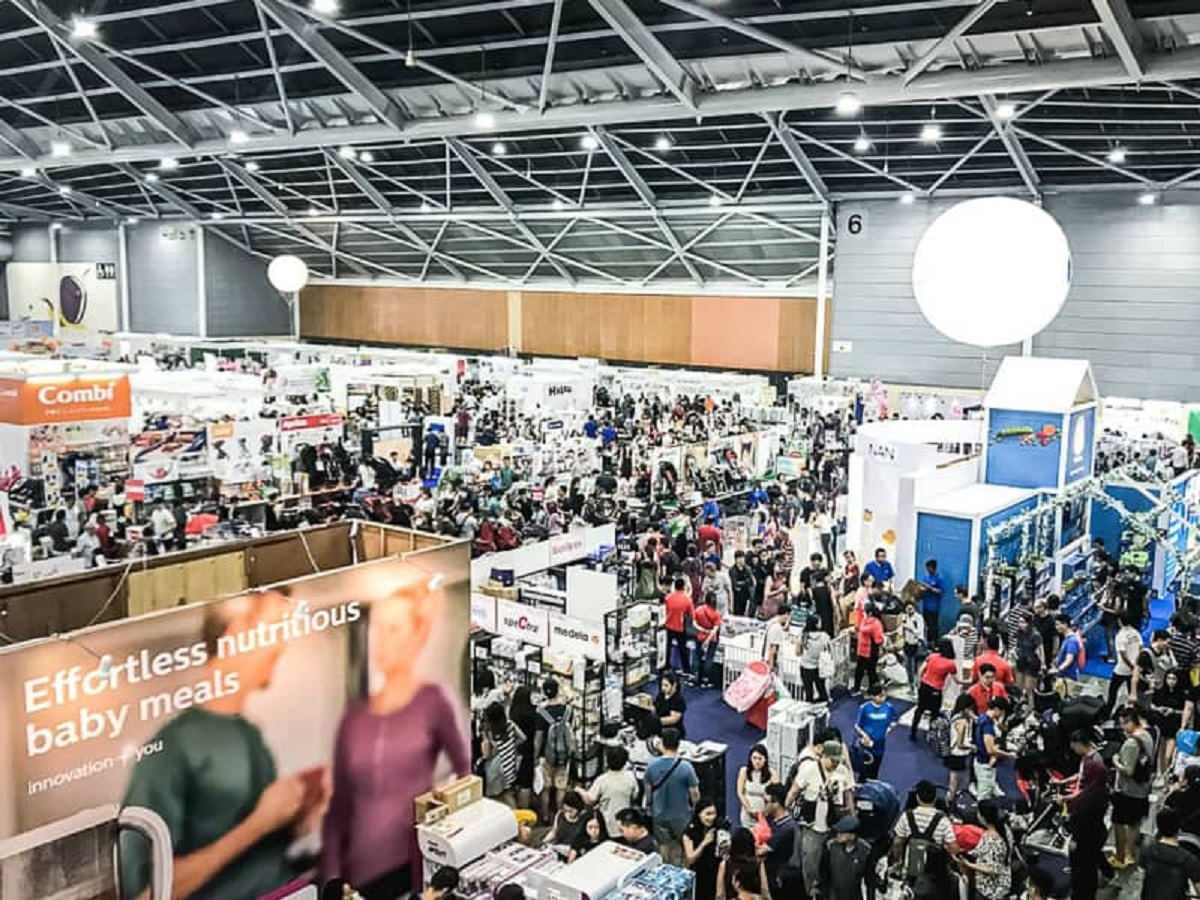 SuperMom is committed to giving mothers the best possible shopping experience. That's why we've partnered with Shopee and gathered direct distributors and wholesalers to offer the biggest selection of top brands and products at the best prices.
Over 250,000 brands and products items will be on sale, so you're sure to find exactly what you need. Top brands participating include Bugaboo, Babyzen, Hegen, Philips Avent, Medela, Spectra, Keenz, Bonbijou, Parklon, Jujube, Disney Baby, Tula, Ergobaby, Skiphop, Ingenuity, Beaba, Lillibaby, Love Bonito and many more. You are guaranteed:
 BIGGEST Variety of Products
 TOP PREMIUM Baby Brands
 BEST Deals Direct from Distributors & Brand Owners
 MOST Enjoyable Baby Fair Shopping Experience @ MBS
 XTRA $30 Discount on Preorder Sponsored by Shopee
With over 250,000 brands and products, our baby fair will be a shopping paradise for all parents and parents-to-be! No other baby fair comes close! So don't forget to save these dates if you want to experience the LARGEST & MOST PREMIUM BABY FAIR ever in history:
Mark your calendar for 2 important dates
25-29 July 2022 | Online PREORDER with Xtra $30 off | www.welovesupermom.com
5-7 August 2022 | from 11am to 9pm | Marina Bay Sands Singapore
3 things you must do to get the max out of our baby fair:
Step 1: Sign up as SuperMom VIP baby fair members here
Step 2: Click "Going" at SuperMom Baby Fair Event page here
Step 3: Add 2 important dates to your calendar so that you don't miss out on the deals
Save More with Exclusive Baby Fair VIP Perks
Top baby fair tip: sign up as baby fair VIP to be entitled for exclusive VIP perks such as xtra preorder discounts, cashback at baby fair, lucky draw and freebies for maximum savings! These VIP exclusive perks include:

1. Exclusive $30 pre-order discount code
Our preorder allows parents to chope highly popular products before baby fair at extra discounts. Seller will normally price Pre-order items at a lower price compared to baby fair. On top, this time round, Shopee is giving extra $30 with just $250 spending. So don't wait, sign up as baby fair today to receive your pre-order discount code.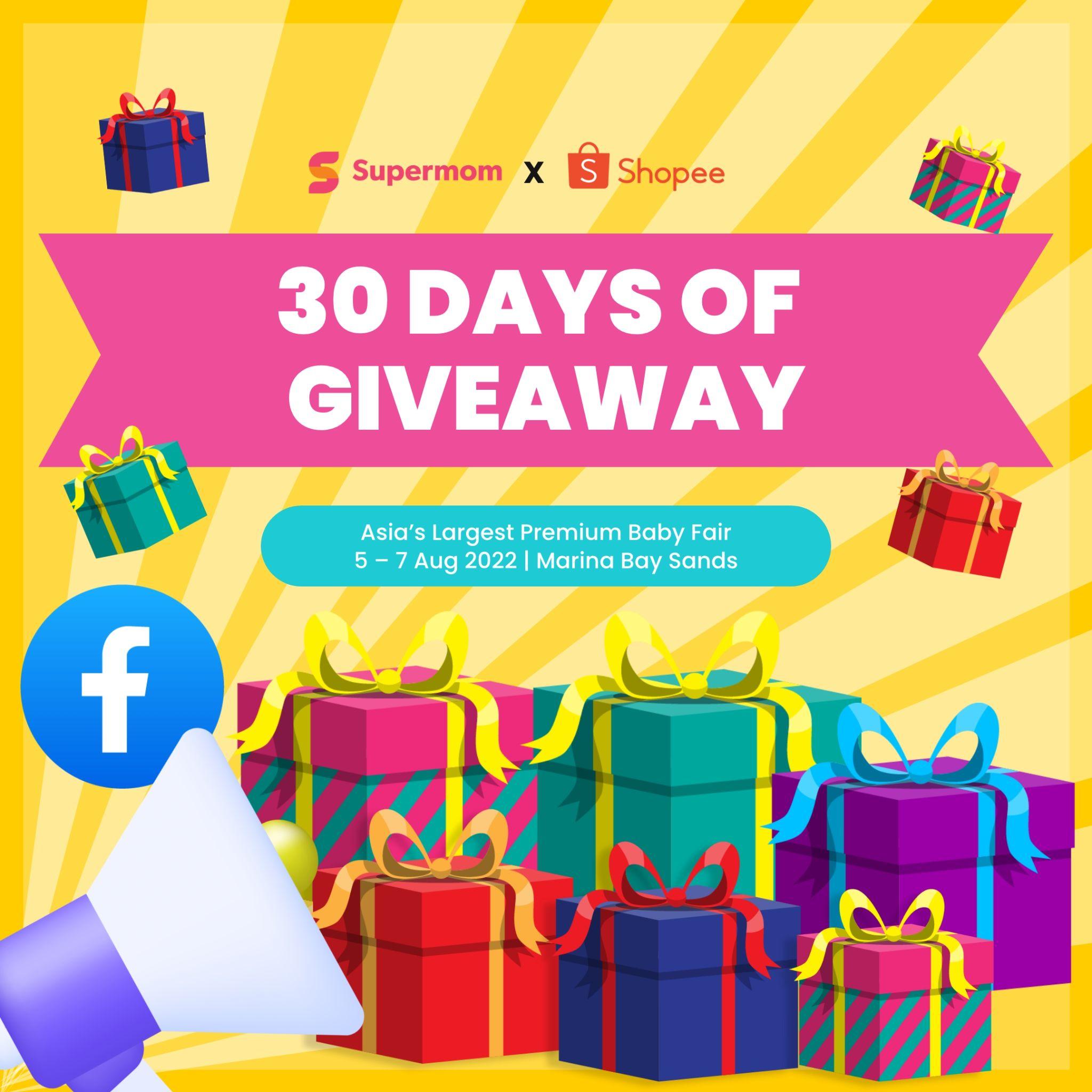 2. 30 Days of Product Giveaway
In anticipation of the largest baby fair in Asia, we are giving away mom and baby products from participating brands from July 1-30. Highly raved and top brands are included in this 30 Days giveaway! If you want to be updated on our daily giveaway, make sure to click "Going" on our Facebook Event Page to keep you posted.
3. Over $288 Worth of Jumbo Goodie Bags

Baby shopping can be a huge expense, so it's important to take advantage of opportunities to save money. The Supermom x Shopee Baby Fair is one of the best times to stock up on supplies for your little one. Not only do vendors offer significant discounts, but you can also get a free goodie bag worth $288 just by spending $100 at the fair. You can't find that offer on any other baby fair!!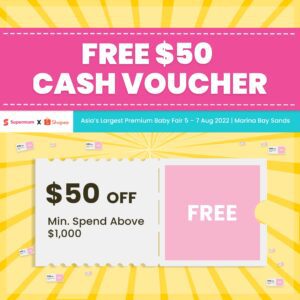 To sweeten the deal, the first 500 shoppers daily to spend above $1,000 will receive FREE $50 cash vouchers. That's right – $50 cash back on all your favorite baby products! There's never been a better time to stock up on all your baby needs.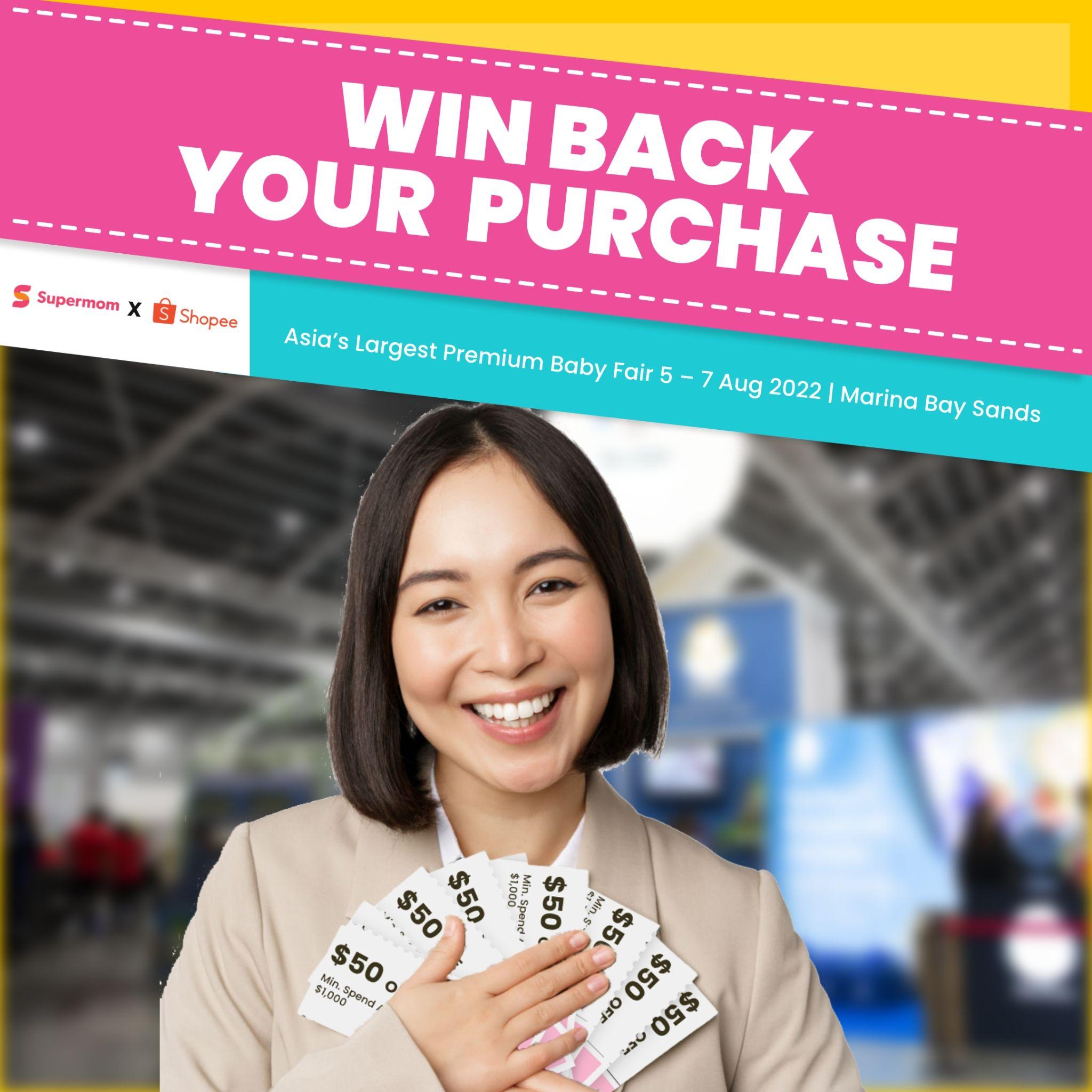 5. Hourly lucky winner who will get to win back every SGD they spend at the baby fair
With so many chances to win, being a VIP member at the fair is definitely a perk worth signing up for! Not only do you get to enjoy all the fun of the fair, but you also have the chance to win back 100% of what you spend. That's right, for every hour from 11am to 6pm, we will pick one lucky VIP to win back 100% of what they spend at the fair! The lucky VIP parent will be chosen every hour so there are lots of chances of winning. So don't wait, sign up today and enjoy all the benefits of being a VIP member at the fair!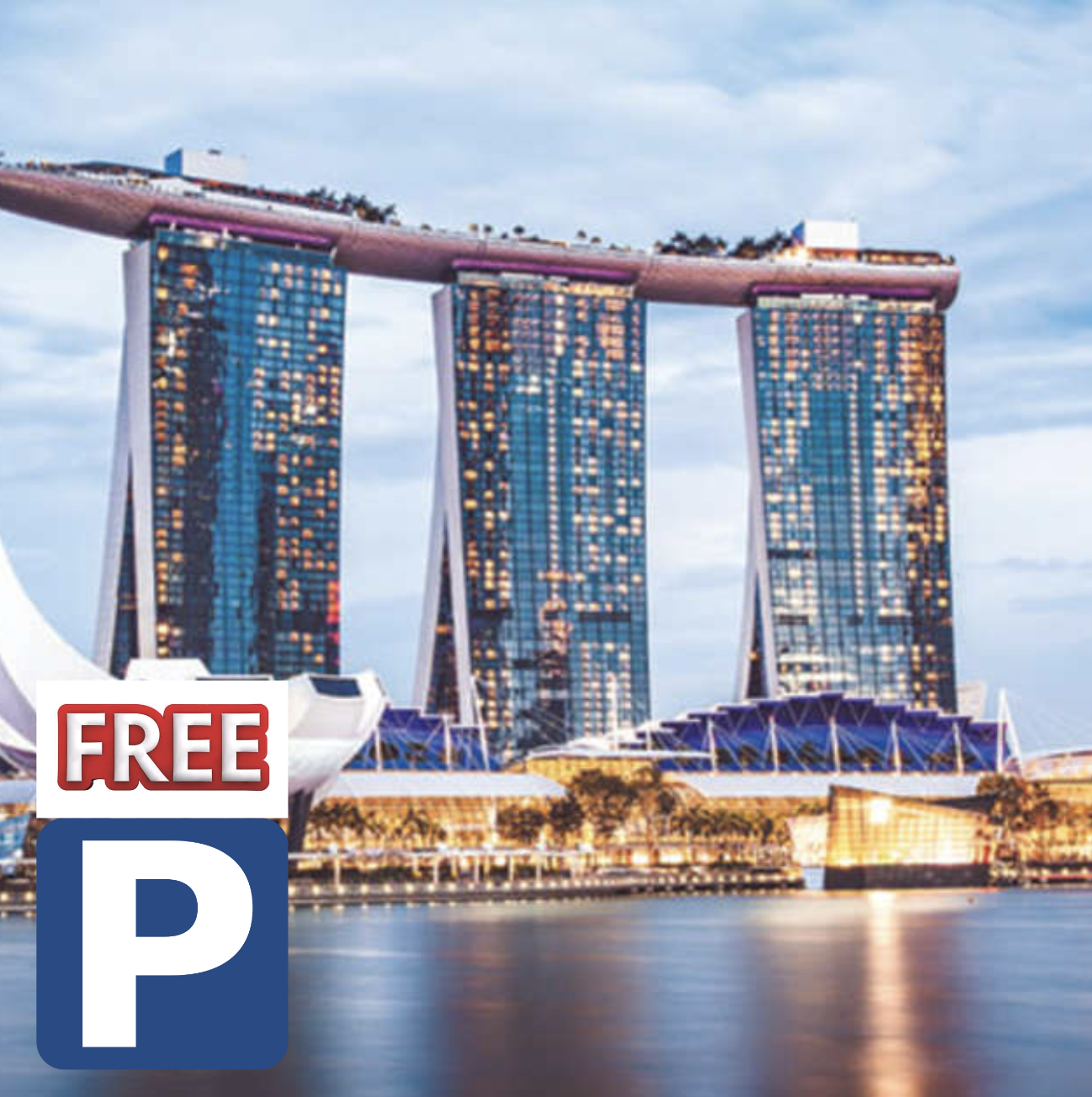 6. Free Parking for the first 500 DAILY
As a busy mom, one of the last things you want to worry about is finding a parking spot. But at Supermom Premium Baby Fair, we've got you covered with our free valet parking service for the first 500 daily. Just drop your car off at the entrance and our team will take care of the rest. Then you can enjoy a stress-free shopping experience as you browse through all the latest and greatest baby products.
7. $20,000+ worth of discount coupons for Xtra Saving across 3 days of the baby fair
Looking for ways to save on baby-related expenses? Check out the Supermom x Shopee baby fair, where you can find specially curated discount coupons worth more than $20,000 on top of already discounted products. With deals on everything from strollers and car seats to diapers and formula, this is the perfect event for new and expecting parents looking to stretch their budget.
Enjoy these Perks, Sign Up as Baby Fair VIP Today!
As a parent, you want what's best for your baby. You want them to have the best start in life, and you want to be able to provide them with everything they need. That's why signing up as a VIP member of a baby fair is a no-brainer. As a VIP member, you'll enjoy exclusive access to deals and discounts on top-brand baby products. So why not sign up today? After all, it's FREE tto do so, and you'll be glad you did.
https://welovesupermom.com/asia-largest-premium-baby-fair-aug-2022
EXTRA TIP: PRE-ORDER EARLY TO GET BEST DISCOUNTS
25 – 29 July | welovesupermom.com
As any savvy shopper knows, it pays to plan ahead when it comes to big sales events. And with the Supermom x Shopee Baby Fair 2022 pre-order coming up on 25th July, start creating your shopping list and get ready to chiong when pre-order starts.
Remember that when you pre-order you can use Shopee Discount Voucher on top of Seller Discount and Seller Voucher. You can even use your shopee coins to offset your spending.
Example
Joie Stroller is selling at $399 at preorder (UP: $599)
Joie Seller offers $30 discount for $300 spending
Shopee offers $30 Off Pre-order discount with a minimum spend of $250
So if you pre-order a Joie Stroller. You save
$200 from the discounted price + $30 from Joie Seller + $30 from Shopee!!!
You will save a total of $260 and pay only $339 for a stroller that is selling at $599 in retail shop.
Such a steal, where to find? Only at Supermom x Shopee Baby Fair Pre-order happening from 25 – 29th July
In order to receive and grab these stackable Shopee vouchers, you must sign up as our baby fair VIP.
After you pre-order, simply go to baby fair on 5 – 7 Aug to collect your pre-order items. Remember you can skip the q when you collect your pre-order.
Enjoy EXTRA DISCOUNTS during SuperMom Baby Fair event: 
All Shopee Mum's Club Members: $10 off $100
Premium Shopee Mum's Club Members: $25 off $250
SuperMom VIP Exclusive: $30 off $250 (limited qty – 300 qty released through SuperMom channels – EDM ONLY)