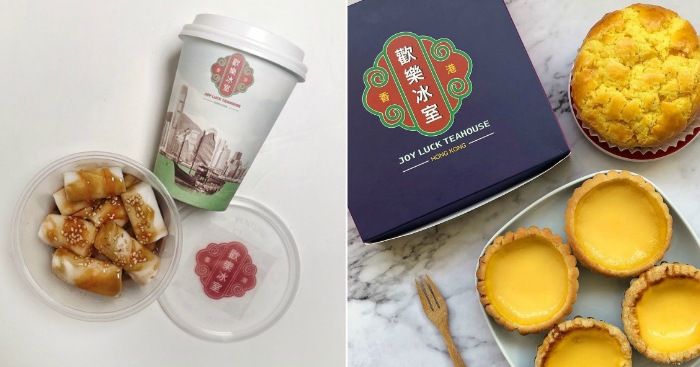 The New Outlet will launch another well-loved Hong Kong Snack – Chee Cheong Fun
Enjoy authentic egg tarts, pineapple buns and Hong Kong-style milk tea, all of which are on UNESCO's Intangible Cultural Heritage of Hong Kong list, now at Bugis Junction
In addition to the 3 culinary treasures from iconic Hong Kong brands, Joy Luck will introduce Chee Cheong Fun, developed together with the supplier which supplies to Hong Kong's top 10 Chee Cheong Fun stores
Chee Cheong Fun will be available exclusively only at Bugis Junction outlet
10% off Chee Cheong Fun for all walk-in customers on the first 3 days of opening, 2 – 4 October 2020
Joy Luck Teahouse(歡樂冰室), which offers the three famous culinary treasures of Hong Kong — egg tarts, pineapple buns and milk tea — will open its second outlet on 2 October 2020 at Bugis Junction, #B1-K25. A part of Hong Kong's food legacy, these three offerings are recognised on UNESCO's Intangible Cultural Heritage of Hong Kong list. Besides the three items, Joy Luck Teahouse will also dole out Hong Kong Fish Balls and an array of Hong Kong-style beverages. These items are from notable brands in Hong Kong, lauded by famous celebrities such as Chow Yun-Fat, Liza Wang, Paula Tsui, Wong Cho-Lam and Dicky Cheung.
Joy Luck Teahouse will also launch another popular Hong Kong snack – Hong Kong-style Chee Cheong Fun, which will be available exclusively only at the Bugis Junction outlet. Joy Luck Teahouse works with the same supplier in Hong Kong which supplies to the top 10 Chee Cheong Fun stores in Hong Kong, one of which is a Michelin Plate Award recipient. Joy Luck Teahouse's pursuit of quality chee cheong fun with the experienced supplier has resulted in the introduction of a  smooth and tasty Hong Kong-Style Chee Cheong Fun to Singapore.
The rolled up rice noodle sheets at Joy Luck are served in the traditional street-snack style, with the authentic mix of soya sauce, sesame peanut sauce, sweet sauce and chilli sauce.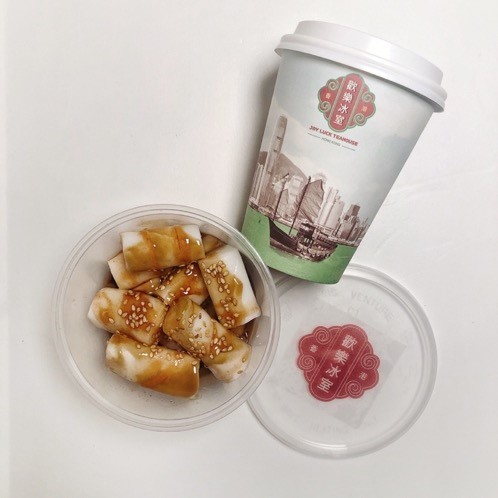 Joy Luck Teahouse is always on the lookout for delicious, authentic Hong Kong snacks and aims to introduce even more quality snacks to Singapore.
Offerings by legendary brands that are lauded by Hong Kong stars 
Hoover Cake Shop (豪華餅店)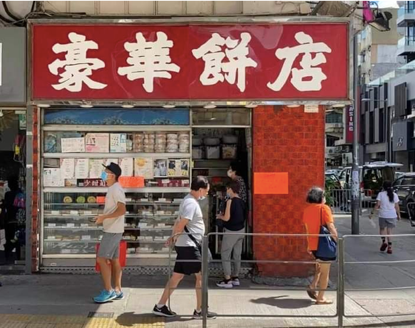 There will be two kinds of egg tarts, which are from Hoover Cake Shop (豪華餅店): puff pastry and butter cookie. Smooth, wobbly and creamy, the custard is made with high-quality eggs and butter, hitting just the right note of sweetness. Veteran thespians Chow Yun-Fat and Liza Wang Ming-Chuen are fans of these egg tarts.
Kam Kee Café (金記冰室)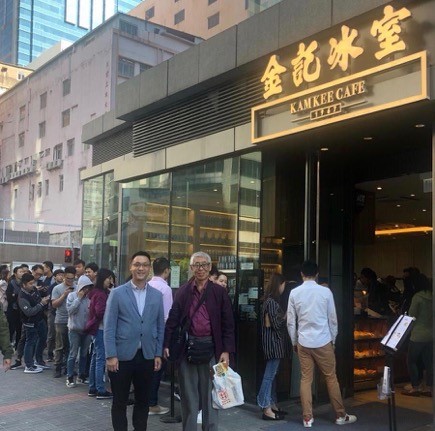 The Hong Kong pineapple bun hails from Kam Kee Café (金記冰室), a stalwart in Hong Kong's cha chaan teng scene. It is firm on the outside with a sweet, crumbly golden crust that resembles a pineapple and covers almost the entire exterior to provide crunch in every bite. The bun is also stuffed with a generous slab of fragrant premium butter in the middle (Bo Lo Yau) that melts within the soft warm bread. Other fillings such as kaya and luncheon meat will also be available. The Hong Kong-style milk tea also follows Kam Kee's secret recipe that calls for a blend of superior-quality tea leaves imported from Sri Lanka. European full cream evaporated milk is added to the brew to lend a moderately sweet flavour. The tea is said to be a favourite of singer-actor Dicky Cheung. It was also served at the 50th World Economic Forum Annual Meeting held in Davos, Switzerland, an international political event attended by dignitaries such as former US Vice President Al Gore, Hong Kong Leader Carrie Lam, German Chancellor Angela Merkel and many other world political and business leaders. Exclusive to Singapore will be the first ever Hong Kong-style bubble tea. Named Pearl of the Orient, it is made with Joy Luck Teahouse's milk tea, complemented with a generous amount of brown sugar tapioca balls.
Tak Hing Fishball Company (德興魚蛋公司)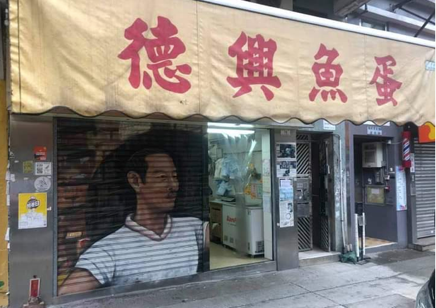 Also available here are Hong Kong Fish Balls, the most popular street food in the city. The fish balls are by Tak Hing Fishball Company (德興魚蛋公司): the freshly made fish paste is smooth and soft in texture with no flour or additives added. Tak Hing is famous for its authentic Hong Kong curry-flavoured fish balls and has earned a loyal following amongst celebrities such as Chow Yun-Fat, Paula Tsui Siu-fung and Wong Cho-Lam who called them the "Hong Kong Fishball King".
Singapore Pioneer Citizens 50% Discount Program
Joy Luck Teahouse is the newest venture by Singapore-born TV producer Robert Chua. It marks his vision to bring the best of Hong Kong's cuisine to Singapore, which is especially needed during this time of heightened travel restrictions. To honour Singaporean senior citizens who have contributed to nation building, he will be offering those aged 60 years old and above 50% off Hong Kong-style Milk Tea and 8 Treasures Tea when they present their Merdeka or Pioneer Generation cards.
Opening Specials
Sign up as a member and get 10% off regular items with $10 minimum spending until end of October 2020.
10% off Chee Cheong Fun for all walk-in customers on the first 3 days of opening, 2 – 4 October 2020
Bugis Junction Outlet Address:
#B1-K25 Bugis Junction, 200 Victoria Street, Singapore 188021
Operating Hours: 9am to 10pm
ION Outlet Address:
#B4-61 ION Orchard, 2 Orchard Turn, Singapore 238801
Operating Hours: 9am to 10pm
Socials:
Instagram: @joyluck.teahouse https://www.instagram.com/joyluck.teahouse/
Facebook: @joyluck.teahouse https://www.facebook.com/joyluck.teahouse