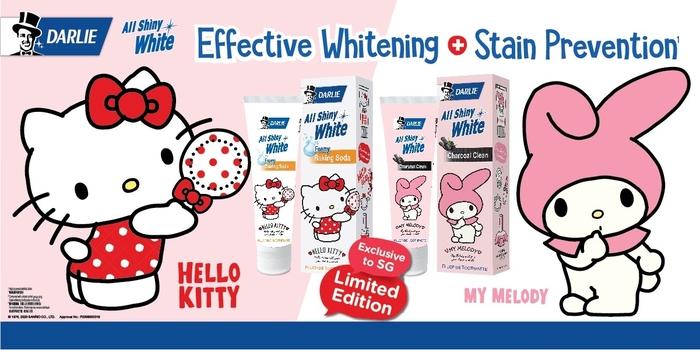 Together in fun forever with Darlie and Hello Kitty
Following the success of the adorable Darlie x Hello Kitty Glass Jars and Tote Bags, Darlie will be launching two limited edition toothpaste featuring Hello Kitty and My Melody. It is the first time Darlie is partnering with Sanrio to create the special designed toothpaste, only available in Singapore AND only available for a limited time period!
Enjoy brushing everyday with an overload of cuteness when you use the Darlie All Shiny White Sanrio Limited Edition Toothpaste (Baking Soda/Charcoal Clean).
Both the Darlie All Shiny White Baking Soda & Charcoal Clean Toothpaste has 2X stain dissovability power1 to remove stains build-up on your teeth and whiten your teeth in just 14 days. It also helps to prevent stains from forming on your teeth, keeping your smiles bright!
Darlie All Shiny White Baking Soda Toothpaste features Hello Kitty in this limited edition pack. The gentle and extra fine baking soda formula produces rich and delicate foam which gently polishes your teeth. It is also infused with natural cold-pressed coconut oil to keep your oral cavity clean and fresh!
Darlie All Shiny White Charcoal Clean Toothpaste is one of Darlie's best sellers and now comes in a limited edition pack featuring My Melody. It contains natural korean bamboo charcoal particles which deeply cleans your oral cavity and freshen your breath!
Let Hello Kitty and My Melody bring a smile everytime you brush your teeth! Get your hands on these adorable toothpaste no! While stocks last!
Retail Suggested Price per pack: $3.80 for a Darlie All Shiny White Sanrio Limited Edition 120g toothpaste
Available at: Selected NTUC Fairprice, Giant, Sheng Siong, Prime, Watsons outlets. Also available on Darlie's Official Store on Shopee & Redmart Online