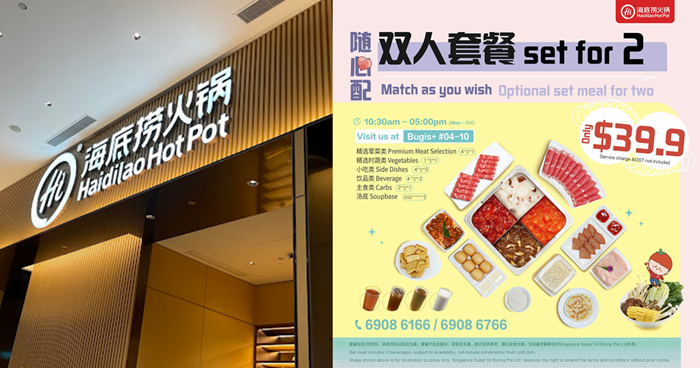 Looking for a hot and delicious meal? Look no further than a steamboat promotion from Haidilao!
Haidilao Singapore announced in a Facebook post that they will be launching a $39.90 Set Meal for 2, 双人套餐, promotion at their Bugis+ outlet.
The promotion will run from Monday to Friday, from 10.30am – 5pm and diners can mix and match as you wish from a range of meat and vegetables selection. It will feature an array of fresh ingredients, including a variety of meats, vegetables, side dishes and carbs. Diners can customize their meal to their liking, creating a unique and satisfying experience every time.
Premium Meat Selection: 4 choose 1
Vegetables: 1 choose 1
Side Dishes: 4 choose 2
Carbs: 2 choose 1
Soupbase: Quarter pot choose 2
Terms & Conditions
*周一至周五 10:30 am – 05:00 pm (公共假期及前夕除外)
*仅限堂食不能外带
*套餐包含2分饮料,具体饮料以到店为准
*套餐不包含酱料,凉菜和水果
*此活动不与其他活动/优惠同享
*活动最终解释权归 Singapore Super Hi Dining Pte Ltd 所有
Address: 201 Victoria St, #04-10 Bugis+, Singapore 188067