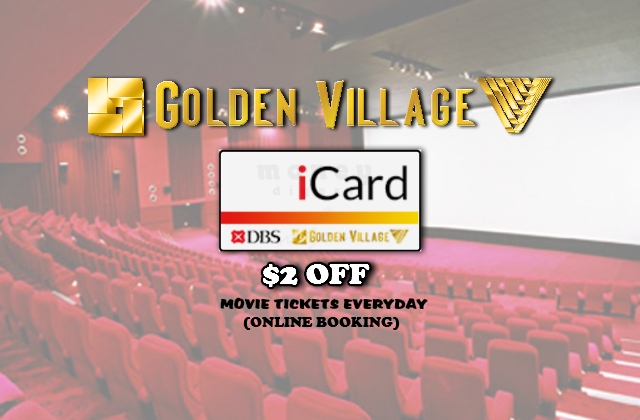 Are you still standing in the queue to purchase your movie tickets at the counter?
Because that's the cheapest option to get a movie ticket?
Well, not anymore when you know about this. It turns out it can be cheaper to purchase your tickets online at the convenience of your home or office.
Golden Village has launched an online prepaid card a couple of months ago that let you enjoy $2 off your movie ticket everyday when you book your tickets online.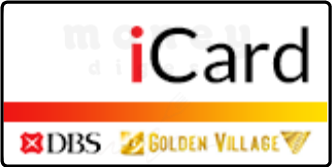 The iCard is a virtual card so don't worry about misplacing it
Known as the DBS GV iCard, DBS/POSB Debit or Credit cardmembers will enjoy the exclusive privileges from now till 31 Mar 17:
$2.00 off Non-3D movie ticket everyday (Not $1, but $2 off!)
$1.50 off 3-D movie ticket (everyday)
$3.00 off Gold Class movie ticket (Mondays to Wednesdays)
$9.00 for a DBS Combo (01x 85oz Large Popcorn + 02x 22oz Regular Coke) and/or Special DBS Combo(s) available with any purchase of a pair of 3D or Non-3D movie tickets using DBS GV iCard online. (Not valid with purchase of Gold Class movie tickets)
Do not be confused with another promotion where DBS/POSB cardmembers enjoy $1.00 off a Non-3D movie ticket, which will expire on 30 September 2016. The latest promotion requires you to register for an online card, or the DBS GV iCard, where you make top-ups with a DBS/POSB debit or credit card. You can then use the virtual card to make payment when you book your tickets online.
What's the difference between both promotion?
The DBS GV iCard lets you enjoy $2 off a movie ticket, whereas the the other DBS/POSB promotion lets you enjoy a discount of $1 per ticket. The DBS GV iCard can only be used to make payment for tickets booked online and not over the counter.
How does the latest promotion benefits me or for those who prefer to book online?
Golden Village charges a convenience fee of $1.50 when you book online. As ludicrous as it seems, it was never an attractive option to pay that additional fee if you have the the time to queue and buy over the counter. (Talk about saving labour cost.)
Now it makes absolute sense to make your purchase online if you are purchasing 2 tickets or more.
Let's do the maths:
Weekend: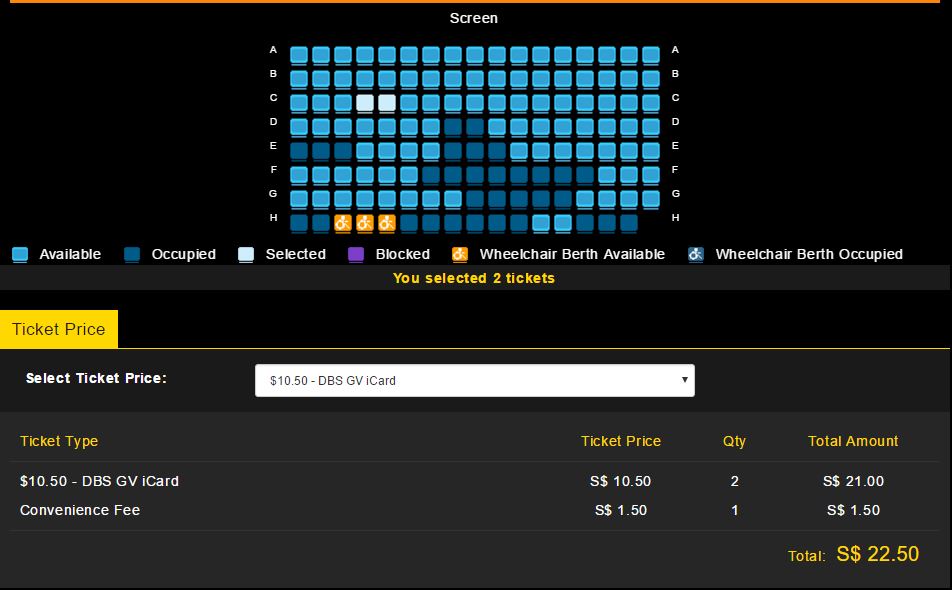 Save even more when you purchase more tickets (i.e 3,4,5,6+)
Weekday:

Not only is it cheaper to get your movie tickets online, you can book your tickets in well in advance and save the hassle of standing in a queue to get your tickets.
What else you need to know:
You need to make an initial top-up of S$40 per iCard and may be topped up in multiples of S$50 subsequently. This should not be a problem since the promotion will last till 31 Mar 2017 and you have more than sufficient time to exhaust the value in it.
Register for an iCard account here:
No more queuing for your movie tickets!
Now that you know this, make sure you share this tip with your friends and loved ones!
Terms & Conditions
Valid till 31 March 2017.
DBS GV iCard movie offers:
a. To enjoy offers, full payment of movie tickets must be made via an DBS GV iCard online transaction.
b. Not valid for eve of/and public holidays such as eve of/and Christmas Day, eve of/and on New Year's Day, and eve of/and on 1st & 2nd Day of Lunar New year.
c. Not valid for phone, mobile web or over the counter reservations, AXS, premium-priced
d. Not applicable for Sneak Previews and during the first week's screening of blockbuster titles.
e. Seating and ticket are subjected to availability.
f. Ticket(s) issued is/are not refundable.
DBS GV iCard Top Up:
a. DBS GV iCard can only be topped up with DBS/POSB Credit and Debit Cards Visa (Preferred) and MasterCard issued in Singapore only (excluding DBS/POSB Corporate Credit and Debit Cards).
b. An initial load value of S$40 will be mandatory per iCard and may be topped up in multiples of S$50. The stored value of the DBS GV iCard is capped at S$500.
DBS GV iCard Usage:
a. There may only be one iCard per NRIC.
b. iCard can only be used for online payment of movie tickets, food & beverages and booking fee at www.gv.com.sg.
c. iCard can be used for payment of non-discounted item(s).
d. iCard will expire 12 months from date of activation or 12 months from the end of these movie privileges, whichever is earlier.
e. iCard value cannot be refunded.
f. iCard expiry date and unredeemed iCard value will be indicated in the iCard online portal and any iCard value must be redeemed by the stipulated date.
g. Not valid for all Atmos-enable films.
h. iCard may be cease to be available for use or terminated at the sole discretion of Golden Village Multiplex Pte Ltd ("GV") or DBS Bank Ltd ("DBS").
i. iCard is issued by GV. DBS is not responsible for the iCard and its stored value. DBS accepts no liability for the quality of the goods and/or services provided by GV.
The iCard holder shall not under any circumstances hold GV and/or DBS liable for any misuse arising directly from this DBS GV iCard Movie Privileges programme.
iCard holders consent under the Personal Data Protection Act (Cap 26 of 2012) to the collection, use and disclosure of their personal data by/to DBS and GV and/or and such other third party as DBS or GV may reasonably consider necessary for the purpose of the movie privileges, and confirm that they agree to be bound by the terms of the DBS Privacy Policy, a copy of which can be found on www.dbs.com/privacy.
GV and DBS may vary these terms and conditions or suspend or terminate these movie privileges without notice or liability to any party.
DBS' and GV's decision on all matters relating to these movie privileges shall be final. No correspondence or claims will be entertained.
DBS General Promotion terms and conditions apply. Please refer to www.dbs.com.sg/dbscardstnc or DBS Lifestyle App
Customer Advisory – Golden Village Multiplex Pte Ltd, the holder of the DBS GV iCard stored value facility, does not require approval of the Monetary Authority of Singapore. Consumers (users) are advised to read the terms and conditions carefully.