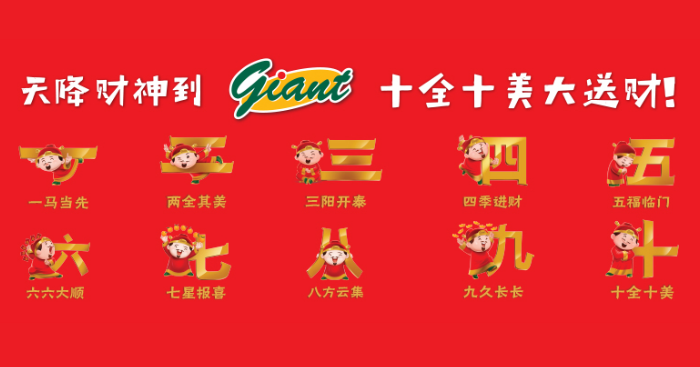 As we usher in the Chinese New Year, why not pig out in style with the best deals and at great convenience this festive season? For such an occasion, there is no better place to shop at than at Giant, Singapore's best-value hypermarket in Singapore. It has in store unbeatable deals and plenty of fun activities this Chinese New Year to ensure that your family usher in the new year with a bang!
Host a Fuss-free Steamboat Feast with Giant!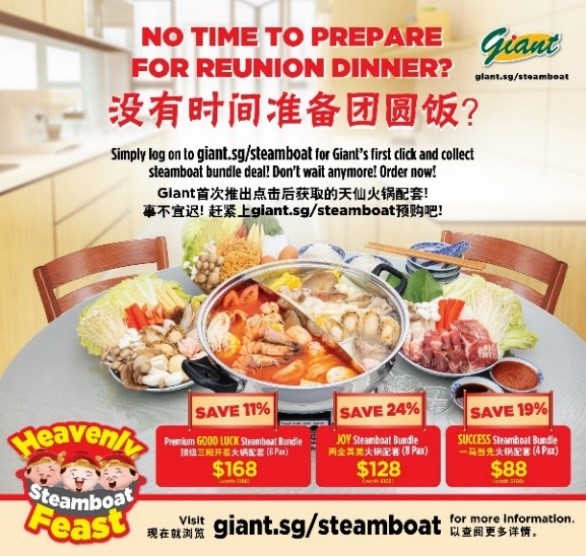 Gathering round for a reunion dinner is one of the most important Chinese New Year traditions that cannot be missed. It is a joyous affair whereby people gather together with their loved ones over a sumptuous steamboat feast.
With Giant's first-of-its-kind steamboat bundle Click and Collect service, hosting a sumptuous steamboat feast can now be a truly fuss-free affair. With three different bundles for you to choose from, there is a perfect option out there whether you are hosting for a party of 4 or 8. Each set features an array of hot pot essentials and luxury ingredients such as Iberico and Kurobuta pork, prawns, scallops, mussels, sea cucumber and even abalone! Giant's Heavenly Steamboat Feast service saves you from the hassle of having to plan and shop for the ingredients yourself so that you can truly enjoy the festive occasion!
Here are the three bundles that you can choose from:

Success Steamboat Bundle (4 pax) – $88 (worth $105) – great for small families who want to spend quality time and bond with each other over a delicious hotpot set-up
Joy Steamboat Bundle (8 pax) – $$128 (worth $162) – perfect for large gatherings with all your foodie friends, so you have more time to gossip, play mahjong and huat!
Premium Good Luck Steamboat Bundle (8 pax) – $168 (worth $220) – there's something for everyone in this selection, ideal for impressing your colleagues during office parties
Simply order your preferred steamboat bundle online or in-store at Giant hypermarkets at Tampines, IMM, Suntec City Mall and Sembawang Shopping Mall from 7 to 28 January. Collection is available from 1 February to 12 February.
Impress Your Loved Ones With These CNY Greetings
Bored of using the same Chinese New Year greetings every year? Or ever stammer over them in an awkward pause? Yes, we know that this is another pain point that we usually fret over during CNY.
Not to worry, Giant has got you covered once again!
Impress your friends and relatives with these 10 auspicious greetings that you can use while visiting! Giant has created this cheat sheet to get you by over days of visiting. You can also use these 10 Giant God of Fortune GIFs or stickers on your various social media platforms and send this Chinese New Year greetings video over Whatsapp to impress all your loved ones. Again, all of these at the click of a button from the comfort of your home!
Meet Giant's God Of Fortune At One Raffles Place!
Besides sending these auspicious CNY greetings over your social media platforms, why not improve your luck in 2019 by meeting the God of Fortune in person? Yes, all 10 of Giant's God of Fortune will come to life at the heart of Singapore's financial district. From 14 to 18 Jan, Giant will be featuring life-sized pop-ups of their 10 God of Fortune at One Raffles Place. Do not forget to snap a rare picture with them, tag (@giantsupersaversclub) and share them generously with your friends and relatives! Five lucky individuals who submit their photo on Giant Super Saver's Club Facebook page will stand a chance to win $50 worth of Giant vouchers.
Check out the full line-up of exciting activities and promotions by Giant here!