If you drink Tiger Beer and plan to travel, here's a good deal for you.
From now till 25 Dec, get a free $100 Scoot voucher when you purchase 2 x Tiger Beer 30-can packs.
One carton cost about $66.30 ($58.90 at FairPrice for a limited time) at major supermarkets. This works out to be around $117.80 for 2 cartons of Tiger Beer.
If you are already planning to travel with Scoot, why not purchase 2 cartons of Tiger Beers for around the same price and get the voucher to offset your Scoot tickets? Here you go, enjoy your free booze! Cheers.
For those who are purchasing the Tiger Beers for a special occasion (i.e Christmas), you get a free $100 Scoot voucher! That's about the price of a return ticket to Bangkok via Scoot. Free holiday, why not?
Either way, you win.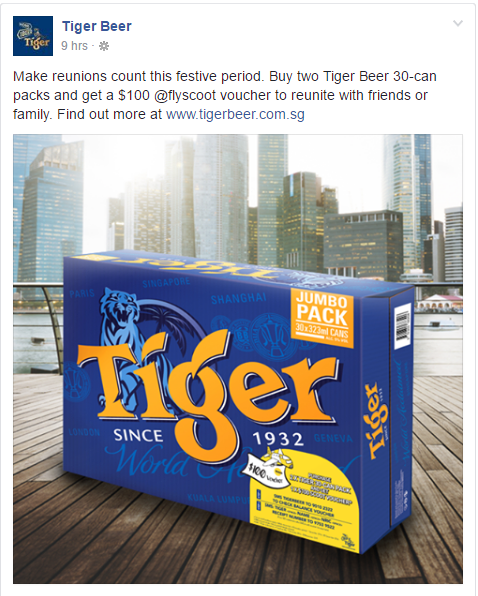 How to redeem:
SMS 'TIGERBEER' to 9010 2322 to see how many vouchers are left for redemption
SMS: TIGER <SPACE> NAME <SPACE> NRIC <SPACE> RECEIPT NUMBER TO 9753 9522

The first 500 customers who SMS in will receive the vouchers.
Editor's Note: There are about 460 vouchers left as at time of writing. (4 Dec, 7pm) Follow Step 1 to check balance.
Terms & Conditions
Terms and conditions apply.
While stocks last.
Promotion period: 1 December 2016 – 25 December 2016.
SMS in to participate. Accumulated receipts allowed.
Valid 1 ID per redemption. Travel validity: 1 December 2016 – 30 November 2017