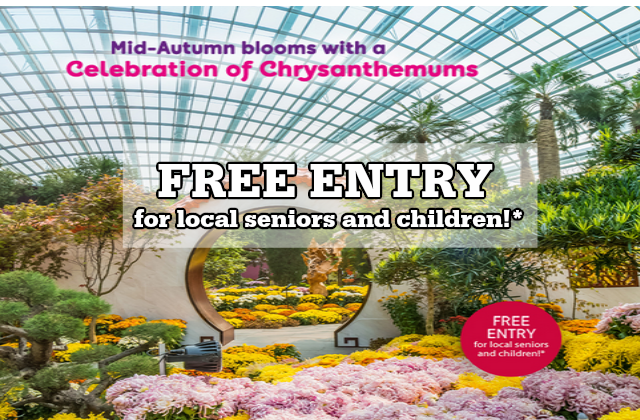 More reasons to celebrate Mid Autumn Festival at Gardens by the Bay.
From 25 September to 4 October 2015, local seniors and children (local and non-local) enjoy free entry to both conservatories at Gardens by the Bay.
Children will need to bring along a lantern to enjoy the offer.
Chrysanthemum blooms take centre stage this Mid-Autumn at Flower Dome as we bring you on a journey to the Far East. Long admired for its beauty, the Chrysanthemum is a symbolic feature in traditional Chinese art to depict the autumn season. Marvel at unusual varieties such as Spider Chrysanthemums and Pompon Chrysanthemums first cultivated in ancient China and Japan, as you stroll through the scenic landscape dotted with a moon gate and teahouse, maple trees, and bonsai plants more than 100 years old.
Enter the Cloud Forest, a mysterious world veiled in mist; entirely different from the Flower Dome. A 35-metre tall mountain covered in lush vegetation shrouding the world's tallest indoor waterfall showcases plant life from tropical highlands up to 2,000-metres above sea level.
Ascend to the mountaintop in comfort by lift before descending via two walkways in the clouds for an aerial view of the canopy and mountainside below. Learn about unique biodiversity and geology of cloud forests and the environmental threats they face within the nine unique zones in this cool-moist Conservatory.
You will also see a dazzling display of elaborately handcrafted lantern sets at Gardens by the Bay. Don't miss out on the cultural performances, food street and fireworks (3 Oct, 8pm) at the Supertree Grove.
Terms and conditions
Local Seniors (Aged 60 and above)
Promotion applies to Local Resident (Singapore Citizens/Permanent Residents) admission tickets.
Promotion period is valid from 1 June 2015 – 31 Dec 2015.
Proof of age and nationality is required upon redemption of complimentary ticket at the ticketing booth.
Accompanying caregiver enjoys 50% discount to 2 conservatories, based on a ratio of 1 senior to 1 caregiver.
Not valid for online ticketing, Friends of the Gardens Annual Pass, other offers, promotions and discounts.
Gardens by the Bay reserves the right to amend the terms and conditions of this promotion at any time without prior notice.
Children (Local and non-local)
Guests have to redeem the admission ticket at the ticketing booth, between 5pm to 8pm in order to enjoy this offer. Last admission is 8.30pm.
Proof of lantern is required when redeeming tickets and when entering the conservatories.
Child is defined as aged between 3 to 12 years old.
Not applicable for online ticketing.
Not valid with any other offers, promotions or discounts.
Admission ticket is not refundable or exchangeable for cash and is only valid for the day of entry.