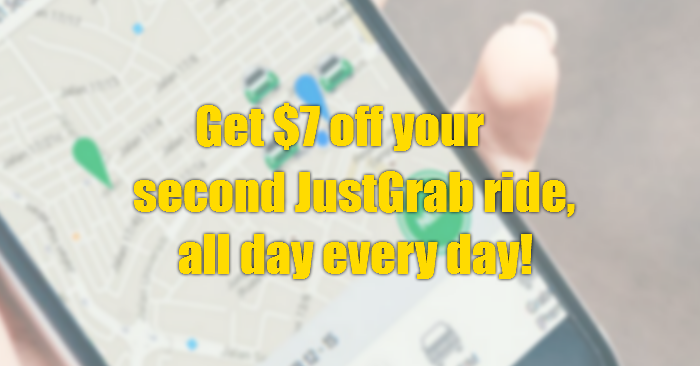 Enjoy a ride home, on Grab
Enjoy $7 off* your second daily ride with Grab!
When you take a JustGrab ride between 24- 29 April, we'll give you $7 off your 2nd ride. All day, every day. All you need to do is pay via GrabPay (credit/debit card) and use the promo code: JUSTGRAB7
In other words, if you ride to work in the morning you'll get a discount on your trip home. Or if you're trying out a new lunch venue, the journey back comes with $7 off. So add a little adventure to your day!
Share this promo code with your friends and loved ones!
What's more, fares are always fixed on JustGrab – so head out in comfort and leave the rest to us!
---
How to redeem:
Download the Grab app from the App Store or Google Play and register an account.
Make sure you have completed at least 1 ride JustGrab within the day.
On the booking screen, select your pick-up and drop-off points.
Choose JustGrab.
Select GrabPay as your payment method.
Enter the promo code JUSTGRAB7.
Tap 'Book' and enjoy $7 off your final fare.
---
Terms and Conditions:
Valid for JustGrab rides only.
Promotion period is valid from 24 – 29 April April 2017.
Valid for payments via GrabPay (credit/debit card)
Valid for 1 redemption per Grab account per day.
Limited to the first 15,000 redemptions daily.
---
Frequently Asked Questions:
1. Do I need a promo code to qualify for this promotion?
Yes. Please apply the promo code JUSTGRAB7.
2. Why can't I use my promo code?
For the promo code JUSTGRAB7 to work, update your app to the latest version. You will also need to take at least 1 JustGrab ride within the day to qualify. When redeeming, choose the JustGrab vehicle type, select payment via GrabPay (credit/debit card) and key in your pick up and drop off points.
Do note that you can only redeem this promo code on between 22 – 29 April 2017. If you are still facing issues, please contact our support team at 6655 0005, or email [email protected]
3. How do I know if I'm eligible for this promotion?
You are eligible if you have completed a ride with JustGrab within the same day and paid for your ride using GrabPay (credit/debit card). If you are unsure of your eligibility, key in the promo code JUSTGRAB7 and check if it activates for you. If it works, you can participate in this promotion.
4. I am eligible for the promotion. How do I claim my discounted ride?
Please see the (above) section on "How to redeem" for detailed steps.
5. Is the fare indicated when I make the booking already discounted?
No. The fare your see in the app is the full fare. The discount will be applied after the booking is confirmed, and the discounted fare will be indicated in the e-receipt.
6. How will I know when the maximum redemptions for this promotion has been reached?
Grab will actively update our social media channels so do keep a lookout for it.
We will be posting updates on our social media pages on the number of redemptions left throughout the day. Do keep a lookout there!
www.facebook.com/grabsg
www.twitter.com/grabsg
www.instagram.com/grab_sg
For general terms and conditions, click here.