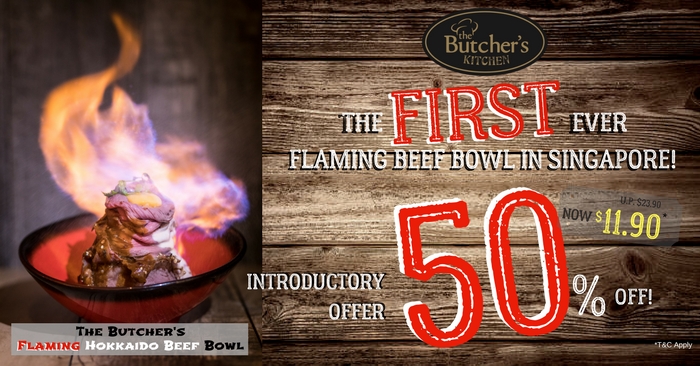 As part of the Grand Opening Special, from 13 January to 14 February, enjoy The Butcher's Flaming Hokkaido Beef Bowl at 50% off; now S$11.90!
The Butcher's Flaming Hokkaido Beef Bowl (UP: S$23.90) showcases thinly sliced, tender and juicy beef imported from Hokkaido. Why Hokkaido?  Hokkaido's climate has fairly low temperatures throughout the seasons making it very rich in nature, and the beef cattles develop more fats naturally.  The fresh clean air, water and high-quality natural feed makes the quality of the beef from Hokkaido one of the highest quality in Japan.
Also, the cattle are carefully managed and monitored — grass production starts with soil development and formula feeds that are regularly analysed and maintained.  Not only is the meat tasty, it meets a high level of food safety too.  The beef is then topped with The Butcher's Signature sauce and parsley for garnish. Ready your camera as the bowl is doused with a Flaming Cognac concoction! The alcohol imbues the meat with a subtle fruity and floral note.
Besides the beef bowls, there are two other non-beef options: The Butcher's Pork Bowl (UP: S$12.90), and The Butcher's Salmon Bowl (UP: S$13.90) at S$11.90 each. The pork bowl features The Butcher's very own Thai-style Grilled Pork — the meat is slow-roasted, a process that allows the inside to be juicy and texture perfectly done. The pork used is top quality Free-Range Pork from Linley Valley, Western Australia. The pigs are reared in a vast, unspoilt landscape, where they take in clean air and are fed a natural diet. As such, the succulent pork is of a high quality and has a remarkable taste.
The Butcher's Salmon Bowl stars fresh Atlantic salmon, which is farmed in Kvarøy, a tiny island off the coast of central Norway. The Norwegian farm uses an innovative and nutritious fish feed, which has allowed its salmon to earn the "Good Alternative" rating by Monterey Bay Aquarium's Seafood Watch — a rare endorsement for farmed salmon. The fish is lightly seared so that it retains moisture and has a nice crisp to it.
Website: https://www.thebutcherskitchen.sg/
Address: Suntec City Mall, #02-472, Singapore 038989
Opening Hours
Mondays to Fridays: 11am – 3pm / 5pm – 9pm (Last order: 8:30pm; Closed from 3pm to 5pm)
Saturdays and Sundays: 11am – 9pm (Last order: 8:30pm)