Staying hydrated is important to our overall well being. The same can be said for our skin too. When our skin does not get enough water, it becomes dehydrated which causes dull and itchy skin with an uneven skin tone and speeds the appearance of fine lines. It is the most common cause of accelerated ageing.
Symptoms of Dehydrated Skin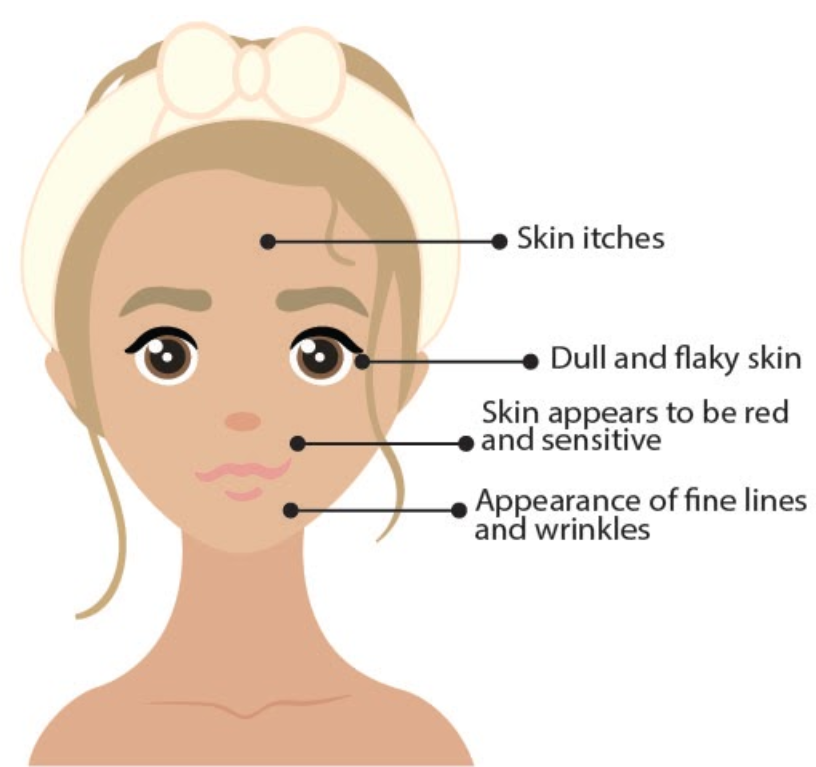 1. Skin Becomes More Sensitive
When there is a disorder in our skin's moisture barrier, environmental irritants such as bacteria and pollutants will penetrate into the skin layers. This will result in redness, itch and inflammation.
2. Itch
One of the first signs of dehydrated skin is the feeling of tightness and itch. These may be accompanied by peeling or flaking that no amount of moisturiser can help to relieve.
3. Fine Lines and Wrinkles
Fine lines will be noticeable at the outer corners and under our eyes when our skin needs a boost of hydration. In more severe cases, small creases start appearing at the corners and around our lips. Other SOS signs from dehydrated skin include creases between our brows, and appearances of horizontal lines on our foreheads.
4. Dull and Tired Looking Skin
Have you been told that you look tired? Dehydration impairs our skin's ability to renew skin cells, causing dead skin cells to be accumulated on the superficial layer. This in turn causes clogged pores and dull complexion.
How to Rehydrate My Skin?
The answer lies in our 90min Hydration HA Facial.
HA, the chemical name for Hyaluronic Acid, is a staple in many beauty aficionados' skincare cupboard. It is an ingredient that is widely used in the cosmetics and beauty industry as a powerful hydrator for the skin.
Hyaluronic acid is a polysaccharide that occurs naturally in the human body. It is responsible for tissue hydration, lubrication, and holds a thousand times its own weight in water. Hyaluronic Acid is found in abundance in young skin, but will deteriorate with age.
What's So Special About Hydration HA Facial?
Deep hydration for supple skin
Brightens dull skin
Evens out skin tone
Stimulates collagen production
Reduces fine lines and wrinkles
Exfoliation is an incredibly important step in any facial. Hydration HA Facial employs Hydro Exfoliation in removing dead skin cells to reveal radiant skin, without stripping dehydrated skin of essential moisture. This sophisticated innovation also enhances circulation which promotes cellular renewal while nourishing dehydrated skin.
Hydro Exfoliation technology also infuses 99% pure Hyaluronic Acid into our skin. The serum works to optimise moisture retention in our skin to create a plumped up effect. When our skin is well hydrated, an increase in skin cell renewal can take place, resulting in smoother and more radiant complexion.
Absorption of medical grade Hyaluronic Acid Mask's ingredients is enhanced through the application of Advanced Hydration Electrophoresis. Microscopic channels are created in our skin to allow Hyaluronic Acid to penetrate instantaneously into the skin cells to deliver immediate rejuvenation and hydration.
To enjoy the offer, call/whatsap 9115 7800.
Find out more at: https://skinlabmedspa.com/
Terms and Conditions:
Valid for Singaporeans/PRs/Ep/SP/DP pass holders 23 years old and above who have not been to SkinLab the Medical Spa in the last 12 months

Strictly for purchase of ONE session per customer

Promotion is strictly by appointment only

Rescheduling of appointment must be made 24 hours in advance

Official identification must be presented for verification

SkinLab the Medical Spa reserves the rights to change and/or amend the terms and conditions governing this promotion without prior notice
---
Address:
#04-04 Wheelock Place // Tel: 6235 3246
#03-33/ #04-56 Plaza Singapura // Tel: 6336 1106
#B1-62 Jurong Point S.C // Tel: 6316 2246

#04-22 Westgate // Tel: 6358 3088

#04-02C Junction 8 // Tel: 6262 5698

#04-11 Causeway Point // Tel: 6877 0162


#04-30/32 Tampines One // Tel: 6634 8101