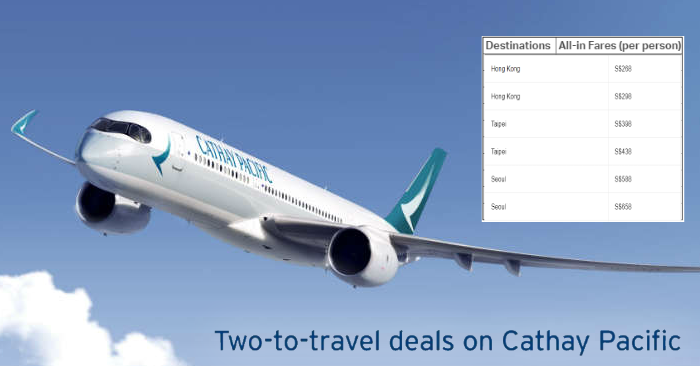 Don't miss Cathay Pacific online travel fair deals
Enjoy special fares from only SGD268 all-in per person
Be it a short getaway or a longer vacation, give yourself the break you deserve. Book their travel fair specials with two-to-travel fares to Hong Kong, Taiwan, Korea, Japan, China, Europe and North America from SGD$268 all-in per person.
Book online now, offer ends 29 Mar 2018.
Flights to Brussels start from 25 Mar 2018, to Copenhagen from 2 May 2018 and to Dublin from 2 Jun 2018.
| Destinations | Fares from | Stay Duration |
| --- | --- | --- |
| Hong Kong | S$268 | 2 day(s) / 7 day(s) |
| Hong Kong | S$298 | 2 day(s) / 14 day(s) |
| Taipei | S$398 | 2 day(s) / 7 day(s) |
| Taipei | S$438 | 2 day(s) / 14 day(s) |
| Seoul | S$588 | 2 day(s) / 7 day(s) |
| Seoul | S$658 | 2 day(s) / 14 day(s) |
| Osaka | S$698 | 2 day(s) / 7 day(s) |
| Osaka | S$748 | 2 day(s) / 14 day(s) |
| Tokyo (Haneda) | S$688 | 2 day(s) / 7 day(s) |
| Tokyo (Haneda) | S$738 | 2 day(s) / 14 day(s) |
| Tokyo (Narita) | S$688 | 2 day(s) / 7 day(s) |
| Tokyo (Narita) | S$738 | 2 day(s) / 14 day(s) |
| Beijing | S$398 | 2 day(s) / 7 day(s) |
| Beijing | S$528 | 2 day(s) / 14 day(s) |
| Chengdu | S$398 | 2 day(s) / 7 day(s) |
| Chengdu | S$528 | 2 day(s) / 14 day(s) |
| Chongqing | S$398 | 2 day(s) / 7 day(s) |
| Chongqing | S$528 | 2 day(s) / 14 day(s) |
| Shanghai (Hongqiao) | S$398 | 2 day(s) / 7 day(s) |
| Shanghai (Hongqiao) | S$528 | 2 day(s) / 14 day(s) |
| Shanghai (Pudong) | S$398 | 2 day(s) / 7 day(s) |
| Shanghai (Pudong) | S$528 | 2 day(s) / 14 day(s) |
| Wuhan | S$398 | 2 day(s) / 7 day(s) |
| Wuhan | S$528 | 2 day(s) / 14 day(s) |
| Xiamen | S$398 | 2 day(s) / 7 day(s) |
| Xiamen | S$528 | 2 day(s) / 14 day(s) |
| Brussels | S$1098 | 1 day(s) / 14 day(s) |
| Brussels | S$1328 | 2 day(s) / 1 month(s) |
| Toronto | S$1378 | 1 day(s) / 14 day(s) |
| Toronto | S$1478 | 2 day(s) / 1 month(s) |
| Vancouver | S$1338 | 1 day(s) / 14 day(s) |
| Vancouver | S$1418 | 2 day(s) / 1 month(s) |
| Los Angeles | S$1088 | 1 day(s) / 14 day(s) |
| Los Angeles | S$1368 | 2 day(s) / 1 month(s) |
| New York (John F Kennedy) | S$1388 | 1 day(s) / 14 day(s) |
| New York (John F Kennedy) | S$1438 | 2 day(s) / 1 month(s) |
| New York (Newark) | S$1388 | 1 day(s) / 14 day(s) |
| New York (Newark) | S$1438 | 2 day(s) / 1 month(s) |
| San Francisco | S$1088 | 1 day(s) / 14 day(s) |
| San Francisco | S$1368 | 2 day(s) / 1 month(s) |