Valid from now till March, buy 3 boxes of FreshLook ColorBlends and get 1 box absolutely free! Yes – You read it right! FreshLook Colorblends are the bestselling monthly coloured contact lenses from Ciba Vision. Choose between 12 great shades and dramatically change your look or enhance your natural eye colour.
Each look is unique, depending on your eye colouring and tone. If you have lighter eyes, why not try FreshLook Colorblends in Green, Grey or Blue? Our customers with darker eyes have highly recommended shades Brown, Pure Hazel and Honey. For a bold burst of colour and a fresh new look, try True Sapphire, Gemstone Green, Amethyst, Stirling Grey or Brilliant Blue.
These bestselling lenses are perfect for anyone who wishes to enhance their natural eye colour while enjoying comfortable vision.
FreshLook Colorblends is available in 12 attractive shades:
Sterling Gray || Brilliant Blue || Gemstone Green || Honey || True Sapphire || Gray || Blue || Green || Pure Hazel || Brown || Amethyst || Turquoise ||
3-in-1 Color Technology
3-in-1 color technology gives your own natural beauty a boost. FreshLook Colorblends contact lenses use 3-in-1 color technology for a naturally beautiful look, whether you want a dramatic transformation or subtle enhancement. Even if your vision is perfect, experience a fresh, new look that's always you.
---
A Little Bit About Us…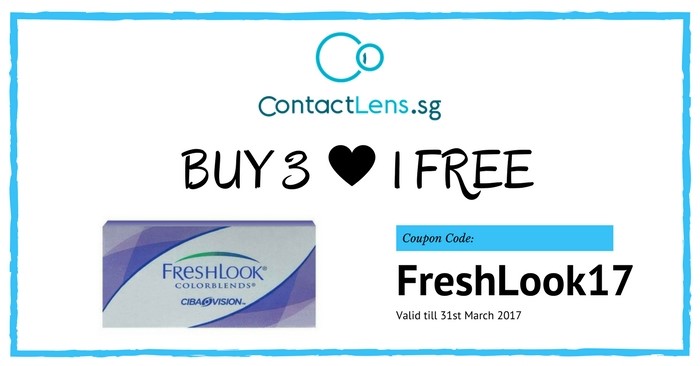 With years of experience, we sell 100% authentic lenses – trusted brands such as Bausch & Lomb, FreshKon, Ciba Vision and CooperVision, to name a few. From prescription lenses to cosmetic lenses for that extra oomph, we have it all!
If you're looking for greater, consistent discounts of up to 40% off retail outlets, check out our subscription purchase. No more having to run to your nearest optician when your lenses run out. They'll automatically be sent right to your doorstep! ContactLens.SG aims to be your cheapest and most trusted contact lens supplier. Check us out today at http://contactlens.sg !
To enjoy this promotion, simply key in "FreshLook17" at the check-out page. Valid from now till 31st March 2017.