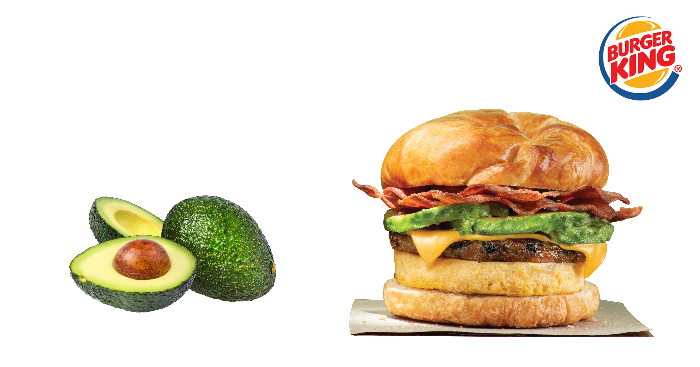 Everyone knows that the secret to starting the day right starts with a hearty breakfast because it is the most important meal of the day. A delicious breakfast will also set the mood and tone right for the rest of the day, for both the mind and body.
On the breakfast table, one may find the avocado fruit as part of the breakfast repertoire. The avocado, also known to be a superfood, is one of the most nutrient-dense fruits packed with twenty different vitamins and mineral such as vitamins A, B1, B2, B3, B5, B6, C, E, K, folate, magnesium, copper, iron, zinc, and phosphorous. The fruit is also high in antioxidants, as well as potassium and monounsaturated oleic acid which are essential for a healthy bodily function.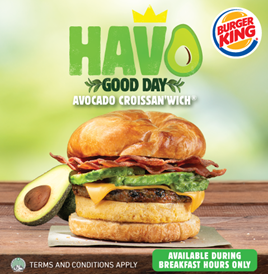 From 8 October 2019, lovers of wholesome breakfasts can kick-start their day at BURGER KING® as they take a bite onto the AVOCADO CROISSAN'WICH® – the newest mouth-watering offering on the breakfast menu.
The AVOCADO CROISSAN'WICH® is enticingly stacked with slices of creamy avocado, and layered with crispy turkey bacon. A tempting slice of American cheese rests on a patty of turkey sausage, followed by a layer of satisfying scrambled egg. Holding everything together in between is the fluffy and buttery CROISSAN'WICH®, making up an entirely gratifying breakfast.
The AVOCADO CROISSAN'WICH® is selling at S$5.50 for ala carte orders. An AVOCADO CROISSAN'WICH® Value Meal is selling at S$7.00, comprising a pack of crunchy, golden small Hash Brown and a cup of brewed coffee or tea. Slices of avocado can also be added to all other breakfast entrees at S$0.90 for every three slices.
For more information on BURGER KING® and its current promotions, please visit www.burgerking.com.sg.
(Photo Credits: BURGER KING®)