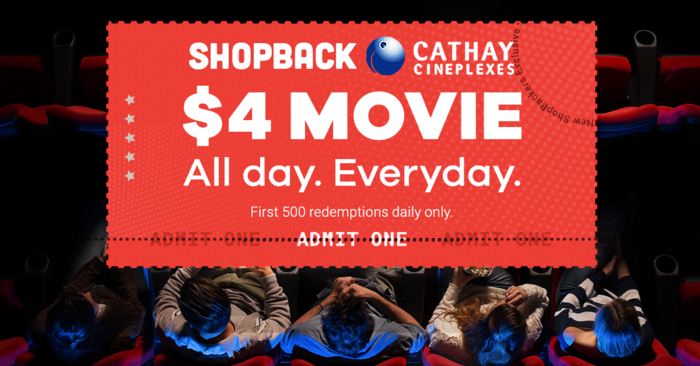 It's another big Marvel weekend with Spiderman swinging into action in the theatres. While we are all familiar with the Student and Silver privileges from our beloved Cathay Cineplexes, there's usually nothing for the mass public. 
Until today.
ShopBack is offering $4 movie tickets ALL DAY, EVERYDAY, EVERY MOVIE for everyone regardless of age, as long as you are a new ShopBack user. That's up to a savings of $11 for the weekend.

How it works:
Use the ShopBack app and visit this link: 

https://app.shopback.com/moneydigest

Click on the banner to lead to Cathay's page

Buy your favourite movie tickets and you will be receiving an initial cashback at 4%

Upon validation of you being a new user, the remainder of the cashback will be credited to your account to make your movie ticket $4

Each new user is entitled to a cashback of up to $11 per transaction.

Going with friends and partners? Here's a MoneyDigest Hack – Given it is an online purchase, it's easy to coordinate the seat selection on Cathay. So get your friends/partners to shop separately if they are a new user to ShopBack so everyone can save $11 each – that's the price of a meal.
Take full opportunity of this promotion which will last till 31st July for the first 500 redemptions per day. Enjoy the movies everyone!