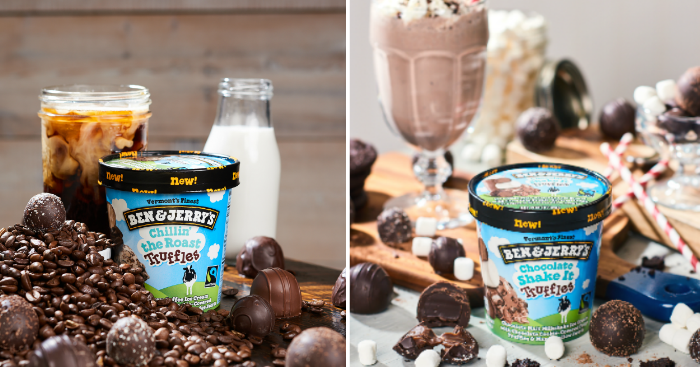 Ben & Jerry's is bringing you two new flavours that prove your favourite kopitiam drinks are #BetterServedFrozed. Introducing the all-new Ben & Jerry's Chocolate Shake It Truffles and Chillin' the Roast Truffles, two delicious flavours infused with chocolate malt and cold brew coffee!
Chillin' the Roast Truffles takes cold brew coffee ice cream and packs in chocolate cookie-covered coffee liqueur truffles & fudge swirls, while Chocolate Shake it Trufflesconsists of chocolate malt milkshake ice cream with chocolate cookie-covered fudge truffles & marshmallow swirls.
To celebrate the launch of these exciting new flavours, Ben & Jerry's is bringing you its first ever Ben & Jerry's Scoopitiam! Come on down to our stall at Lau Pa Sat Unit from 16 to 29 July 2018 and enjoy a free scoop of our #BetterServedFrozen flavours, served local style in either a rainbow bread or wafer biscuits! Better yet, stay to enjoy our immersive kopitiam inspired set-up with bright retro colours and a larger than life photo booth!
Event Details:
Date: 16 to 29 July 2018
Time: Weekdays 11am – 7pm, Weekends 11am – 5pm
Venus: Lau Pa Sat, Unit #79 to #87, 18 Raffles Quay, Singapore 048582
Admission: Free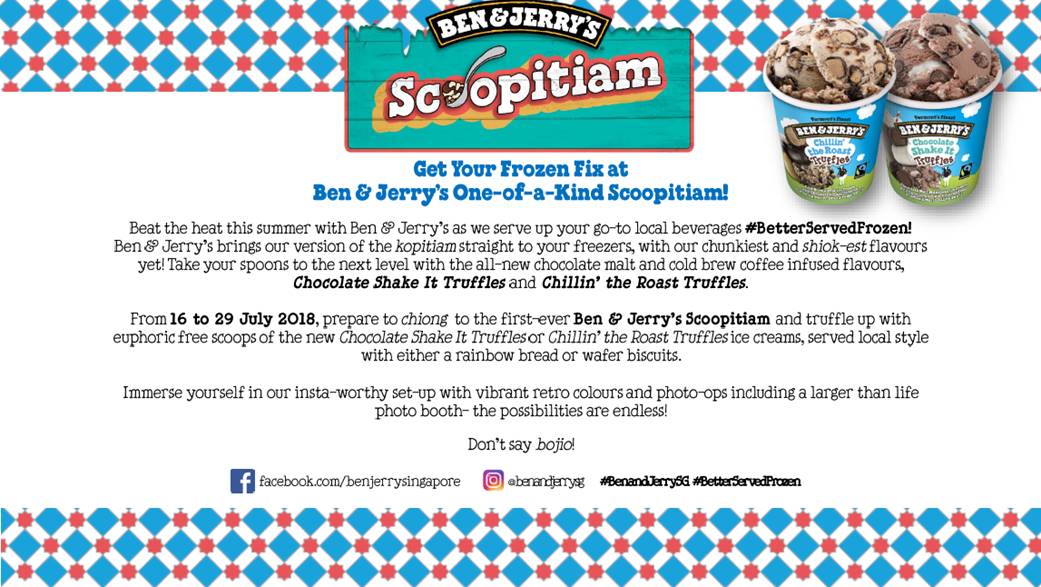 Share this news with your friends and loved ones!