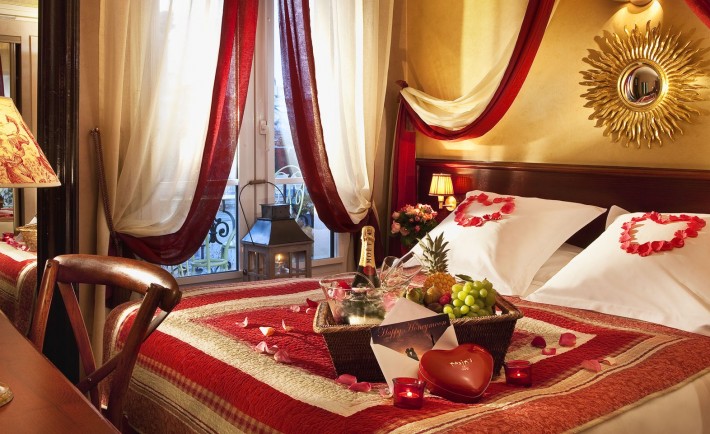 As January draws nearer to a close, this marks the beginning of a new season – the season of love!
For the less imaginative soul, February may just be yet another arduous month to get through. But for the romantics out there, February bears so much promise of new beginnings, whimsicalities, and yes, you guessed it – Valentine's Day!
Indeed, staycations are the latest trend in town for couples. In fact, they're so commonplace these days that every month or so you might spot a few acquaintances posting up some envy-worthy pictures of themselves lounging on lush sheets or staring out of a balcony on their staycation. Some hotels have even caught on the wave and are peddling out exclusive staycation deals for couples in a bid to draw the attention of staycation hopefuls.
The popularity of staycations in Singapore has been spreading like wildfire, and it is truly little wonder why. After all, they're a perfect alternative to your regular boring dinner date, and they're suitable for all couples alike! Well, why not try out something different for Valentine's Day this year? Consider a Valentine's Day staycation instead!
If you're a fresh couple who's still finding your way around your relationship, a Valentine's Day staycation would be the perfect solution to cement your relationship and stir up new feelings of romance and intimacy. Staycations are perfectly suitable for seasoned couples as well. For seasoned couples who are undeniably well accustomed to the regular Valentine dates, a staycation would truly provide a refreshing edge of spice to your romance as well!
That being said, in land scarce Singapore, accommodation may prove a little too extravagant for some to afford. This is especially the case for some of our top hotels, which can easily cost up to $500 or more a night on peak days. (The more Instagram-worthy, the higher the price ha!)
Not to fear! A fantastic staycation is not merely one that requires you to spend big bucks on it. In fact, a small cosy hotel can add just the right romantic fizz to the air as well. After all, it's not the price that matters, but the company that counts, right? Plus, wouldn't that extra money saved come in handy for that proposal ring or wedding reception?
Here are 5 affordable hotels, where you can have a romantic staycation on Valentine's Day without bursting your budget!
Some hotels listed below are fast running out of rooms for Valentine's Day – so book early to avoid undue disappointment.
1. Studio M
Loft hotel rooms are all the rage these days, and I say this with utmost assurance – there is truly nothing quite as romantic as spending Valentine's Day with your loved one in a loft at Studio M!
If your partner and yourself have an exclusive eye for the simple and minimalist, then Studio M is certainly your go-to hotel for Valentine's Day. Boasting of a unique loft concept, Studio M is indeed ideal for the lazy couple whose idea of a perfect date is simply some quality time together lounging around. No fancy frills or fuss needed – just a comfortable, clean bed, some drinks, and a lover by your side.
For an additional romantic touch, arrive at your room at least 15 minutes before your partner, and scatter some rose petals on the lush white expanse of the bed to create an instant mood of sheer romance. Pop a glass of wine (or hey, if budget romance works out especially well for you, some tangy but tasty Taiwan beer will also do the trick), and you're all set for a great Valentine's night out! Plus, Studio M is conveniently located a mere 10 minutes' walk away from Clarke Quay. If you're up for a midnight drink fest, surely you know where to go.
(Source: Agoda) Studio M's loft rooms are priced from an affordable $195 per night (additional charges may apply). Indeed, for close to $200, you'll be able to enjoy some cherished romantic quality time with your partner. After all, nobody ever said that romance and affordability are mutually exclusive!
2. BIG Hotel
Contrary to its name, BIG Hotel actually isn't really all that big (truly, the name of the hotel in itself is quite the pun huh). Instead, it boasts of an eclectic collection of cozy small rooms, each wondrously designed with a minimalistic touch. For the Valentine's Day couple, BIG Hotel is truly a perfect alternative to boring dinner dates. Each room in BIG Hotel is well equipped with Wi-Fi and Movies on Demand – yes, free movies!
If you're both massive fans of action, fanfare and blockbusters, and your regular date typically comprises of a movie at a cinema, you will surely find BIG Hotel a refreshing take to the overused Valentine date routine. After all, why seek out uncomfortable and scratchy plush seats at the cinema when you can cuddle and lounge in the comfort of your own private room, right?
Since it's Valentine's Day, why not add a dash of romance to the mix? Bring your own box of popcorn to the hotel. Or perhaps, if you feel tempted to splurge a little, I'd certainly recommend indulging in some quality caramel popcorn by Garrett's. Get a bar of dark chocolate or two, and break it into smaller chunks and mix them in with the popcorn. This additional touch of subtly bitter chocolate mixed with your sweet caramel will certainly suffice to spice up the romantic mood! After all, chocolate is the food of love! And what better to spur on the romance, than some natural aphrodisiac in the form of cocoa?
A night at BIG Hotel will set you back from $169 onwards. (Source: HotelsCombined) A small price to pay indeed, for a night of treasured memories!
3. Wanderlust Hotel
One of the most popular staycation destinations in Singapore, the Wanderlust Hotel certainly speaks for itself. With its unique room designs and features, each room takes you away into an entirely different setting, and a night well spent will certainly feel like out of this world!
Choose from a range of three types of rooms – the pantone rooms, mono rooms, or whimsical lofts (as pictured respectively).
The cheapest option would be the pantone rooms, where each room is affixed with vibrant loud colours of theme. Opt for the sassy red pantone room for a touch of va-va-voom to your Valentine's Day. While relatively small in size, the loud colours and quirky design make up for any shortfall in spaciousness. The coloured settings and dim lights will certainly set your heart a-fluttering, and your blood pumping with adrenaline!
If your partner and yourself have a taste for the minimalist and monochrome, opt for one of Wanderlust Hotel's mono rooms instead.
Or perhaps, if you're in it for the splurge, take the plunge and make a booking for a whimsical loft room exclusively designed and decorated to complement the unique themes of 'Typewriter', 'Bling', 'Tree', and 'Space'. Indeed, Wanderlust Hotel is famed for its thematic loft rooms, and there's no better option for a staycation for the adventurous young couple!
Prices begin from $179 for pantone rooms, and $215 for their mono rooms. Whimsical loft rooms are sold out for Valentine's Day, but costs from $277 for each night on regular off-peak days (Source: HotelsCombined).
4. Lloyd's Inn
Despite being relatively new to the hotel scene in Singapore, Lloyd's Inn has gained quite the cult following for itself as a staycation destination. A look at the breath taking photos of the boutique hotel will certainly leave you with a knowing edge as to why this hotel has gained such a reputation for itself indeed.
Lloyd's Inn features an array of minimalistic rooms that are sleek and clean in design. For the quiet couple who seeks little grandeur and magnificence, the simplistic design of Lloyd's Inn will certainly draw you in. Why spend your Valentine's Day in the throes of the town crowd, when you can have an amazing night's stay at a tranquil hotel located in a peaceful precinct of Orchard itself?
Despite being located in Orchard, Lloyd's Inn offers an aesthetic reminiscent of villas and summer resort, and provides a great option for a quick getaway from the hectic city life in Singapore. In fact, with its inviting displays of nature, it certainly is difficult to guess that this out-of-the-world hotel is located in the very bosom of Singapore's town, isn't it?
Indeed, Lloyd's Inn is perfect for a Valentine's Day staycation. Lounge in the relaxing expanse of the white-themed room that the hotel has to offer, and if you seek a breath of fresh air, you can take a brisk stroll in the surprisingly quiet district, hand clasped in hand, feet paced in a soothing rhythm, while making casual lilting chat about everything and anything under the sun.
Prices at Lloyd's Inn begin from $158 for each night (Source: HotelsCombined). Act fast though; rooms are running out fast! (Fully booked on 14 Feb – as at 27/1/15)
5. Adonis Hotel
Restored and refurnished in one of Singapore's original shop houses, Adonis Hotel provides an original twist to your usual hotel stay. It features an elegant design that is reminiscent of an eclectic fusion between its old school shop house days, and modern sophistication and class.
If your partner and yourself are culture freaks, then Adonis Hotel will certainly make a perfect stay for you! Located along Purvis Street, you can both take a leisurely stroll along the street while admiring some of Singapore's unique colonial days architecture that have been painstakingly restored and maintained. There is truly something about a stay in a quaint little boutique hotel amidst such historical buildings and sites that appeals to the romantic bone in everyone indeed!
Plus, a brief 10-minutes walk will take you to the Mint Museum of Toys, where your partner and yourself can re-examine your childhood amidst the toys of old!
Settle for a quiet romantic dinner after your explorations at one of the dinner joints or independent restaurants located along or near Purvis Street. Bring a bottle of red wine along if you so wish to, to complete the delightful mood of honeyed romance. After all, wine goes best with something sweet, and what sweeter a side dish than your very own brand of love?
Adonis Hotel has rooms available from $205.97! (Source: HotelsCombined). If your partner and yourself are big on indie explorations and refinding Singapore, a stay at Adonis Hotel is certainly perfect for your Valentine's Day!
* Updated on 27/1/15 to reflect availability of rooms, prices to include GST and service charge and links