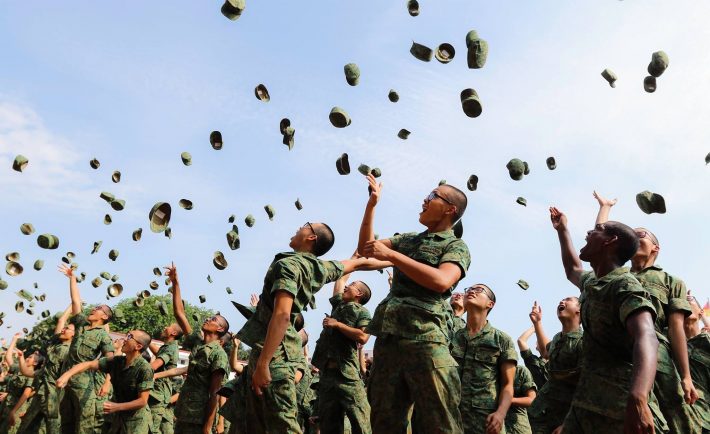 Image Credits: facebook.com/oursingaporearmy
As their ages hit 18, many male Singaporeans and Permanent Residents will undergo basic military training to mold their survival skills in rugged environments. This overall experience encompasses the National Service (NS).
Full-time National Servicemen (NSFs) are required to serve in either the Singapore Police Force, the Singapore Armed Forces, or the Singapore Civil Defence Force. It comes as no surprise that many NSFs who finished their period were more self-reliant than before. This increased independence is partly due to the management of the monthly allowance.
You read that right! NSFs are given a rank allowance in recognition of their contributions. Those with higher ranks are given more in recognition of their added responsibilities. For instance, a Recruit receives a starting rank allowance of S$560 per month. While, a Lieutenant receives about S$1260 monthly.
On top of this rank allowance, combat allowances are given to those individuals who participate in the Singapore Armed Forces' combat vocations. What's more? Operational allowances are paid to those individuals in front-line vocations in the Home Team. All these incentives add up!
As a word of advice, here are four ways to stretch your coveted allowance:
#1: TAKE ADVANTAGE OF THIS CONCESSION PASS
As a Full-time National Serviceman, you are entitled to a convenient way to commute. Enjoy the minimized travel expenses that NSF Concession Card can bring you. NSF Concession Card or NSF EZ-Link Card is particularly helpful if you are serving a unit far from home.
Are you curious to know how you can get one? For starters, it will be processed through your respective unit. Activate the card by heading down to any TransitLink Ticket Office and by making a minimum top-up of S$10. It is important to remember that this card can only be used until the end of your NSF period. Check the expiration date of your card at any Add Value Machine or General Ticketing Machine.
#2: STAY WHERE YOU ARE
Superior knowledge is not necessary to realize that you can reduce your travel and food expenses by remaining in the camp. You can indulge on free meals (of reasonable standards) upon your stay.
Consider staying in the vicinity every once in a while. Well, only if this is an option. I do not suggest that you do this regularly as it is healthy for your well-being to interact with other people and places beyond the unit.
#3: INCREASE YOUR INCENTIVE
Whether you like it or not, you will undergo military training for approximately two years. How about you narrow your mindset? Make an effort to improve on your physical abilities. Hit the gym more often. Your sacrifices will be rewarded as doing great on the Individual Physical Proficiency Test (IPPT) can earn you monetary incentive.
IPPT follows a three-station format including push-ups, sit-ups, and a 2.4 kilometer run. These stations are meant to measure the cardiovascular fitness and physical strength of the individuals.
#4: CULTIVATE YOUR VALUABLE RELATIONSHIPS
Upon booking out, you have the freedom to spend your money on whatever you desire. You can catch a party with your section mates. Or, stroll to Upper Thomson to have an intimate feast. Stretch your dollar by cultivating your valuable relationships instead.
Utilize your short time to reconnect with your family members or significant other. Instead of splurging your cash in one day, opt for inexpensive and entertaining activities. Try renting a bicycle (for S$6-12 per hour) and savoring the view at East Coast Park. You may also choose to have a romantic dinner and a movie marathon at home.
Let us face it! You worked hard for this allowance. You earned it through your dedication to improve your physical abilities and to serve the country. As long as it fits your budget, reward yourself with a reasonable amount each time "pay day" comes.