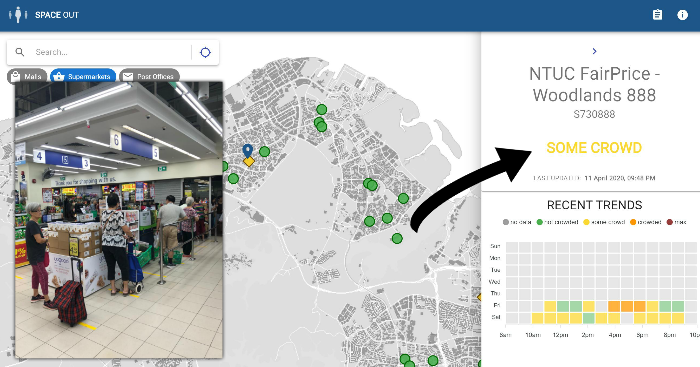 Check crowd levels at supermarkets and post offices island-wide using Space Out before heading out to make essential purchases!
In addition to retail mall operators, NTUC FairPrice, and Singapore Post with assistance from GovTech (Government Technology Agency of Singapore), are now on board to progressively provide updated crowd data of their outlets across the island. The information takes into account Enterprise Singapore's safe distancing guidelines. We are working towards bringing more operators on board.
Space Out is also now more inclusive and colour blind accessible, with different shapes to represent different crowd levels. Thank you MSF Singapore Disability Office and the Singapore Association of the Visually Handicapped for your advice!
Space Out is a map-based website that displays crowd levels of malls, supermarkets, and post offices across Singapore. It will help us make a more informed decision on which place to visit (and at what time), to purchase essential goods and services while maintaining safe distancing.
We hope that you find Space Out useful. Stay safe and healthy everyone!
Share this useful website with your friends and loved ones!
---
Enjoy 1-for-1 Délifrance croissants, fruit tarts and more with these vouchers