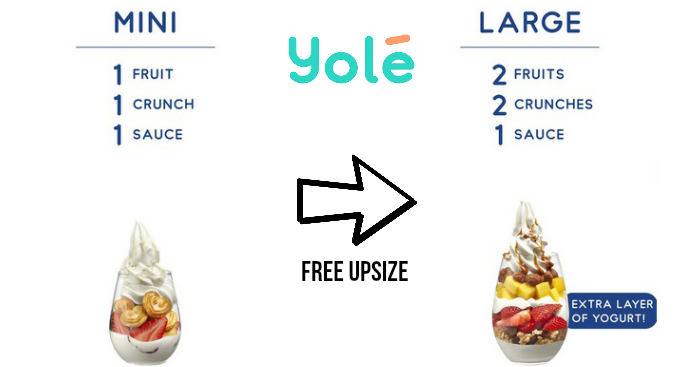 Get a smaller Yolé Ice Cream/Ibiza, and get a bigger size instead!- Is this an April Fool's Day Joke? ????
Click on this link at https://m.me/On.Coffee.Makers/?ref=yolefreeupgrade2019 , and use it as a voucher at the following outlets:
Bugis+
Bedok Mall
Causeway Point
Jurong Point
Share this news with your friends and loved ones!
Terms and conditions apply*
*A free upgrade entitles you to one of the following:
– From a baby cup to a small cup of Yolé, with ONLY one freshly-cut fruit topping.
– From a small cup to a medium cup of Yolé, with ONLY three freshly-cut fruit toppings.
– From a medium cup to a large cup of Yolé, with ONLY three freshly-cut-fruit toppings.
– From a mini Ibiza to a large Ibiza, with any 5 toppings of your choice (2 freshly-cut-fruits, 2 crunches, 1 sauce).
**With any of the Yolé cup upgrades, ONLY freshly-cut fruit toppings can be chosen. No sauces, crunches, nor preserved/canned fruits (Dole) can be chosen as toppings unless the customer is willing to pay an additional amount of money for such toppings)
***For the Ibiza upgrade, ONLY freshly-cut fruits can be used as fruit toppings.
****This promotion is only valid at the Yolé outlets of Bugis+, Bedok Mall, Causeway Point, and Jurong Point.
*****Takeaway Yoléboxes and Yolétubs are not included in the promotion
******The voucher must be shown upon claiming the free upgrade