End the year with a BANG with FairPrice's weekly deals! From now till 2 Jan 2022, enjoy SHIOK SAVINGS of 50% or more on a wide variety of products at selected FairPrice supermarkets.
Effective at killing 99.9% of germs and tough on dirt and stains, start 2022 on a clean slate with Mr Muscle Multi-purpose cleaner. Start your spring cleaning early with the cleaner now going at 1-for-1, $5.40 per bottle!
Can't take the dust while cleaning, or is it time to stock up on masks for you and your family at home? Look no further than FairPrice, where Skypro Classic surgical is going at 60% off, now at $3.95 (U.P $9.95) per box!
Looking for something slightly sweet to munch on? Don't forget to pick up the China Red Flesh Pomelo, now going at only $2.25 each, 50% Off! (U.P $4.50)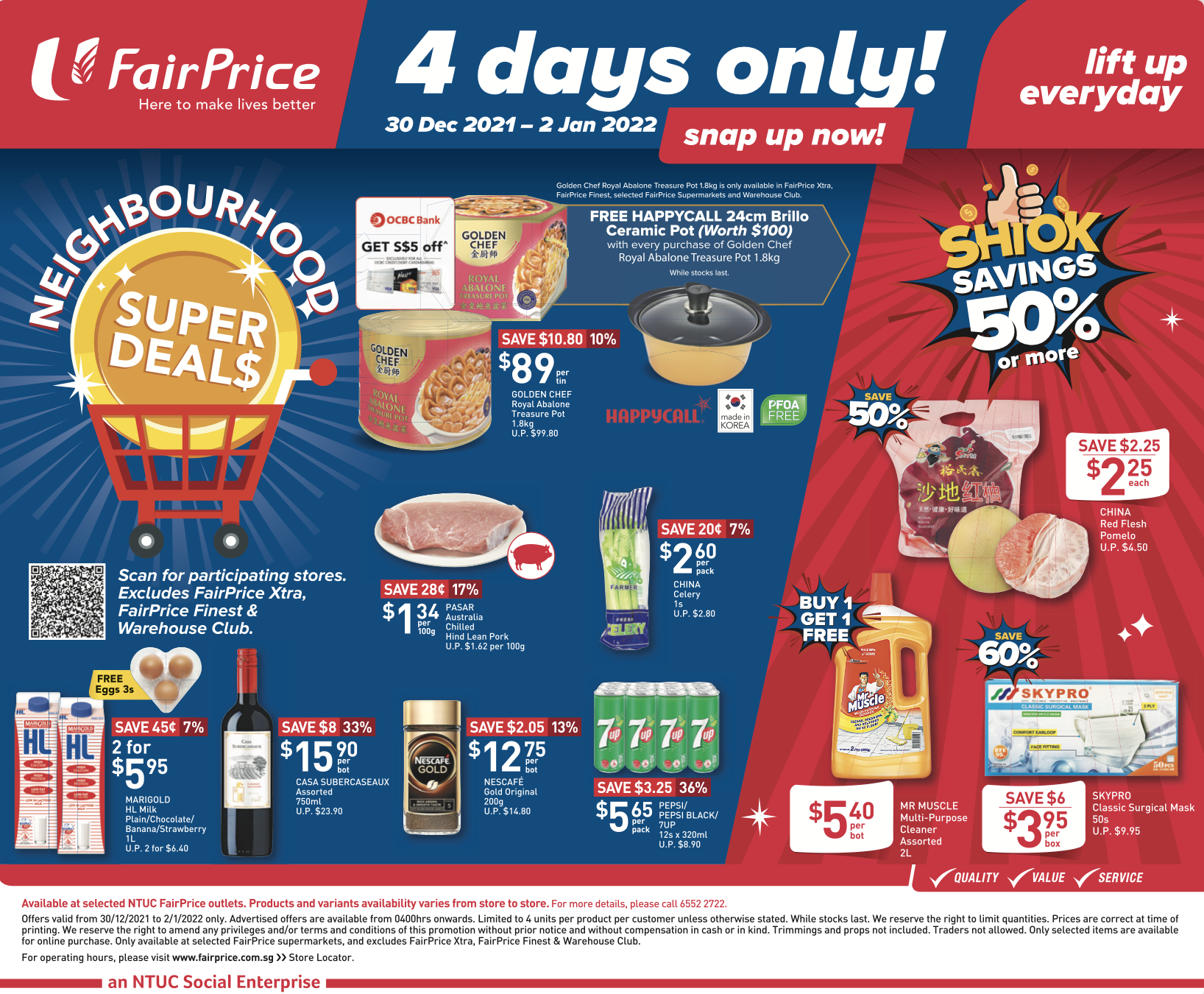 Many other deals await you in store. To get a head start on your Chinese New Year feast, grab the Golden Chef Royal Treasure Pot at only $89! It comes with a FREE Happycall 24cm Brillo Ceramic Pot (worth $100) too – don't fuss about not being able to find a pot that can fit this delicious goodness!
Other must buys include:
Casa Subercaseaux Assorted: $15.90, 33% Off
Pepsi / Pepsi Black / 7UP: $5.65, 36% Off
Pasar Australia Chilled Hind Lean Pork: $1.34 per 100g, 17% Off
Nescafé Gold Original: $12.75, 13% Off
Marigold HL Milk: 2 for $5.95, with FREE eggs (3pc)
Ongoing for 4 days only, don't miss out the last weekly sale of the year!