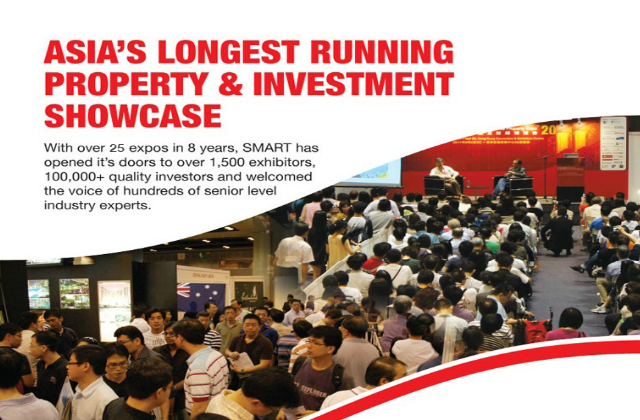 Take control of your financial future and join many others in the SMART Investment & International Property Expo. With over 11 years of organizing investment expo in other parts of Asia, SMART Expo has invited hundreds of industry experts in their fields to provide useful advice and motivational talks to investors.
This year, Singapore will be its first stop in Asia, followed by Beijing, Hong Kong and Shanghai in later parts of the year.
There are different seminars held in this 2 days event, so whether you are someone who is looking for investment opportunities or one who wants to learn more about investing, you will definitely benefit from the insights shared by these quality professionals.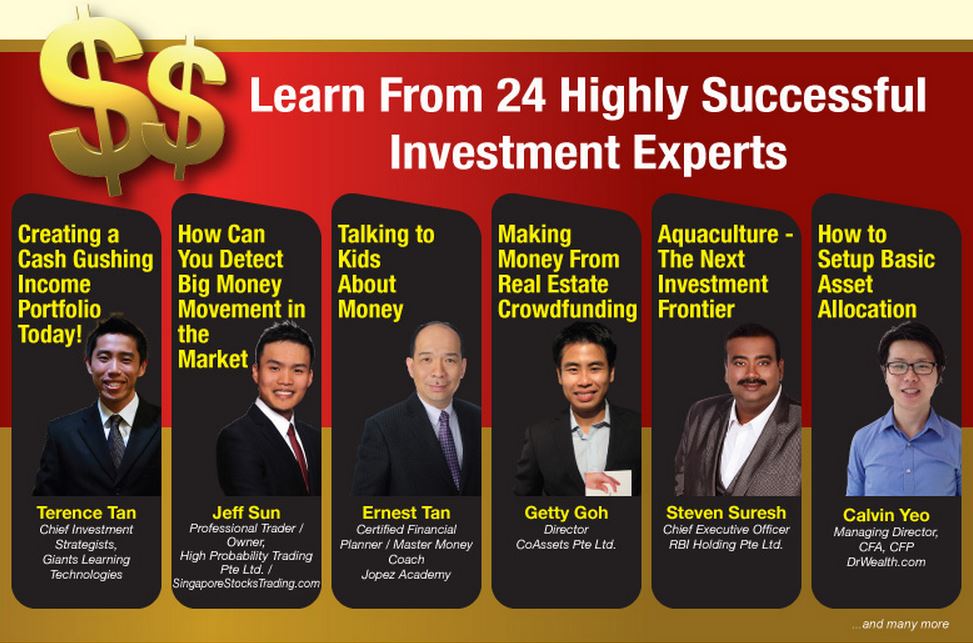 Property investment 
If you have been following the news, you would have been aware of a slew of currency swings that are happening in the market.
The U.S. Dollar has been appreciating ferociously against other major currencies like the Euro, GBP and AUD.
Fortunately, the Singapore Dollar has strengthen against a basket of currencies. With a stronger S$, it makes properties investing abroad attractive as it costs less in dollar terms. This has been reported in the Straits Time recently and some of the overseas properties in Malaysia, Australia and Britain are popular among Singapore's investors.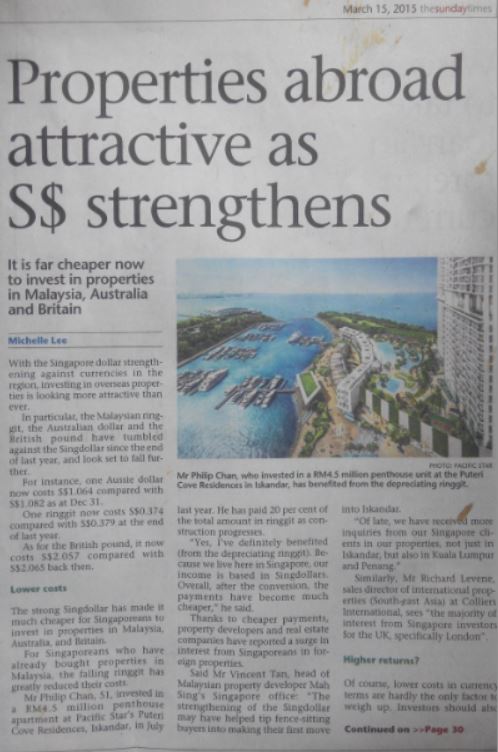 Some economists says that the central bank will likely keep its stance of letting the Singdollar appreciate against other currencies in the April meeting, albeit at a lower pace. This could be a good opportunity to leverage on for property investors.
If you one who plans to buy a retirement property or a weekend home to retreat to across the Causeway, look forward to Mike Chau's seminar on "Why is Landed Property the Preferred Investment Choice in Iskandar, Malaysia for 2015?" on 28 March 2015 from 13:00 to 13:45. Mike is the managing director of eBizway Research Sdn Bhd and has invested in the Iskandar since 2008.

With the decline of the Aussie dollar, parents who are planning to purchase a property in Australia for their children who wishes to study or work abroad may find it a better deal now. Christian Numa from LK Property Group will share with you some tips and hindsight on how and why you should invest in properties in Melbourne – the World's Most Liveable City. And Omar Butt from Find My Work Space will talk about the burgeoning marketing for flexible workspaces in the city.

You should also not missed Vina Ip's talk on "Dirty Truths and Profitable Secrets to Building Wealth Through Properties" on the second day of the seminar. Vina is a founder of Property Club Singapore, and she blogs at PropertySoul.com where she shares her property investing experience on how she grows her wealth from one to five property in 4½ years. In 2014, she published a book "No B.S. Guide to Property Investment." and was sold out in Kinokuniya and Times bookstores within 8 weeks.

If you are already planning to invest in some properties, there is a good selection of overseas properties that you can check out during the event.

There are many other seminars conducted by senior level industry experts giving their expert advice on property investment and how to succeed in the property market. If property investment is what you are interested in, check out the seminar's timetable here: http://www.smartexpos.com/2015/MarSG/timetable.html
Personal Finance & Investment
Who say the SMART Expo is all about talks on property investments? For keen and young investors, look forward to some of the talks from renowned traders and professionals as they show you how to detect market trends, basics of assets allocation and how to create an ideal portfolio.
Jeff Sun is a professional trader and specialises in high probability trading strategies in index futures and equities trading of Singapore and US shares. He will show you his hindsight on proper risk and money management strategy and how to turn your portfolio into profits every month using some trading principles.

With over 15 years of experience in stocks, 11 years with options and futures and 8 years in Forex and CFDs as a full time investment manager, Terrence Tan will give you an overview on how to create a profitable portfolio yourself and how to achieve financial freedom without the need of experts.

For new investors, learn how to diversify your portfolio with Calvin's enriching talk on "How To Setup Basic Asset Allocation". Find out how each investment vehicles can make up an ideal portfolio from the experience of a Chartered Financial Analyst (CFA) and Certified Financial Planner (CFP) holder. It is also worth mentioning that Calvin has managed deal size of over US$2 billion dollars as an investment banker in New York. He is now the managing director and co-founder of DrWealth.com.

Feng Shui and Fortune Telling
If you are a believer on Feng Shui, don't miss the talk from Grandmaster Chang Qing Yuan where he share with you some Feng Shui Tips and Forecast for the year 2015. Being an expert in the fraternity, Grandmaster Chang is known for his practice of "Finger Divination" which allows him to accurately predict current and future issues of an individual. He also boasts the likes of looking at the fortunes and Feng Shui of some of the millionaires and billionaires in China and Taiwan. Grandmaster Chang will speak in the first day of the seminar, from 12pm.

If you are heading to the Expo on the second day, there is also a Feng Shui and Astrology talk by Master Trainer Kevin Foong. Kevin Foong is the founder of Kevin Foong Consulting Group and is devoted to using the "Four Pillars of Destiny 子平八字" to provide Life Readings.

Besides Feng Shui, you can also get your fortune told by Chinese Masters on both days of the event. Get a brief consultation to find out more about your future wealth prospects, health and how the interior design of your house affects Feng Shui.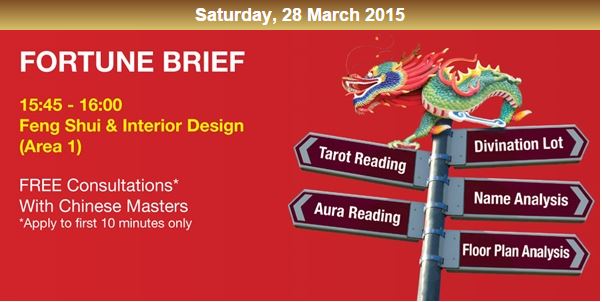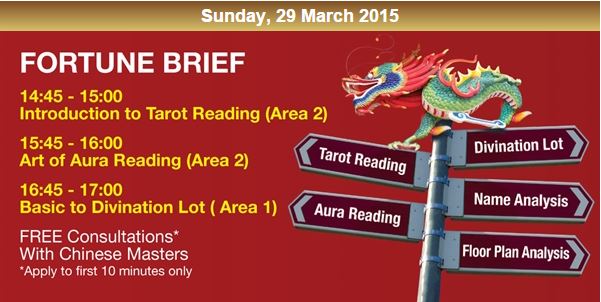 Whether you are a seasoned investor or someone who wants to gain some insights from the professionals, there are so much activities and events to look forward to.
There will also be a lucky draw conducted during the events, and you can win exciting prizes such as digital cameras, watches, vouchers and gift cards.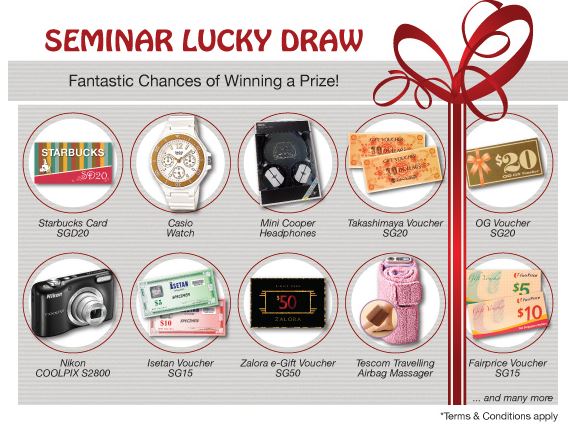 For full terms and conditions: http://goo.gl/DJ4xMx
Mark your calendar and keep your weekends free next week as we look forward to see you at the event!
Address: Hall B, Expo & Convention Centre, Marina Bay Sands
Date: 28 – 29 March 2015
Time: 11am – 7pm
Register for your free pass here:

* Pss.. if you are the first 150 registered visitor who attend the expo from 11am – 12pm, there is also a chance for you to redeem a $10 NTUC voucher.
(Money Digest Singapore is proud to be the strategic partner of SMART Investment & International Property Expo 2015.)