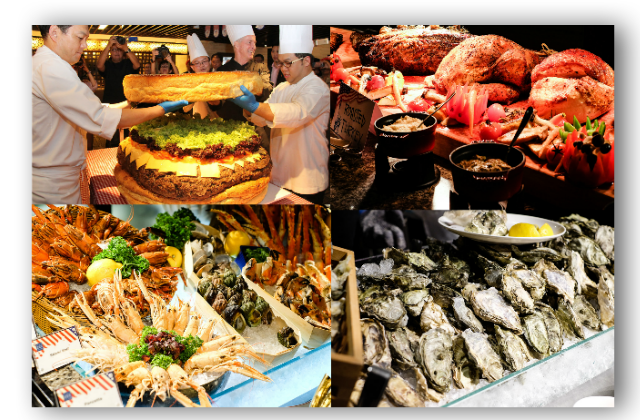 If you have read the news last week, The Great Big American Buffet by Triple Three was featured on the Straits Time on 9 April 2015.
What was so enthralling was the giant burger on display uses an astonishing amount of ingredients – 60kg of beef, 100 whole eggs, 15kg of flour and 5kg of onions! It sure earned its place in the Largest Hamburger in the Singapore Book of Records.
The Great Big American Buffet will be available for dinner and Sunday brunch from 9 to 26 April 2015.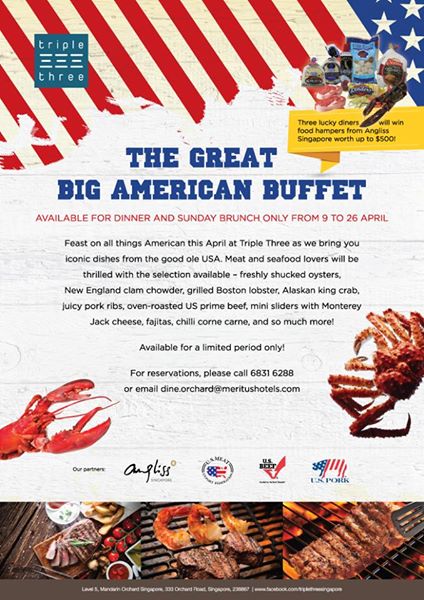 Missed out the humongous burger last week? Don't fret because there are a huge selection of American's fares if you decided to dine at Triple Three for the next couple of weeks.
"..Iconic dishes from the good ole USA."
As curious individuals, you would want to find out what to expect beforehand right?
Courtesy of Maureen, who blogs at Misstamchiak.com, check out some of the pictures from the review:
For the full review by Misstamchiak, check out her review here: http://www.misstamchiak.com/american-buffet-triple-three
The Great Big American Buffet
9th to 26th April 2015 (Dinner & Sunday Brunch)
Adult: $ 108++ Child(6-12years): $ 42++
Citibank Card Members enjoys 50% discount for the 2nd diner.
Triple Three
333 Orchard Rd, Mandarin Orchard
Singapore 238867
Daily
Breakfast: 6.30am – 10.00am
Lunch: 12.00pm – 2.30pm
Dinner: 6.30pm – 10.00pm
Sunday Brunch:
12.00pm – 2.30pm
Reservations: (65) 6831 6288 / 6271
Email: [email protected]
Online Reservations: http://bit.ly/1ylMLOl