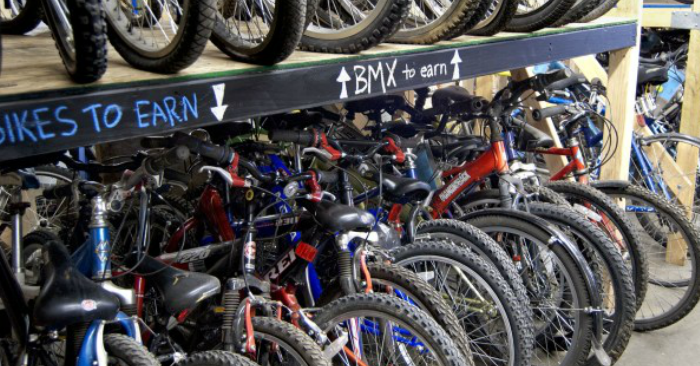 Image is for illustration purposes only. (https://bikeworks.org)
Make your way to Big Box's Bike Roadshow to choose your bike! Over 500 bikes on display, starting from $109 onwards! They have Tropix bikes, Travelon bikes, Tula Roadbikes, Limber bikes, Zycom kids scooter and much more. Not sure what bikes to choose? Test their bikes for Free before you make your purchase.
Plus, if you purchase now, you will enjoy:
? Free* delivery with a minimum purchase of $200 on bikes and bike accessories
? Free* 1-time bike repair service (after 1 month's purchase)
(*terms and conditions apply)
What type of bikes I should choose? Read all about it here
There's also fun and exciting activities for your kids this weekend at Big Box
School's out and it is kids' fun time!
Here are the list of exciting and challenging activities your kids this weekend at BigBox
Kids' Bike Challenge
If your kids are afraid of riding a bike, it is usually they are afraid of falling down. Instead, encourage them to challenge themselves this weekend at the Kids' Bike Challenge! Happening this weekend on 11th & 12th March from 10am to 8pm.
What is it all about?
It is a simple obstacle bike courses with simple ramps, teeter-totters and jumps that build up the kids' self-confidence in bike riding! Do not worry, the bike challenge is save to ride! All of the obstacles are made to cater the for kids aged between 3 years old to 12 years old. And, parents are encouraged to accompany their kids when they are on the obstacle bike course.
How to enter?
It is Free*! Yes! Just purchase anything in BigBox, present the receipt* at the event entrance to enjoy the 10 minutes ride (*one receipt one ride per kid)
What to prepare?
Nothing! Our professional organiser, 1 Oakes has prepared the balance bikes, BMX bikes and safety equipment for your kids.
Bonus!
If your kid manages to complete the entire bike course within 20 seconds, they will be given an exclusive goodie bags! (while stocks last)
Wait there's more!
My Little Giant: Family Carnival

Not enough? Head on to the Family Carnival at the My Little Giant from 12 noon to 7 pm.
What are the fun things happening there?
? Test your skills at the Carnival Game Stalls and win prizes
? Carnival Snack Booths (think popcorn, cotton candy and nachos!)
? Hop on the picturesque Carousel Ride
? Go Choo Choo on the Train Ride
? Try your hands at the Excavator
? Jump high in our Huge Bouncy Castle
? Transform into a glitter princess with a glitter tattoo
? Explore the 3-storey indoor playarea, and take a dip into the huge ball pit from the big white slide!
Want to know more? Click here
Go, Go Car Racing!

Let your kid test his or her driving skills at the car racing track! It is only $10 for 15 minutes intense race. Read more here.
Special Kid's Meal at Enishi
Hungry? Bring your kids to our Enishi, Japanese Authentic at level 2 and get the kiddy meal set for only $8.90. Click here for more menu
Take Me Home!

Look out for the cute clown man when you are at BigBox and ask for a balloon sculptor that your kids love!
Remember, all the activities are only for kids! So let them have all the fun!