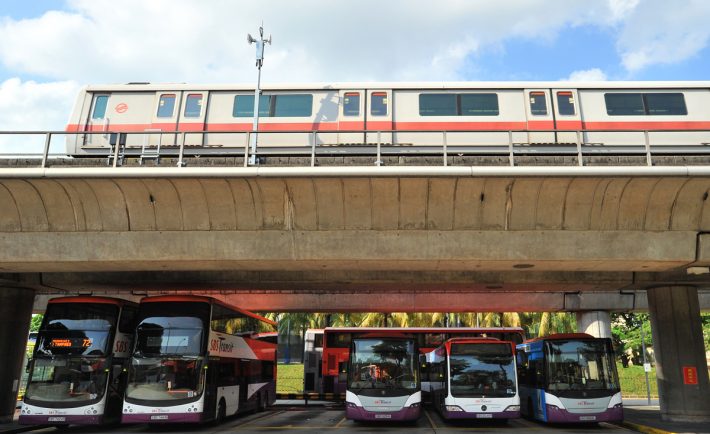 Last year's fare review exercise had us pay 7% more for bus and train rides. While SMRT and SBS Transit had applied for the maximum increase of 4.4 per cent, the Public Transport Council (PTC) rejected granting any fare adjustments.
No changes to bus and train fares this year
In view of COVID-19 and its impact on the economy, there will be no changes to public transport fares this year.
"We recognise the exceptional economic circumstances faced by Singaporeans and have decided to keep bus and train fares unchanged to help ease the financial burden on commuters during this challenging period," said PTC chairman Richard Magnus.
"Our priority will be to safeguard commuters' interests while ensuring a financially sustainable public transport system that continues to meet the needs of Singaporeans in the years to come," he adds.
"With this decision, the full fare adjustment quantum will be rolled over to the next FRE (fare review exercise) in 2021," said the PTC. "In making its decision for 2021 FRE, the council will also continue to balance fare affordability and financial sustainability."
Impact on public transport operators
While commuters like us rejoice over the status quo in fares, transport operators like SBS Transit and SMRT are suffering.
"In its latest financial year, SBS Transit's train segment reported a loss in tens of millions of dollars," the council said. "For its latest financial year ended March 2020, SMRT Trains recorded a net loss of around S$20 million after tax."
"Despite the drastic fall in whole-day ridership by around 75 per cent during the circuit breaker from April to June 2020, public transport operators had continued to run trains and buses largely at pre-COVID frequencies, to help commuters reach their destinations safely and smoothly," said the PTC.
No adjustments to fares for low-wage workers and people with disabilities
The Ministry for Transport (MOT) also stated separately that it has accepted the PTC's proposal to not adjust fares for low-wage workers and people with disabilities.
At the moment, low wage workers are enjoying up to 25 per cent off on adult fares. While those with disabilities have their fares pegged to senior citizens and pay S$64 for monthly concession passes.
Deadline to apply for public transport vouchers extended
The public will now also have more time to apply for public transport vouchers at community centres and community clubs. This is because the application will be extended from Oct 31 to Jan 31 next year.
You can use the S$50 voucher to top-up fare cards or buy monthly concession passes. If your monthly household income from all sources per person does not exceed S$1,200, you will be eligible to apply for the voucher.
Low-income households under the ComCare Short-to-Medium-Term Assistance and Long-Term Assistance schemes do not need to apply. They can look forward to receiving redemption letters for the vouchers in the mail.