(Image: Johan Larsson, via Flickr)
If you are someone who enjoys streaming music on the go but worries about exceeding your data bundle, here is good news for you!
With Singtel Music, you can now stream all the music you love on your mobile phone without any of the data charges.
For a limited time only, you can get Spotify Premium at just $1 for the first 2 months. Plus, save $2/mth thereafter with Singtel Music at $7.90/mth (U.P. $9.90/mth).
Already a Spotify user? Switch over without losing any of your important playlists with our easy-to-follow guide on linking your account.
Find out more at http://bit.ly/2n1GlQR.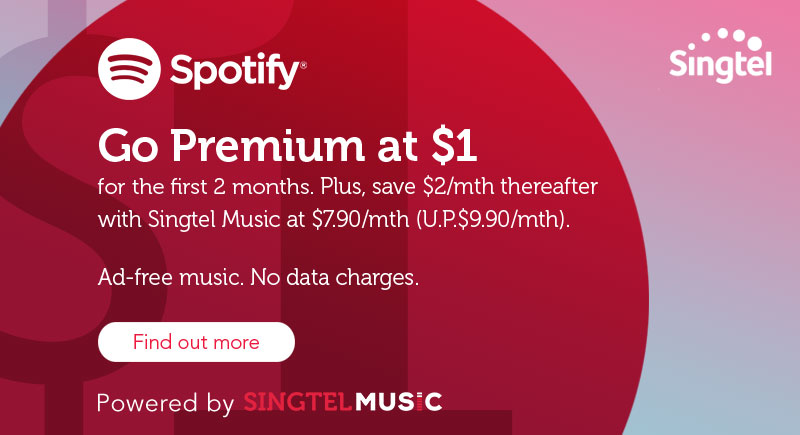 Frequently asked questions
I thought Spotify is free? Why should i pay for it?
Spotify offers a free and premium plan. If you subscribe to their premium plan, you can listen to ad-free music, enjoy unlimited skips, play any track you want in high quality audio plus download and listen to your music offline.
I still don't want to pay, i just want to stream for free.
You can download or stream your music on the go for free but that will use up a lot of data. Unless you have a mobile plan with a huge data bundle, you will probably end up paying more than what you would have paid for a premium music subscription.
So go premium now and start enjoying your music without the worry of data charges!
I can download the music at home and play it for free without streaming
That is definitely possible. However, your storage is limited and you'll eventually have to decide what to delete and what to keep from your downloaded playlist.
Why limit yourself to the number of songs you can listen to when you can stream unlimited music without data charges?
The right and affordable way to do it
The solution? With a promotional price of $1 for the first 2 months, there is no better time to go premium with Spotify. Plus, remember you save $2/mth with Singtel Music at $7.90/mth (U.P. $7.90). Terms and conditions apply.
Find out more at http://bit.ly/2lSKSDE link.