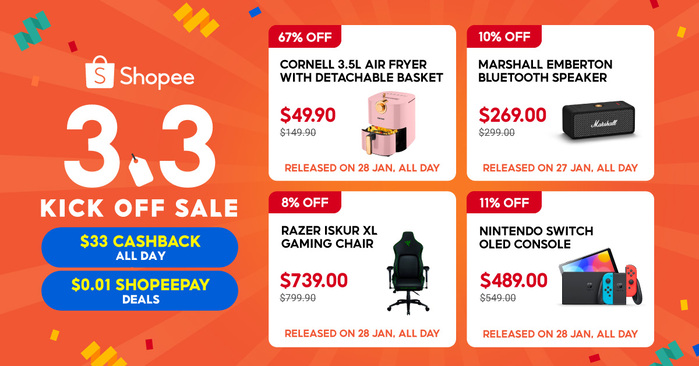 Scouring everywhere for the best deals out there? You've definitely come to the right place. Shopee will be celebrating YOU with their first mega sale of the year – the 3.15 Consumer Day Sale, happening from 26 Feb to 15 Mar. In the lead up to this exciting sale, Shopee will be launching their 3.3 Kick Off Sale on 3 Mar! 
With $33 cashback all day for everyone on 3 Mar, you definitely do not want to miss the opportunity to score some great deals. From 26 Feb to 15 March, purchase $0.01 ShopeePay deals to enjoy discounts up to 99% off — available at participating partners' offline retail stores, such as Wingstop, Nam Kee Pau and Boost!  That's right, bargain hunters.. expect a big sale extravaganza that you will need to see to believe. 
Let's take a look at some of the key highlights leading up to the 3.3 Kick Off Sale.
26 Feb: Home Appliances Day
Shopee is kicking off the sale extravaganza with its Home Appliances Day on 26 February. If you were planning to wait for a sale to furnish your home with high quality appliances, you'll be happy to learn that you don't have to wait. 
Priced at $80 and under, $300 and under, as well as $900 and under, snag some fantastic products like the Airbot iRoom 2.0 Portable Cordless Vacuum, Hurom Slow Juicer and more. At the same time, look out for Limited Time Popular Deals featuring highly raved items by consumers, like the Levoit Core 300S Smart Wifi Purifier and iFFALCON Android11 Smart TV. 
Psst… As always, Shopee has tossed in a few bonus deals for you. A limited quantity of $80 off flash vouchers will be released at 12am, 12pm and 6pm, so get your fast fingers ready! Don't say bojio. If you missed them, you can still stand a chance to grab $1,000 worth of vouchers giveaway. Simply follow the Shopee Tech Account on Shopee Feed and check in daily to increase your chances of winning. 50 lucky winners will walk away with a $20 off voucher each, with no minimum spend! 
Check out some of our top picks from the sale below!
1. Samsung 58″ AU7000 UHD 4K Smart TV (2021) 4 Ticks / 36 Months Warranty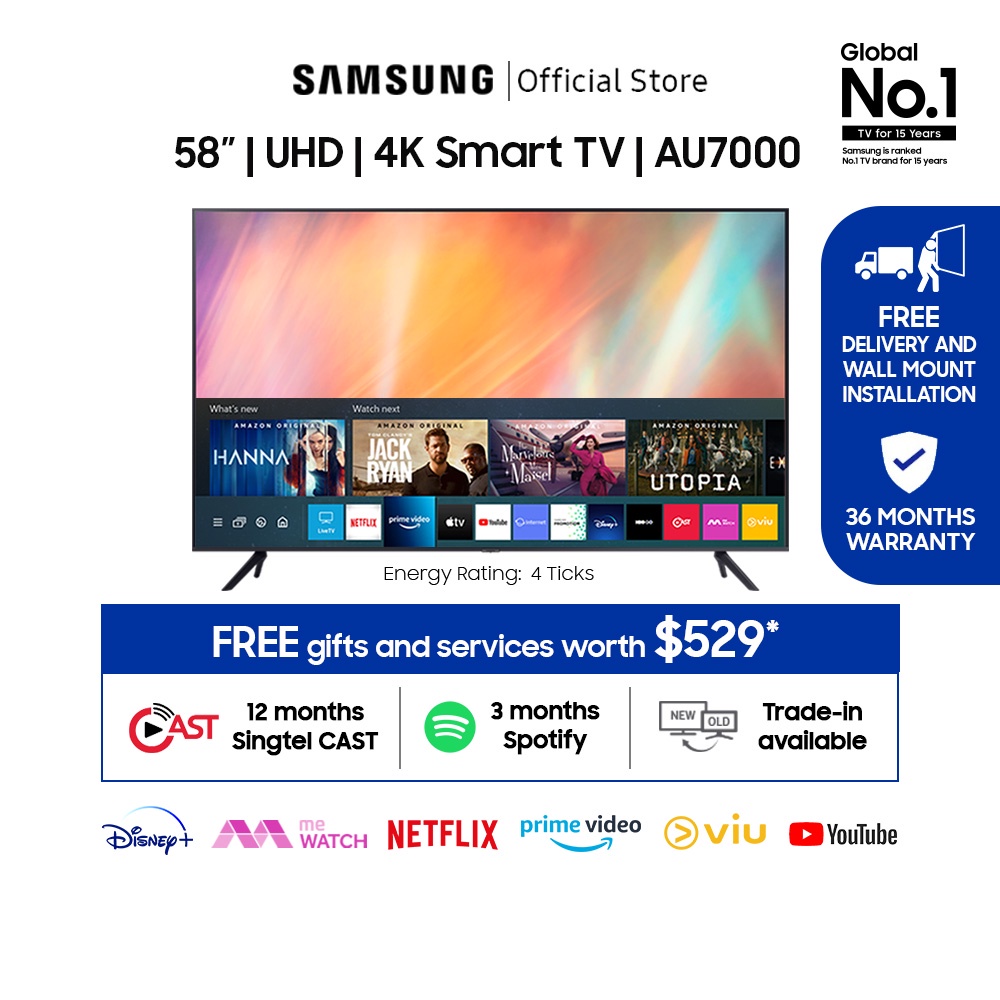 $1,199.00 $1,099.00
Take your viewing experience to new heights with the Samsung 58″ AU7000 UHD 4K Smart TV (2021). With 4x more pixels than regular FHD TV, enjoy ultra sharp images with unparalleled clarity – perfect for binging on your favourite Netflix series.
2. Cornell 3.5L Air Fryer with Detachable Basket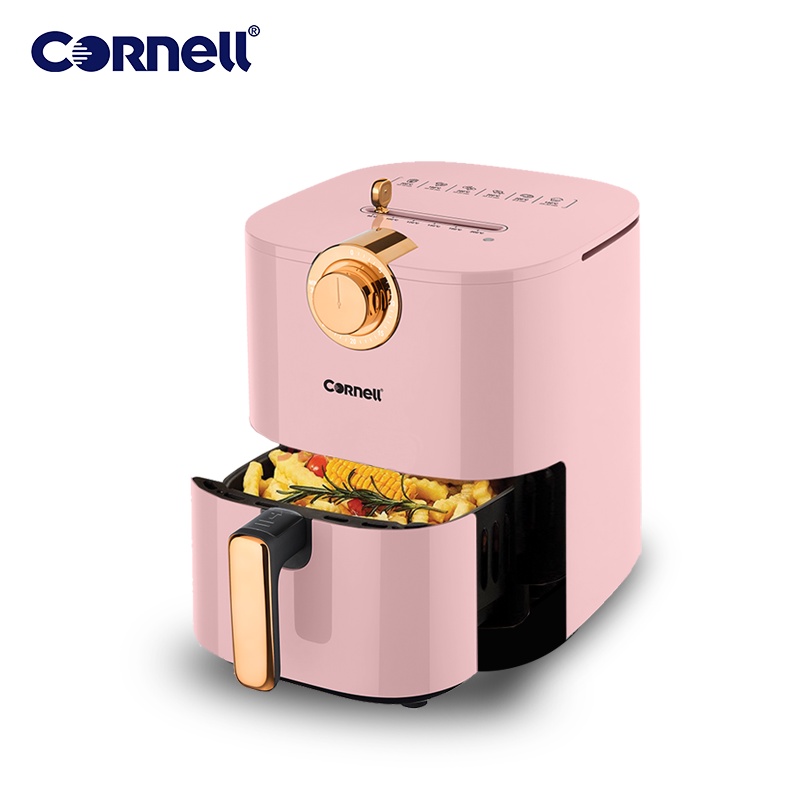 $149.00 $49.90
This Cornell 3.5L Air Fryer lets you enjoy your favourite fried foods without the need for excess oil or greasy residue. With rapid high temperature circulation technology, it cooks your food perfectly and provides a crispy exterior while keeping the inside tender. It also comes adorned with rose gold finishings that will definitely spruce up your kitchen.
27 Feb: Mobile & Audio Day
Over at Shopee, you can find different gadgets and gizmos that are highly useful, yet shockingly affordable. Enjoy the Lowest Tech Markdowns for amazing products like the Baseus W3 TWS Wireless, Marshall Emberton Bluetooth Portable Speaker and Samsung Galaxy S21 FE 5G. Audiophiles and music lovers can also get big discounts on some of the most sought-after products like the Jabra Elite 3, JBL Flip 5 Bluetooth Speakers, Xiaomi Mi Compact Bluetooth Speaker, WEKOME D26 Portable Bluetooth Speaker and more.
If you make a purchase on 27 Feb, you also stand a chance to win a Samsung Buds 2 Graphite, worth $198! Not bad, right?
Let's dive further as we show you some of the deals that are almost too good to be true!
3. GeekBite Amazon Kindle Paperwhite (5 Or 4 Or Oasis 3 + 300 Ebooks + Pouch + Screen Protector)
$210.00 – $430.00 $155.99 – $385.99
Access your ebooks anywhere, anytime with the Amazon Kindle Paperwhite. Thanks to its sharp display and fast performance, this device lets you enjoy reading without harmful blue rays that come from tablets or phones. You can also store 3000-5000 ebooks with its impressive storage capacity – so avid readers should definitely pick this up to bring it with you on the go!
4. Marshall Emberton Bluetooth Portable Speaker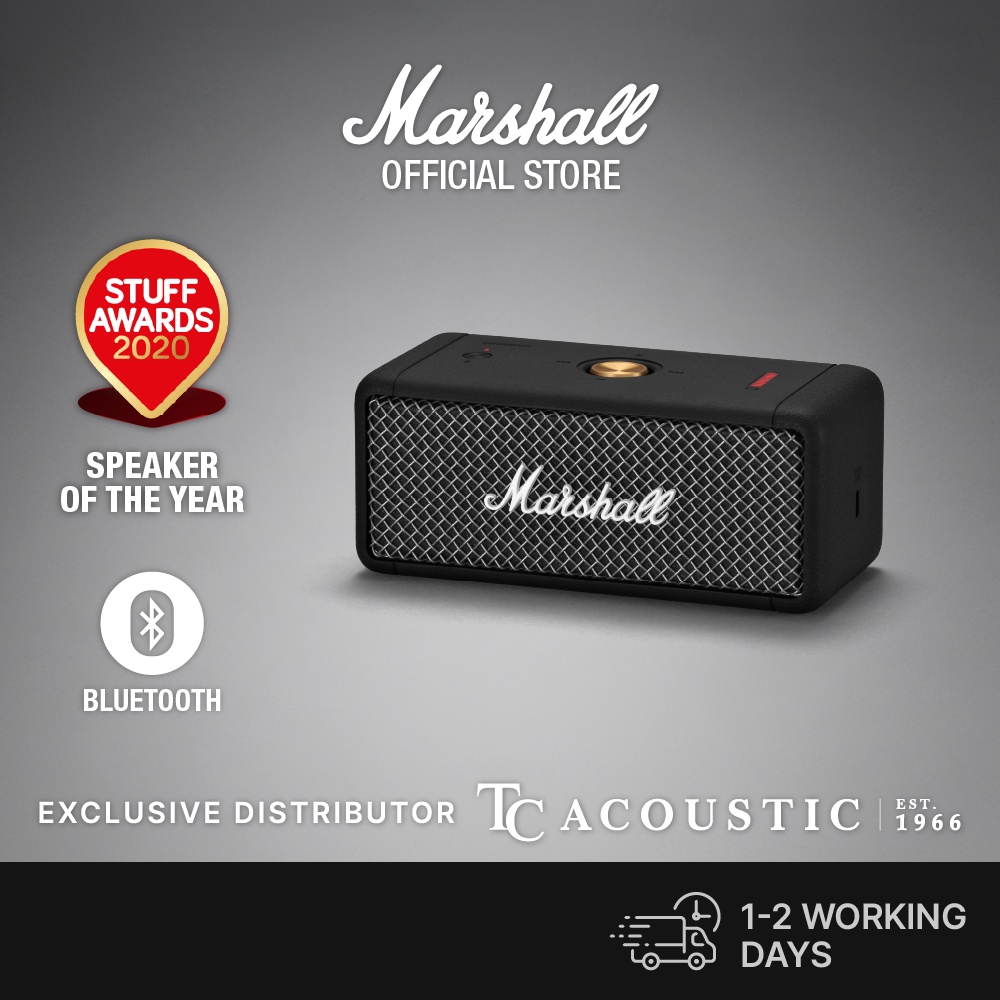 $299.00 $269.00
Introducing Emberton, the most compact Marshall portable speaker in the range. Experience sound that is rich and clear – just like how the artist intended. With true stereophonics, you'll get multidirectional 360° sound wherever you place it. Perfect for those who wish to enjoy their music in all corners of their homes!
28 Feb: Computer & Games Day
For those who are working from home and looking for products to increase productivity, today is the perfect day to do so and save big! Shopee is running a massive sale on computer and gaming products, and you'll find pretty insane deals on tech items such as the Armaggeddon MKA 61C Mechanical Keyboard, TP-Link Deco M5 Mesh Router and Nintendo Switch OLED console. You'll also find deals on the Razer Orochi V2 mouse, Microsoft Surface Pro 7 and LG 34" Ultrawide Monitor that are going for at least 30% off.
Here are some other deals that you wouldn't want to miss:
5. Nintendo Switch OLED Console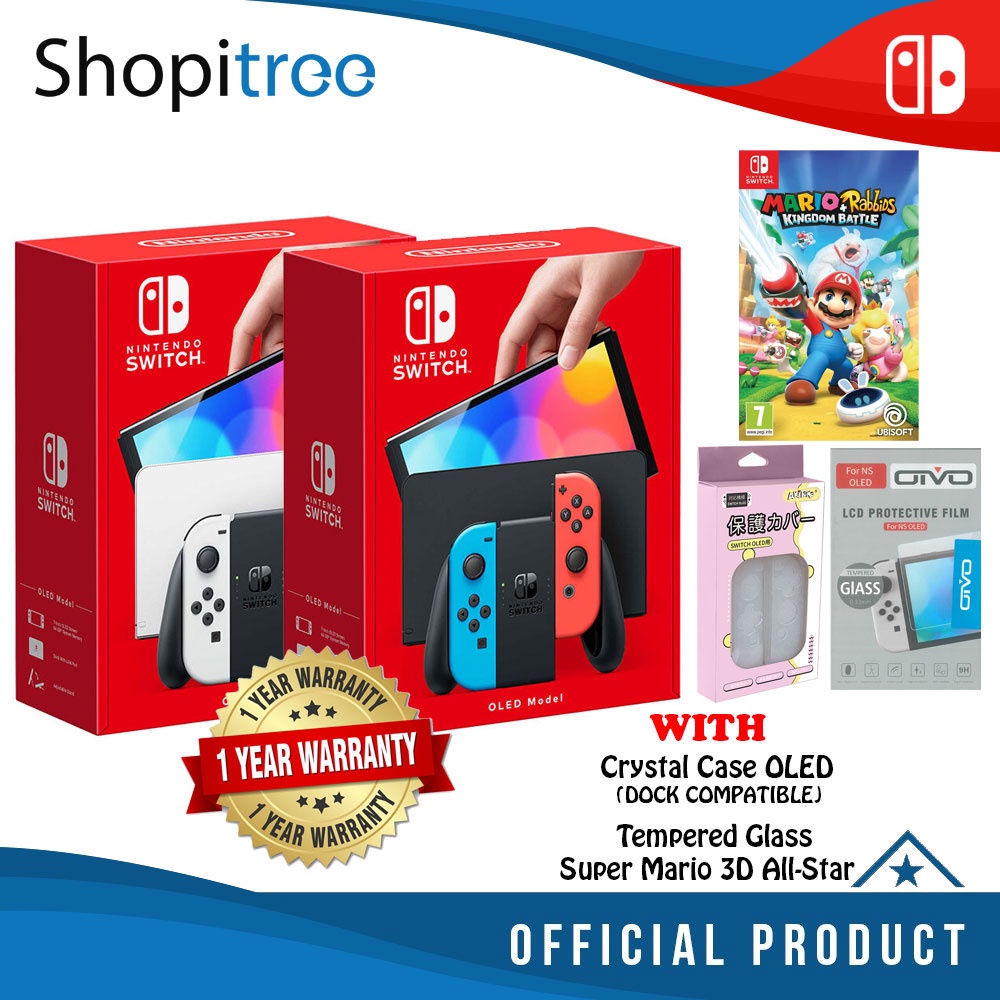 $549.00 $499.00
The new Nintendo Switch OLED Model features a vibrant 7-inch OLED screen for all avid gamers to play easily on-the-go. Equipped with a wide and adjustable stand, you can easily convert it to Tabletop mode for easy viewing. Save hundreds of games with the in-built 64 GB internal storage as well – so you can bring all of your favourite games with you!
6. Razer Iskur XL Gaming Chair
$799.90 $739.00
The Razer Iskur XL Gaming Chair offers the essential comfort and support for long hours of hardcore gaming. With a fully adjustable recline, tilt, and height adjustment, find the perfect sweet spot to take your gaming to the next level!
1 Mar: Food & Beverage Day
You are in for a treat! Start the month of March right with awesome F&B deals from Shopee. Shopee will be offering your favourite deals, slashed for you at $1, at 12am, 2am, 10am, 12pm, 6pm and 10pm – featuring items like coffee, tea, snacks, and more! Get the freshest and highest quality food on your table via Big Brand Discounts, from 100% guaranteed authentic brands, such as Nature's Nutrition New Zealand Raw Honey and Emicakes No Bake Chocolate Marble Cheesecake.
Shopee will also be bringing local favourites for you with great deals on frozen desserts and ice cream, with unique flavours like mala, salted egg, and more! Durian lovers can also score deals such as $9.90 durian from top durian sellers, including Durian Plantation and Huat Yuann.
7. [PAN ROYAL] Frozen Mala Flower Lala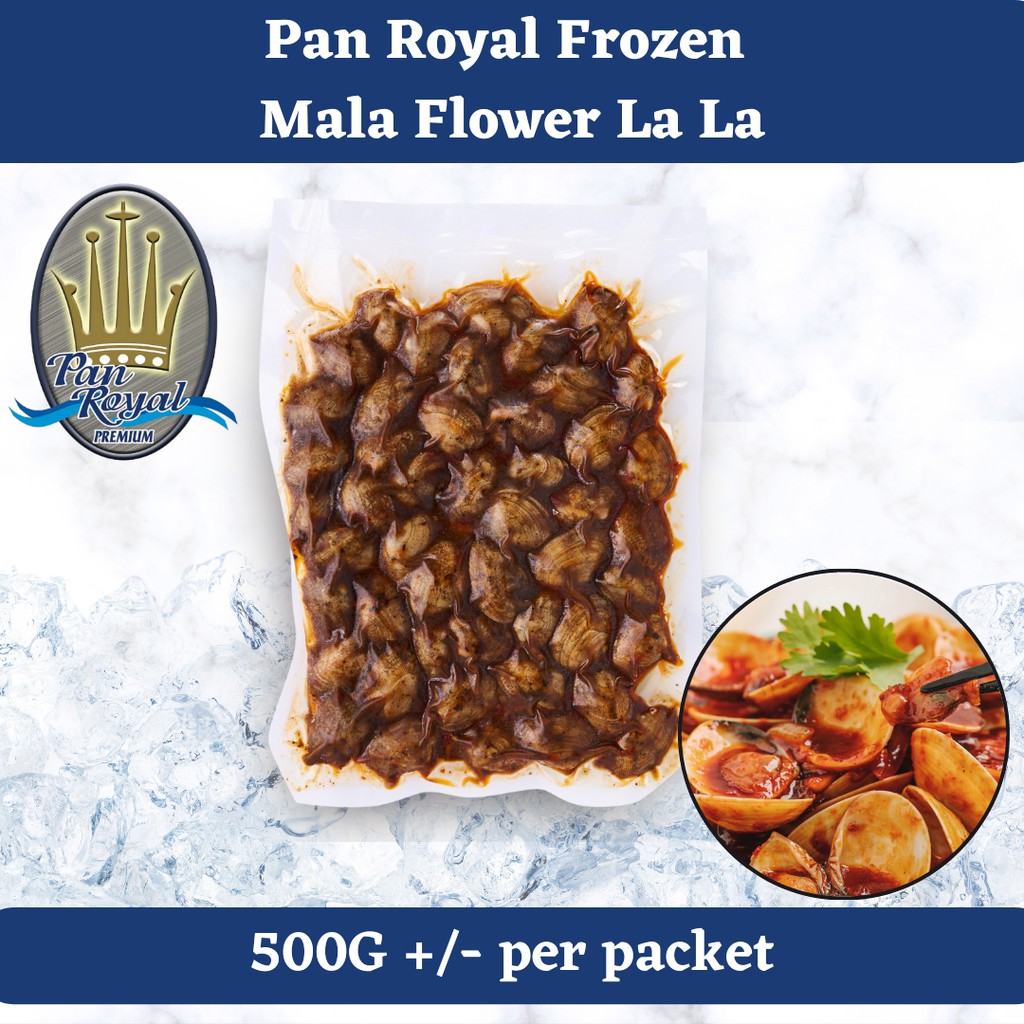 $6.00 for 1 $6.00 for 2
Seafood lovers can enjoy tasty seafood at home with Pan Royal's Frozen Mala Flower Lala. The frozen lala clams are marinated with a fragrant mala sauce, and packed in a convenience pack for easy cooking. Simply stir fry with chopped garlic, ginger, red chili and oyster sauce, and it is good to serve!
8. Pokka Jasmine Green Tea (6s x 4 x 250ml)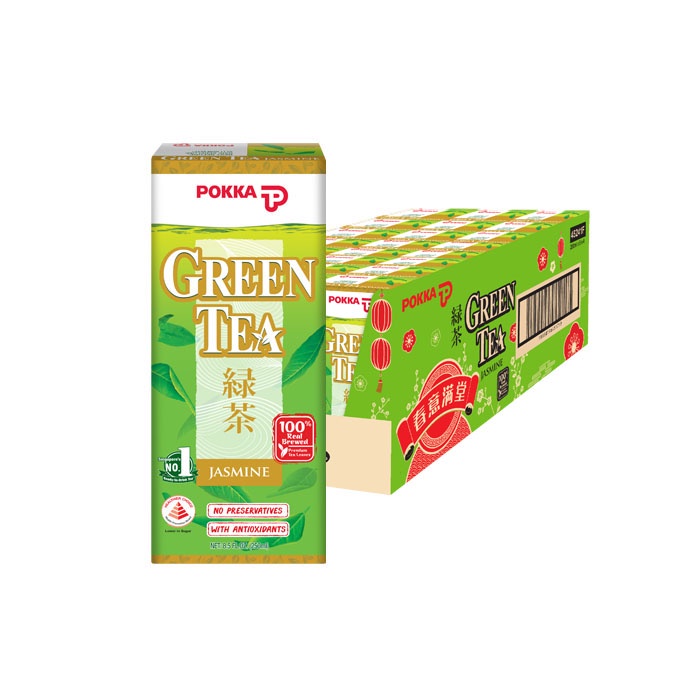 $10.80  $10.20
Enjoy the gentle aroma of jasmine blooms with Pokka Jasmine Green Tea. Brewed with carefully selected premium tea leaves, it is also a great source of antioxidants! Stock up your pantry as you can now grab a carton for less than $10!
3 Mar: 3.3 Kick Off Sale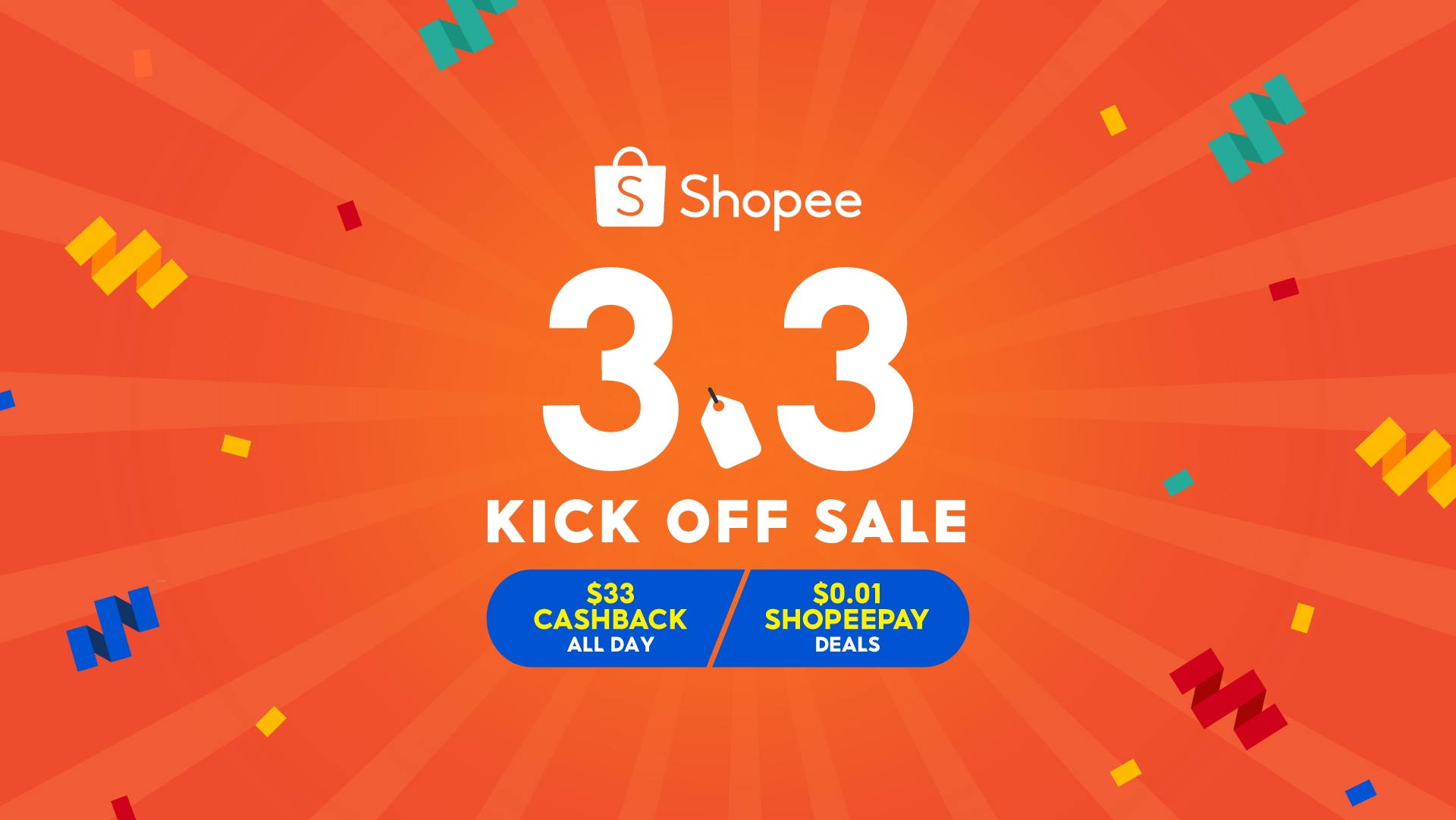 And here we have it, folks – the much-anticipated Shopee 3.3 Kick Off Sale. Get up to a whopping 90% off from over 400 authentic brands during the 24H Brands Flash Sale, including SAMSUNG, IT Cosmetics, Kinohimitsu, Braun and Under Armour. 
Don't know where to get started? Not to worry, browse through top consumer picks going for only $3.30 and under, $33 and under, and $330 and under. There are also incredible electronic deals from top-sellers via Electronics Zone, from Dareu, Spigen, SoundPEATS and Flujo. 
Beauty lovers, enjoy one day only exclusive prices during the Luxe Beauty Sale, on best-selling products like the SK-II Facial Treatment Essence, Estee Lauder Advanced Night Repair, LANEIGE Water Sleeping Mask 70ml, Shopee x IT Cosmetics CC Cream Foundation Brush Brand Box, Paula's Choice Clear Acne Pore Normalizing Cleanser, and more! Check out the wide array of Luxe Brands on Shopee such as Sulwhasoo, L'Occitane, Laneige and many more with up to 70% off savings.
Needless to say, there are many treasures waiting for you at the Shopee 3.3 Kick Off Sale, so add to cart now! And for all our first-time shoppers, enjoy $10 off your purchases with no minimum spend with the promo code <SHOPEE315DAY>, valid for new Shopee users and limited redemptions only.