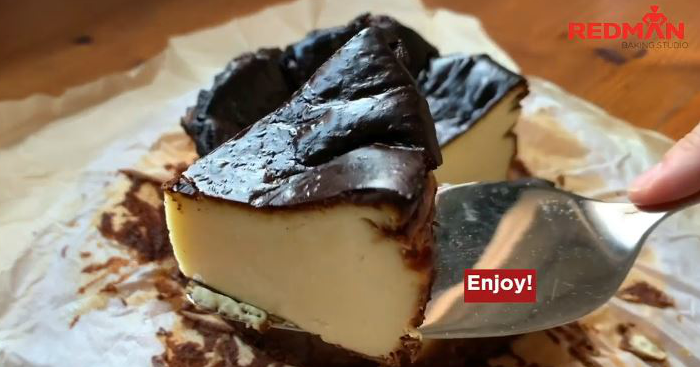 Here's Phoon Huat's version of the famous Basque Burnt Cheesecake that has taken the world by storm. Super simple, great for beginners!
Find all ingredients on RedManShop.com.
Find recipe here: https://www.redmanshop.com/dims/basque-burnt-cheesecake
Ingredients:
Royal Victoria Cream Cheese 450 gm (Product Code: 67061)
RedMan Caster Sugar 120 gm (Product Code: 1417)
RedMan Eggs 3 eggs (Product Code: 12088)
RedMan Vanilla Essence 2 tsp (Product Code: 67722)
RedMan Corn Flour 7 gm (Product Code:1201)
Grand Fermage Whipping Cream 220 gm. (Product Code: 58611)
Round Cake tin with removable base 1 pc (Product Code: 50010)
Steps:
Whisk cream cheese and sugar until creamy.
Add eggs one by one followed by the vanilla essence. Whisk till creamy.
Add the sieved corn flour and mix well.
Add the whipping cream and mix till combined.
Line the 6″ cake tin with a removable base with baking paper on the bottom and sides.
Bake in a pre-heated oven at 200 degrees Celsius for 40-45mins.
Once baked, let cool at room temperature completely before setting in fridge for at least 2 hours.
When time to serve, remove from cake tin and enjoy!