As part of their 10th birthday special, foodpanda is offering its best promotion yet for pandapro – subscribe at just 10¢ for your first two months! No, your eyes are not playing tricks on you. The price is indeed 10¢ for a month's worth of fantastic and unlimited pandapro benefits, like free delivery on food, groceries and more!
However, do act fast as promotion is only valid from 1 July for a limited time only. Existing subscribers – you're in for a treat too. pandapro's benefits have been improved to be even bigger and better!! Let's find out what pandapro subscribers can look forward to from 1 July 2022.
Bigger and better benefits with pandapro from 1 July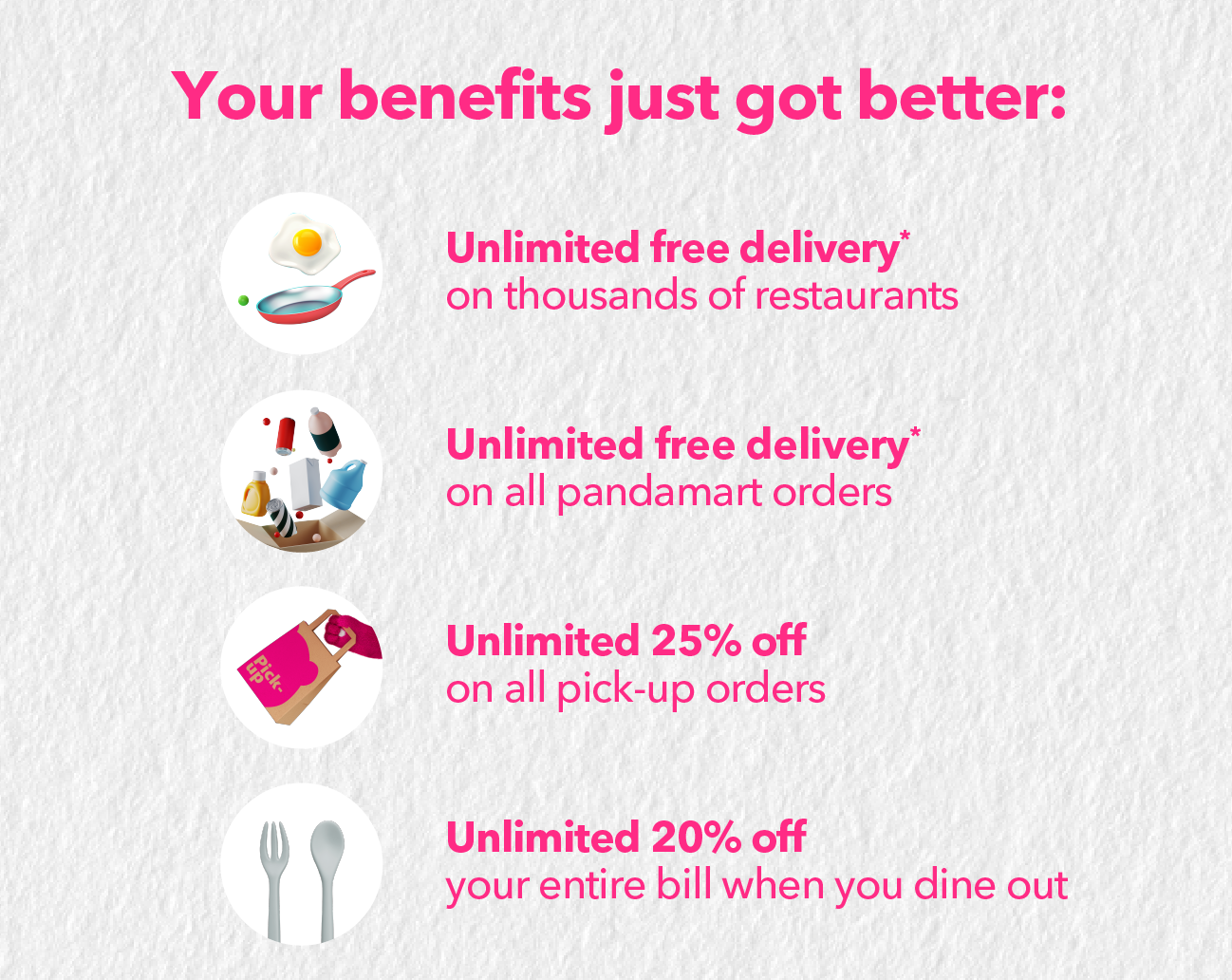 The best subscription plan just got better. From 1 July, unlimited free delivery will be extended to both food and pandamart, foodpanda's own grocery delivery service. All pandapro subscribers will now be able to enjoy unlimited free delivery from thousands of popular restaurants. In addition, restock your refrigerator with fresh ingredients regularly from pandamart without fretting over delivery fees anymore (minimum order values apply).
For those who like to tapau their food items while clocking some extra steps, simply use pick-up – pandapro subscribers will enjoy unlimited 25% off all pick-up orders. If you prefer to enjoy a good time dining out instead, you will now be able to enjoy unlimited 20% off your entire bill through dine-in with no cap at participating restaurants.
What's even better is that these improvements are permanent and will continue even after the promotion period!
Subscribe to pandapro for only 10¢/month for your first two months!
If you have always been unsure of the cost-benefits ratio of a pandapro subscription, now is the best time to try. Now at a 'practically free' price of 10¢, you will be able to get the bang for your buck by scoring free delivery as a pandapro member, as compared to the usual $2.99 fee for your favourite bubble tea treat, for example. Hurry and subscribe to pandapro for only 10¢ before the promotion ends!