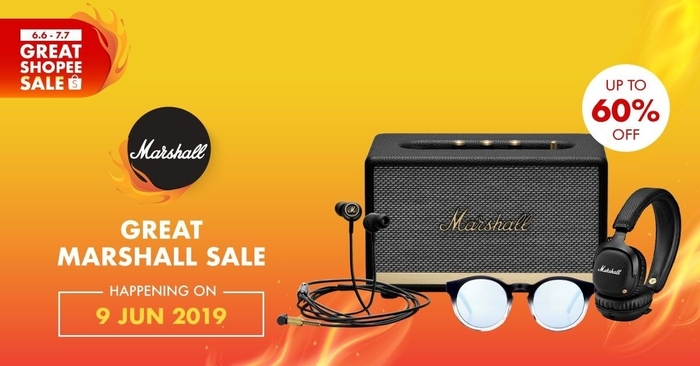 The much anticipated shopping event returns this year! Shopee, one of Singapore's leading eCommerce platforms, will run the month-long Great Shopee Sale, in conjunction with Singapore's largest shopping event.
Shop the Great Shopee Sale with Great Marshall Sale happening on 9-Jun 2019. Rooted in 56 years of experience in the music industry, Marshall amps and audio products are one of the popular picks among professional musicians around the world.
One can expect up to 60% off storewide deals on 9-Jun 2019, with additional savings up for grabs to stretch your dollar with in-store vouchers.
If you are new to MARSHALL and would like to be part of the GSS event of the year at Shopee, MARSHALL has provided a discount code for all of you, exclusive at Shopee! Enjoy a further 10% off send with this promo code: "MARSGSS"!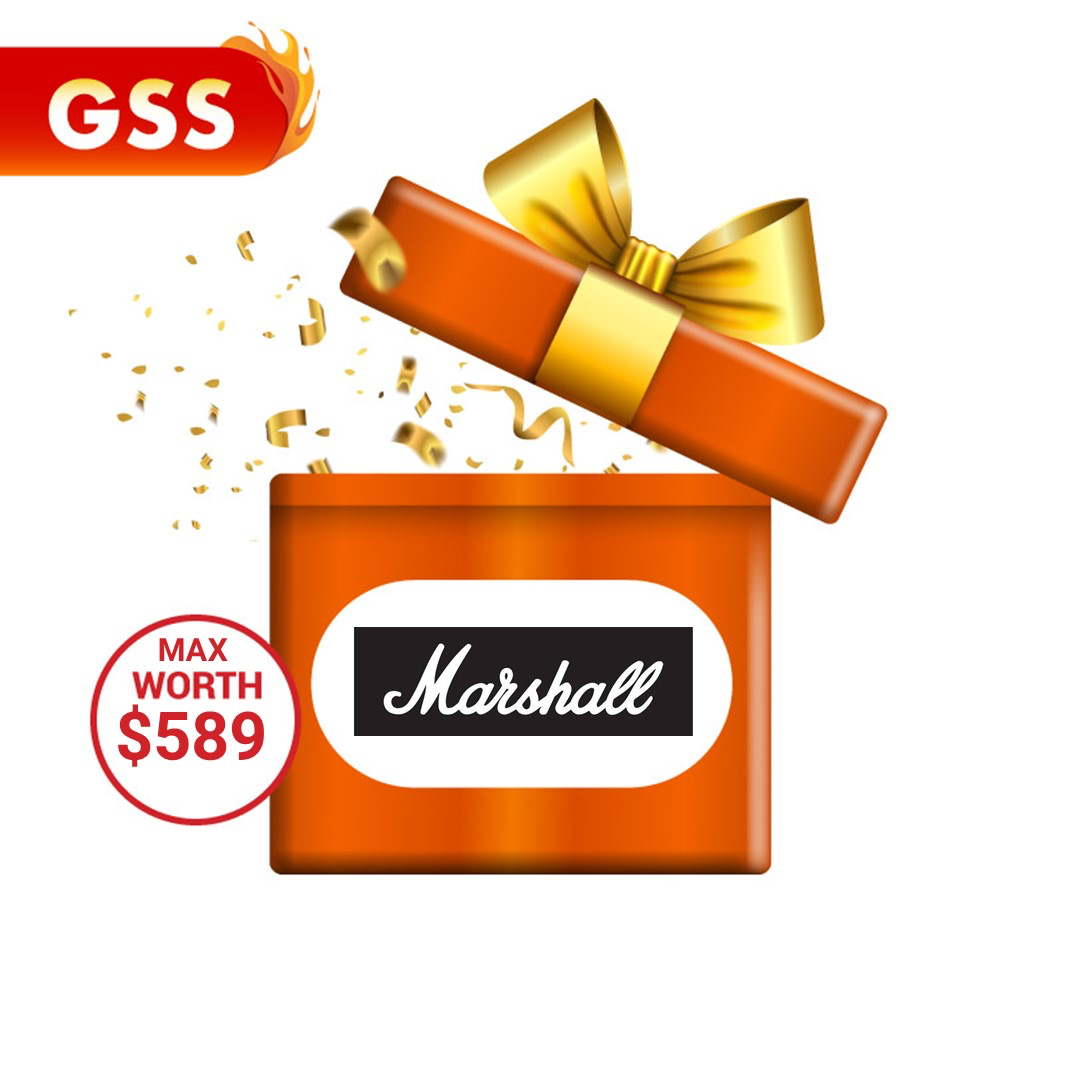 Here are some of the top deals from the Marshall x Shopee GSS Great Marshall Sale to look out for: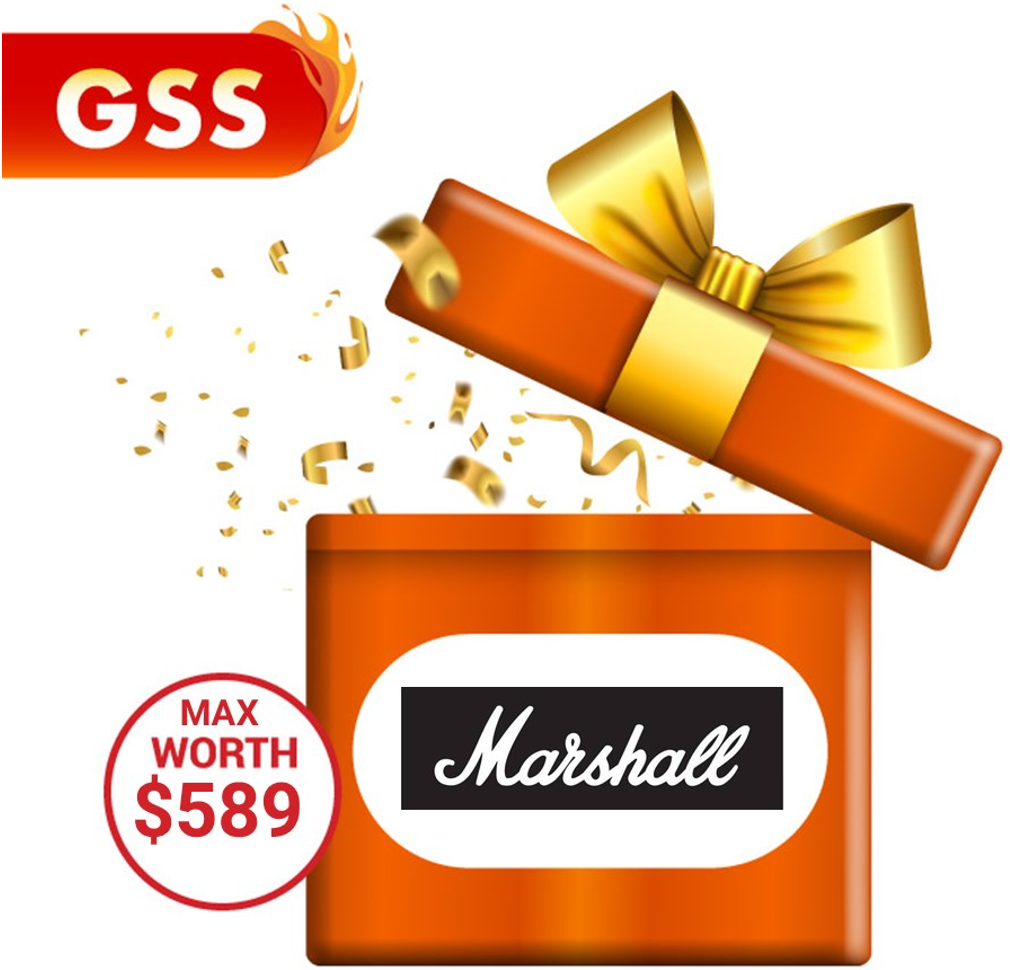 MARSHALL Brand Mystery Box | $59
Celebrating GSS, Marshall has partnered with Shopee to offer you an exclusive mystery box!
The Marshall Brand Mystery Box contains of either Marshall Mode value at $99 or Marshall Acton Bluetooth speaker value at $489 or Marshall Acton Multi-Room speaker value at $589.
The Mode headphones comes equipped with microphone and remote for use with your cell phone. Combined with excellent audio, a tangle resistant cord and unique styling that embodies the Marshall legacy.
Mode offers huge sound in a small package. Customised drivers deliver high-output sound at minimal distortion. With unique in-ear design that anchors to your ear, Mode comes with four different size sleeves allowing you to find the perfect fit.
Marshall Acton is the most compact home speaker from Marshall. It's the perfect size to bring music to your home's smallest spaces. Acton features well-balanced audio that boasts powerful sound throughout the sound frequency. The clear midrange, extended highs and deep bass seem to defy the laws of nature for a speaker this small. With its Classic  Marshall Design iconic gold script logo, gold piping, vinyl casing and vintage-inspired fret, the Acton is an instant rock 'n' roll classic. Its devilish good looks draw inspiration from over 50 years of Marshall design.
Marshall Acton Wireless Multi-Room Speaker, Easily set up your single or multi-room wireless system in just a few steps Frequency range 50 – 20,000 Hz Connect wirelessly with Chromecast built-in, Spotify connect, airplay or Bluetooth, or go wired with a 3.5mm jack or RCA cord Seven one-touch presets on this speaker gives you immediate access to artists, albums and playlists on Spotify or internet radio stations Using multiple Marshall multi-room speakers you can wirelessly play different songs in each room, or bring it all together and play the same song throughout the entire home
There is 96% chance in getting Mode, 3% chance in getting Acton and 1% chance in getting Acton Multi-Room. The items are worth much more than $59 on its own, and whatever mystery item you get would definitely be a steal!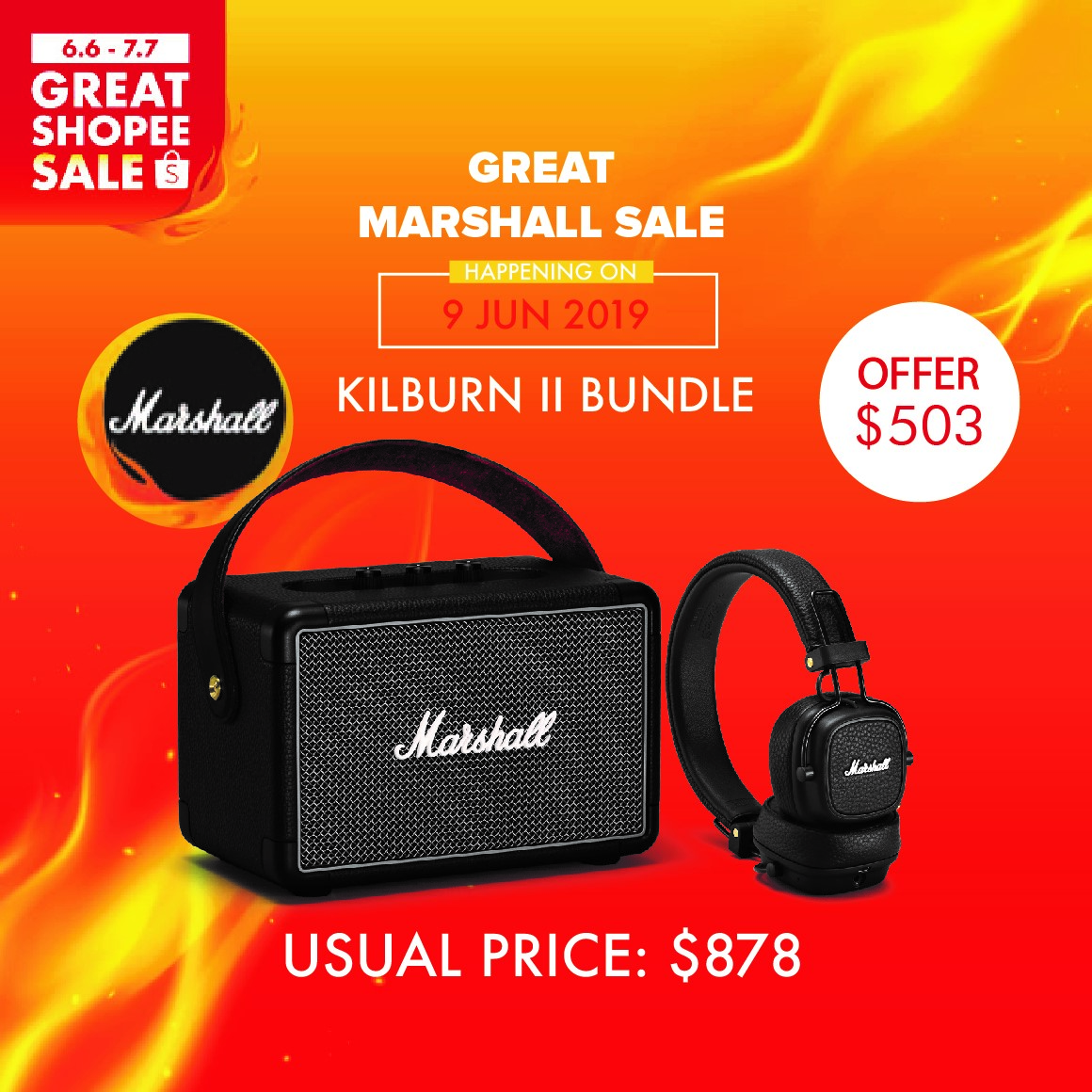 MARSHALL Kilburn II + Major III Bluetooth Bundle | $503
Celebrating GSS, Marshall has partnered with Shopee to offer you an exclusive bundle deal.
The Marshall Exclusive Bundle contains Marshall Kilburn II Bluetooth speaker value at $589 and  Marshall Major III Bluetooth headphone value at $289.
Marshall Kilburn II comes equipped with Bluetooth 5.0 aptX technology for wireless music play. Play music with any Bluetooth device at a range of up to 30 feet away from the speaker. Kilburn II weighs just 2.5 kg and offers 20+ hours of portable playtime on a single charge and is the loudest speaker in its class. Its compact size and guitar inspired carrying strap make it perfect to take with you. You can track the speaker's battery life with the visual battery indicator located on the top panel of the speaker.
Marshall Major III Bluetooth offers you the freedom and convenience of wireless Bluetooth aptX technology and 30+ hours of playtime on a single charge. Major III Bluetooth is a modern classic re-engineered with a straight fit headband, slimmed down 3D hinges and rebuilt ear cushions. While thicker loop wires with reinforced rubber dampers that contribute to the overall solid build quality. With the multi-directional control knob you can play, pause, shuffle and adjust the volume of your device, as well as power your headphones on or off. Phone functionality is also included so you can answer, reject or end a call with a few simple clicks.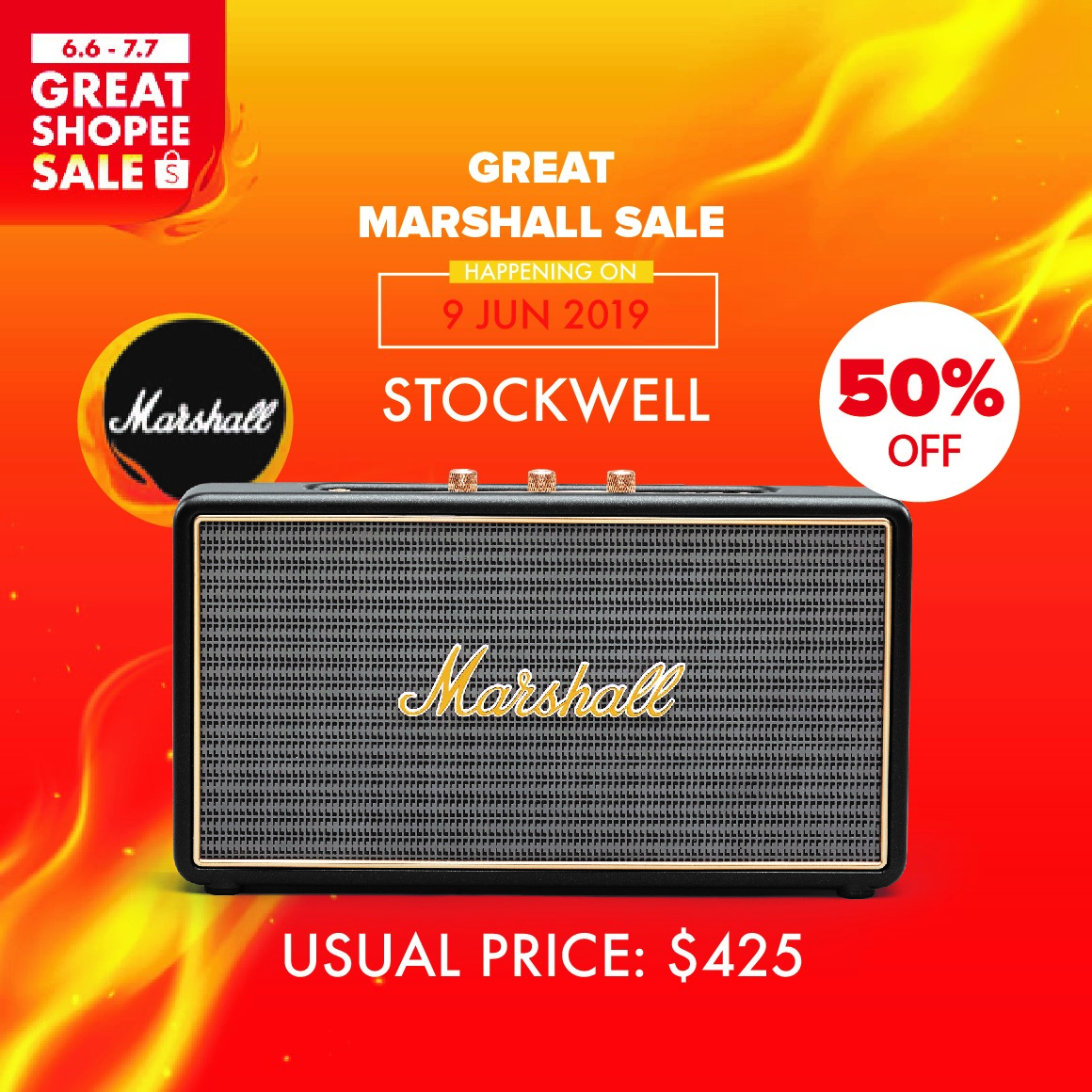 MARSHALL STOCKWELL Bluetooth Portable Speaker | 50% off @ $212.50
To celebrate Marshall Great Sale at this Shopee GSS, you are able to enjoy 50% off Marshall Stockwell
Built for life on the road, the Marshall Stockwell is the smallest travel speaker made by Marshall today. This portable active stereo speaker weighs just 1.20 kg, which means it'll go wherever you want it to go. Rechargeable lithium-ion batteries are built in, which give it 25 hours of playing time. Stockwell uses Bluetooth 4.0 technology to deliver seamless wireless music play. The Stockwell packs a sonic punch, with two 2.25" woofers and a two-channel class D amplifier, making it the loudest speaker in its class. Using the Stockwell to receive and end phone calls is a breeze, just tap the phone button on the control panel to answer, or tap the on/off button to end a call.
Stockwell features a handy USB port to charge your listening device while you're on the go.
MARSHALL x Shopee GSS : Great Marshall Sale
Get your MARSHALL at an affordable price now with this MARSHALL x Shopee GSS! We are sharing with you some awesome deals you can find during the sales, and when they would be taking place, so you do not miss out! Be sure to use the promo code for users (MARSGSS), valid till 9 June, 23:59.
*All items are available in limited quantities. For more information, visit Marshall Official Shop @ Shopee https://shopee.sg/marshall.sg using Shopee's App, or on the Website.