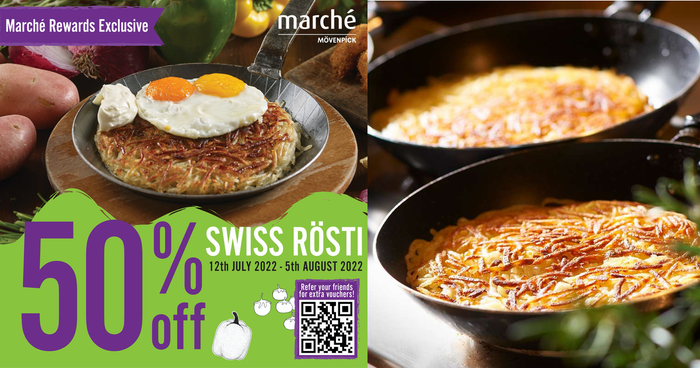 𝟓𝟎% 𝐎𝐅𝐅 𝐑𝗢̈𝐒𝐓𝐈 𝐃𝐄𝐀𝐋 𝐈𝐒 𝐁𝐀𝐂𝐊
You got it! Your favourite potato dish is back again to bring smiles on your faces with our 𝟓𝟎% 𝐎𝐅𝐅 𝐎𝐑𝐈𝐆𝐈𝐍𝐀𝐋 𝐒𝐖𝐈𝐒𝐒 𝐑𝐎̈𝐒𝐓𝐈 deal, starting today 12 July up until 5 August 2022
Redeemable at our
[email protected]
, Suntec City, & VivoCity outlets for dine-ins and takeaways, no minimum spend required! T&Cs apply.
Redemption details:
𝐒𝐭𝐞𝐩 𝟏: Visit any of our Marketplace outlets ([email protected], Suntec City, or VivoCity) within the dates stated on your voucher, from 3pm-6pm.
𝐒𝐭𝐞𝐩 𝟐: Proceed to the Rösti station and inform our staff about your voucher BEFORE placing an order.
𝐒𝐭𝐞𝐩 𝟑: Access your voucher, select 'Use', select the respective outlet, and press 'Confirm'.
𝐒𝐭𝐞𝐩 𝟒: Swipe the voucher in front of the station staff. *Do not swipe at any other locations as this will deem your voucher invalid.
𝐒𝐭𝐞𝐩 𝟓: Present the 'Used Successfully!' voucher page to the station staff to redeem your 50% Off Rösti discount.
Terms & Conditions
Promo runs from 12 July to 5 Aug 2022. Valid from Mon-Fri, from 3pm to 6pm only.
Voucher redeemable at [email protected], VivoCity and Suntec City outlets only for dine-ins and takeaways. Not valid for online orders.
Applicable to plain Swiss Rösti only, toppings and add-ons not included.
Voucher must be redeemed at the Rösti station before ordering. No minimum spend required.
Members are entitled to one (1) voucher per week per account only. However, additional vouchers may be earned for every sign-up referral made during this period.
Unused vouchers will be removed by the end of the stated period on each individual voucher. Extension and reinstatement of vouchers are strictly not allowed.
Voucher is not valid in conjunction with other promotions, discounts or loyalty programs.
Promo not eligible for Marché Rewards loyalty points collection.
Marché Restaurants Singapore Pte Ltd reserves the right to amend the promotion details, terms and conditions without prior notice.
Already got your voucher? Follow the steps below to redeem!