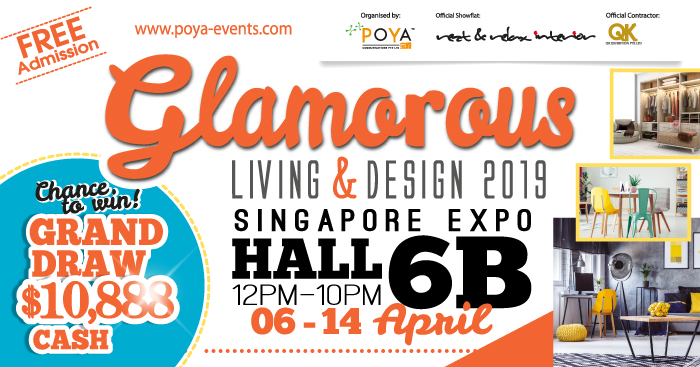 Welcome to a world of inspiration where you can explore new home collection at the Glamorous Living & Design 2019– Your one stop solution for new and existing homeowners
Enjoy great discount on new furniture, curtains, floorings, branded mattresses, dining tables and more!
With more than 5,000 furniture designs for you to choose from!
Exclusive Mattress Deals, more than 300 mattresses to try on, choose the Best Mattress which perfectly suits your needs
Exclusive deals for all BTO owners!
Over 20 International Branded mattresses brands for you to test all out and find the perfect mattress
Widest range of premium mattresses at an exceptional price. Browse their extensive range to international branded mattresses on display to meet all your needs.
Also, wide range of furnishings solutions for floorings, curtains, digital locks and more at your own dream home. – Mix it with playfully detailed accessories to create a match made in modern living.
Get free interior design consultations and join the grand draw for a chance to win $10,888 cash!
Address: Visit us at Singapore Expo Hall 6B, free admission
Opening Hour: 12pm to 10pm from 6 Apr to 14 Apr 2019
Website: Visit www.poya-events.com for more information. Like our Facebook Page to stay updated with their new fair!