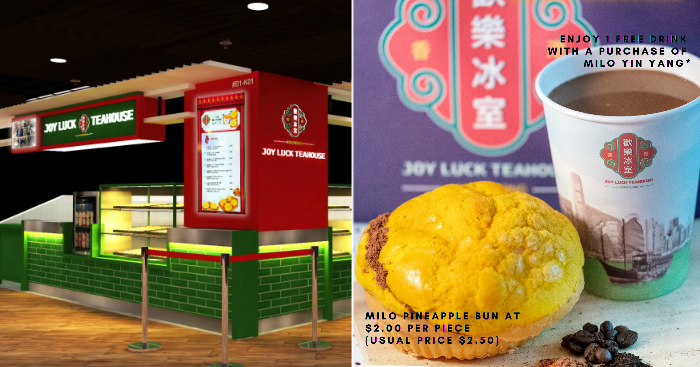 Joy Luck Teahouse(歡樂冰室) is set to open its third outlet on 18 December 2020 at Causeway Point, #B1-K01. Over 100,000 egg tarts have been sold since Joy Luck Teahouse opened its first store at ION Orchard in September. The new outlet will offer two exclusive products made with a favourite beverage of Singaporeans: Milo Yin Yang and Milo Pineapple Bun.
The Milo Yin Yang (Hot – S$4.30, Cold – S$4.60, Bottled – S$4.90) is a unique drink created by Joy Luck Teahouse. Served hot or with ice, this beverage is made with quality coffee, premium tea and milo chocolate malt.  Coffee is believed to lower the risk of diabetes, Alzheimer's, and heart disease. The premium black tea contains antioxidants that help to improve gut health, reduce blood pressure and lower sugar levels. Similarly, milo contains high levels of antioxidants, with the ability to lower cholesterol and prevent memory decline. This combination is not only tasty but also healthy!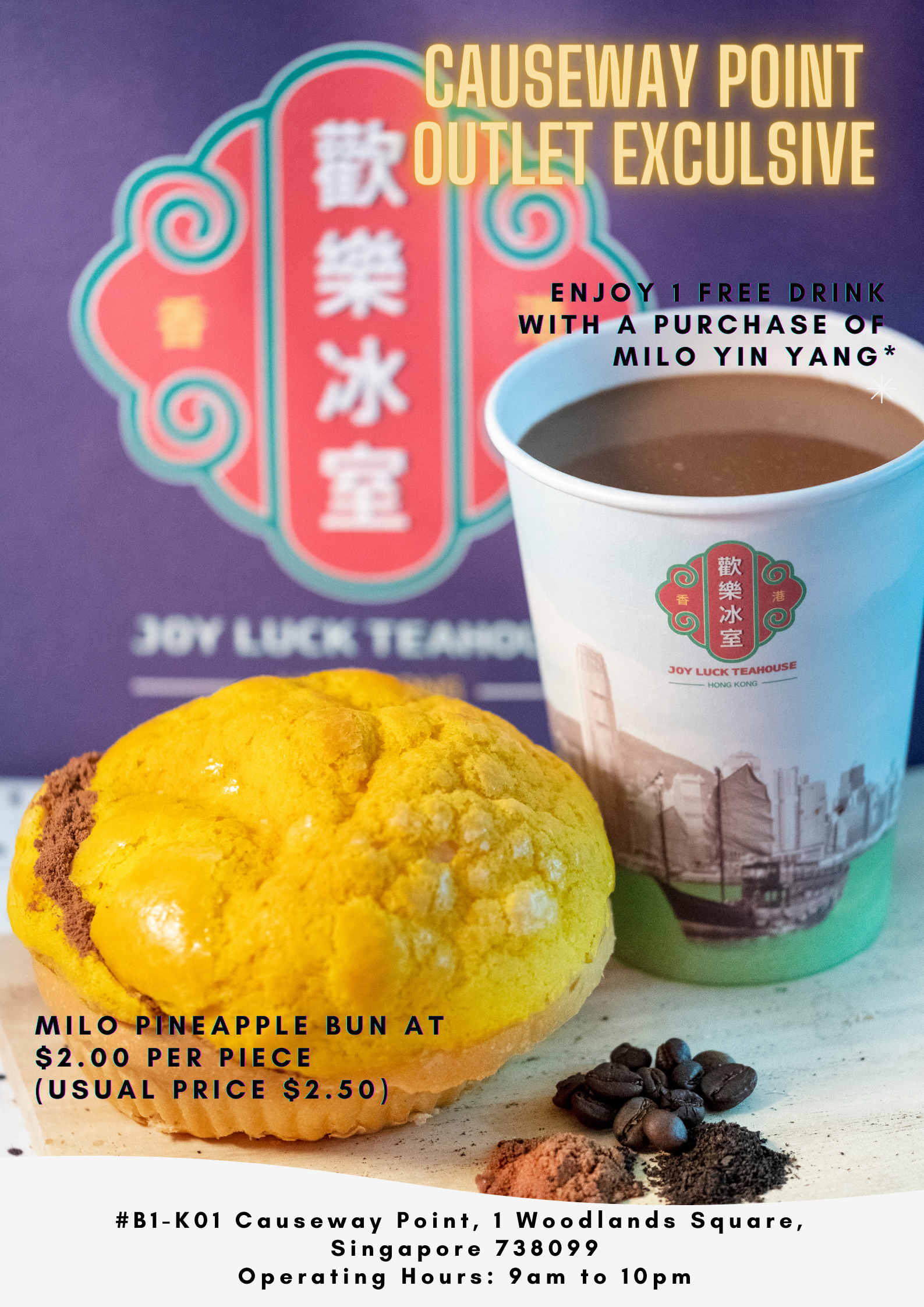 The drink pairs well with the Milo Pineapple Bun. The pineapple bun is made following the recipe of Kam Kee Cafe, a decades-old HK Style café serving the most authentic Hong Kong pineapple buns (bo lo bao) made with a blend of premium flour. Firm on the outside, with a sweet, crumbly golden crust that resembles a pineapple! The crust covers almost the entire surface of the bun for sufficient crunch in every bite. The milo version boasts a generous filling of milo powder with sugar. The milo offerings are exclusively available at Causeway Point from 18 to 23 December and will be available at ION and Bugis Junction outlets from 24 December 2020 onwards.
Opened by first-time F&B business owners who switched industries during the pandemic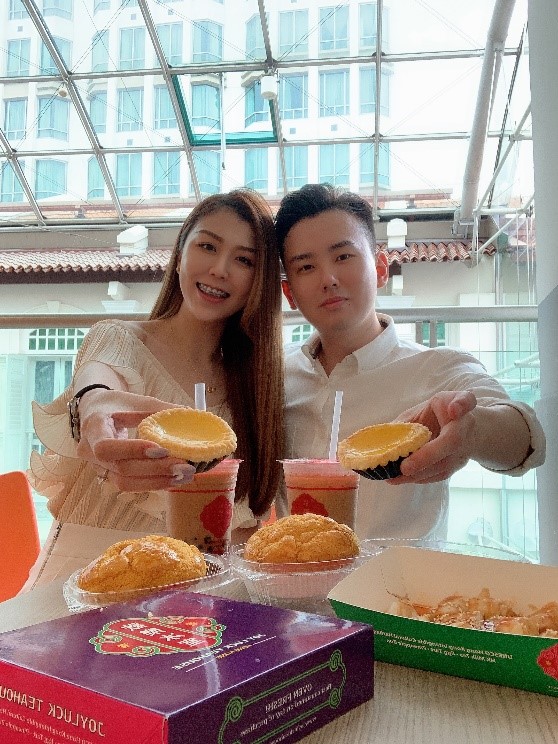 Franchisees: Yvonne Lee and Lim Chang Rui
The Causeway Point outlet will be helmed by couple and first-time F&B business owners Lim Chang Rui and Yvonne Lee. The young couple first met while working at a bank, and wanting to make their own mark, left their corporate jobs to set up their own business. Their first business was events related, planning for birthdays as well as companies' dinner dances, but business came to a standstill at the onset of the pandemic.
In September, while out and about, they chanced upon the long queue at Joy Luck Teahouse ION Orchard. After learning that the teahouse was available for franchising, they contacted the management team. In less than two weeks, they decided on the Causeway Point location, wanting to give residents in the north region convenient access to Joy Luck Teahouse's offerings. In following their dream, they had to make personal sacrifices as well — the couple were supposed to get married this year, but decided to put their plans on halt and instead concentrate on their new business.
"We would like to thank Robert Chua, who has been a selfless mentor in our F&B journey," says Chang Rui. "He has generously imparted knowledge to us, which is a boon since we do not have any experience running a F&B business."
Joy Luck Teahouse Causeway Point Official Opening Special
From 18 to 20 December 2020, enjoy the following promotions at the Causeway Point outlet.
Enjoy 1 Free Drink with a purchase of Milo Yin Yang (the lower priced drink will be free, limited to 1 redemption per transaction)
Milo Pineapple Bun at Special Promotion Price of 20% off – $2.00 per piece (Usual Price $50)
Causeway Point Outlet Address:
#B1-K01 Causeway Point, 1 Woodlands Square, Singapore 738099
Operating Hours: 9am to 10pm