Do you know that Balance Transfer is a great financial tool to help manage your finances better? Balance Transfer is a lending product for short term needs which does not charge any interest* for up to 12 months. On top of this, it also allows for flexible repayment arrangements; either $50 per month or 3% of the principal, whichever is higher. Existing DBS / POSB Credit Card and Cashline customers stand to benefit the most as they can get instant approval when applying for Balance Transfer. Upon approval, the cash is disbursed into their accounts instantly. With such amazing benefits, it is little wonder that Balance Transfer has gradually gained popularity.
*One-time processing fee is applicable
Balance Transfer Helps You Save On Interest
The greatest advantage of Balance Transfer is that it helps you to save on interest payments. For example, a need for a sizeable amount of cash may cropped up in a time when you're cash strapped. It is possible to tap onto Balance Transfer's interest-free feature to save on interest for up to 12 months with a nominal one-time processing fee.
Balance Transfer can also be used to refinance your existing Credit Cards outstanding balances. So instead of incurring the interest on them, it is possible to enjoy interest savings of up to 81% with Balance Transfer. Here is a comparison to illustrate how you can save on your interest payments with DBS / POSB Balance Transfer.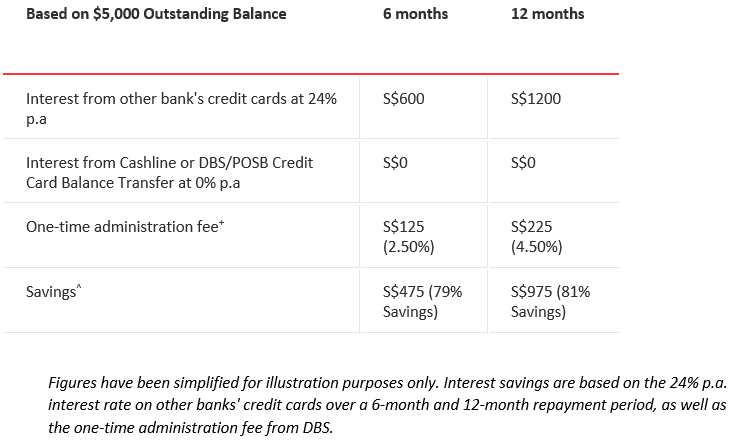 Either way, the interest savings that you obtain with Balance Transfer will put you in a better financial position. With Balance Transfer, you can receive short-term cash instantly for any purpose by only paying a one-time processing fee.
How To Apply For Balance Transfer
Here is how you can take immediate action to manage your finances better. Simply follow these instructions to apply for Balance Transfer
Log in with your ibanking/mbanking/ATM or credit/debit card
Choose your desired amount and the tenure
Submit your application online (no documents will be required for existing DBS/POSB customers)
The amount will be drawn from any credit balances available in your selected DBS/POSB credit card or Cashline account if your Balance Transfer application is successful
The amount drawn will be credited into your selected DBS / POSB Current or Savings accounts
Check out latest promotion for DBS / POSB Balance Transfer here.