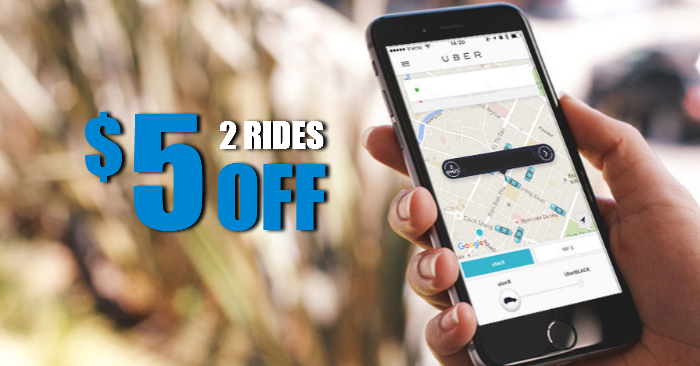 This is really quick and easy to score yourself some discount on your Uber rides.
It will take you less than a minute to gift your friends and yourself 2 x $5 OFF Uber rides.
Uber has introduced the Uber Angpao where you can send a personalized red packet along with some auspicious message. This red packet contains a special promo worth $5 off 2 rides this CNY week valid until 31 Jan 2017.
Enter your friend's email address (or your own) and check your email to apply the promotional rides.
This promotion is valid till 31 January 2017 for both new and existing users.
Limited rides available, so act on it fast!
HOW TO GIVE AN UBER ANGPAO:
Go to our Uber Angpao generator or t.uber.com/angpao
Create an Uber Angpao with the symbol of your choice – Fortune, Prosperity, Longevity, Happiness, or Wealth
Enter your friend/family member's name and add your personal message for them
Click 'Send your gift'
Your friends will receive a link via email where they can redeem the gift of $5 off 2 rides valid until 31 Jan 2017
Your friends can in turn send an angpao to their own loved ones!
FAQs:
1. How many Uber Angpaos can I send?
There is no limit to the number of friends you can send angpaos to. However, do note that the promo inside the angpao can be used once per rider. Thus, if your friend received more than 1 angpao, he/she can still only apply the promo once.
2. Do I have to pay for the angpao rides I gift to my friends?
No, the rides are completely covered by us and is no cost to you.
3. How will my friends receive their free ride via the angpao?
They will receive an email to say that they have received a Chinese New Year gift from you. It will take them to a redemption page to receive a promo that will be auto-applied into their account. The promo is worth $5 off 2 rides until 31 Jan.
4. Can a person redeem more than 1 angpao?
A person can receive more than 1 angpao via emails, but the promo can only be applied once regardless of how many angpaos they received.
5. Is there a promo code to enter to avail the free angpao rides?
No. You will not need to enter a promo code. The email you receive will bring you to a redemption page. Simply input your mobile number and the promo will be automatically applied into your account and ready to use. The promo can only be redeemed once per rider, and valid until 31 Jan 2017 only.
6. I shared the angpao with my friend but he/she did not receive any email. What should they do?
Do ask your friend to check their junk/spam folder as well. There might be a chance that it landed there instead of the Inbox.
---
There is a limited number of Uber angpaos available, so send yours today. From our family to yours, we wish you a healthy, happy and prosperous new year!