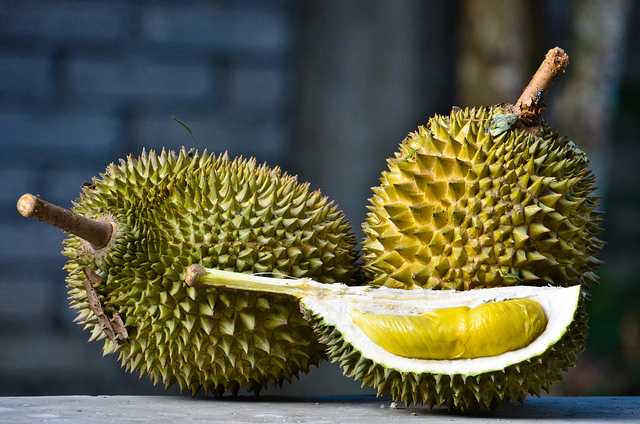 (Image credit: Mohd Hafizuddin Husin, via Flickr)
Durian season is here! And what's a better way to indulge than having some delivered to you in the comfort of your home?
GrabTaxi delivering the King of the King of Fruits: Mao Shan Wang durians, to you! Pay just $10 NETT for one whole Mao Shan Wang durian de-shelled, packed and delivered!
Each Mao Shan Wang durian weighs at least 1.5kg and will be packed in a box for your convenience. Do your own maths and you'll realize that you'll only be paying $6.67/kg or less for these premium durians.
Steps from GrabTaxi
Here's how to Grab your Mao Shan Wang!
Step 1
Download the GrabTaxi app from the Apple App Store, Google Playstore or BlackBerry World
Step 2
Register your very own GrabTaxi account
Step 3
Select #GRABdurian as your car type (This icon will only be available on 1 & 2 Aug, 2pm – 9pm)

Step 4
Enter the SAME address where you want your Mao Shan Wang to be delivered in BOTH "pick-up" and "drop-off" fields (an incomplete address will reduce your chances of a successful GrabDurian booking)
Step 5
Key-in GRABDURIAN in the Promo Code field and select Confirm Booking. If your booking is successful, you will receive a confirmation that your MaoShanWang will be on its way. If your booking is not allocated, don't lose hope, keep trying!

Step 6
They would love to see a selfie of you and the delicious MaoShanWang on Facebook, Instagram & Twitter! Hashtag #GrabDurian and tag them @grabtaxisg too!
Don't forget to share this deal with your friends who are durian lovers!
Terms & Conditions
Limited quantities available for delivery per day.
Only ONE #Grabdurian package will be delivered to each unique GrabTaxi user that makes a successful booking.
Bookings made without the GrabDurian promo code will not be entertained.
Total cost for durian and delivery is $10 nett.
Payment methods accepted: GrabPay or Cash.
For Cash payments, please provide exact change where possible. Only $2, $5, $10, $50 notes will be accepted.
Please be ready to collect your #GrabDurian package from us at the drop-off location unless communicated otherwise with our staff.
The GrabDurian delivery team will not hesitate to move on after waiting for more than 5-10minutes.
Allow up to 1 hour to receive your delivery.
Not applicable for advance booking.
Please note that GrabDurian delivery is not available for Sentosa and Jurong Island.
For further enquiries, please contact us at 65703925 or

[email protected]

Other T&Cs, click here.