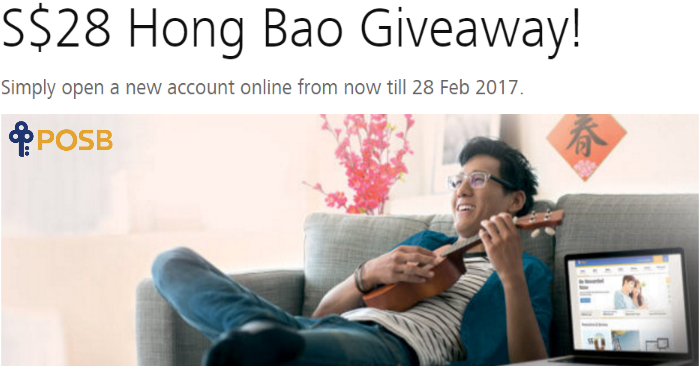 Most of us have a savings accounts with POSB/DBS.
This Lunar New Year, you can receive a prosperous S$28 Hong Bao from DBS/POSB when you open a new Deposit Account or an eMySavings/SAYE Account online!
Promotion ends 28 February 2017. Terms and conditions apply.
This is easily achievable if you create a new Deposit Account as you can just deposit a minimum of S$3,000 into your newly opened account and maintain a minimum average balance of S$3,000 for at least 6 consecutive months.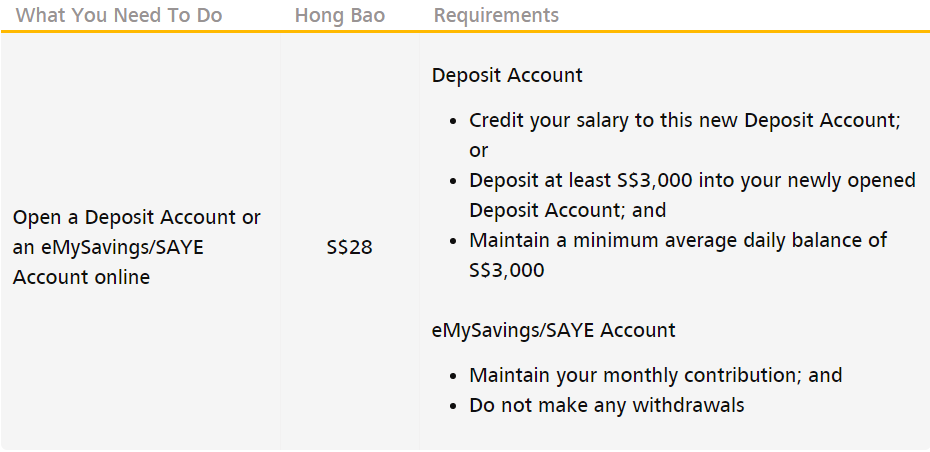 You can create a new Deposit Accounts such as:
Multi-Currency Accounts: Multiplier Programme
Day to Day Accounts: POSB Everyday Savings Account
Current Account: POSB Current Account
Special Savings Accounts: POSB SAYE Account or POSB eMySavings Account
Most of us have a POSB Passbook Savings Account, so you can simply open a new account (i.e POSB Everyday Savings Account) and deposit $3K into it (without withdrawing it for 6 months) to earn the S$28 cash hong bao.
Each customer is only entitled to 1 Cash Gift. All Cash Gift will be credited to the Deposit Account or eMSA/SAYE Account before 30 April 2017. Eligible customers will receive a notification SMS after the Cash Gift is credited into their account.
DBS is entitled to recover the Cash Gift by debiting the same from any account that the customer has with DBS/POSB without prior notice, if during the 6-month Period:
(a) the Deposit Account or eMSA/SAYE Account is closed;
(b) customer fails to maintain a minimum average daily balance of S$3,000 for the Deposit Account or customer fails to have salary crediting into the Deposit Account;
(c) the monthly contribution of eMSA/SAYE Account is lowered or not successfully credited in any of the months or withdrawal is made from the eMSA/SAYE Account.
For more information on this promotion, click here.
Share this news with your friends and loved ones!