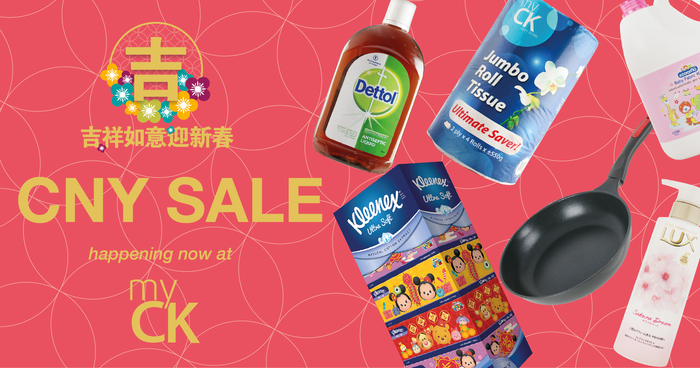 Figuring it's time to start your Chinese New Year shopping or spring cleaning?
Have a head start with myCK's Chinese New Year Sale (from 28 December 2018 – 15 February 2019) where you can shop to your heart's content, enjoy huge savings on home essentials and apparels – from cleaning aids to personal care to baby products. And just when you think it can't get any better, myCK is bringing back its Islandwide 1-For-1 One-Day Special on 29 Dec 2018 and 18 Jan 2019 ! If you love good bargains like we do here at Money Digest, read on to find out more!
myCK 1-For-1 Islandwide One-Day Special (29 December 2018 & 18 January 2019)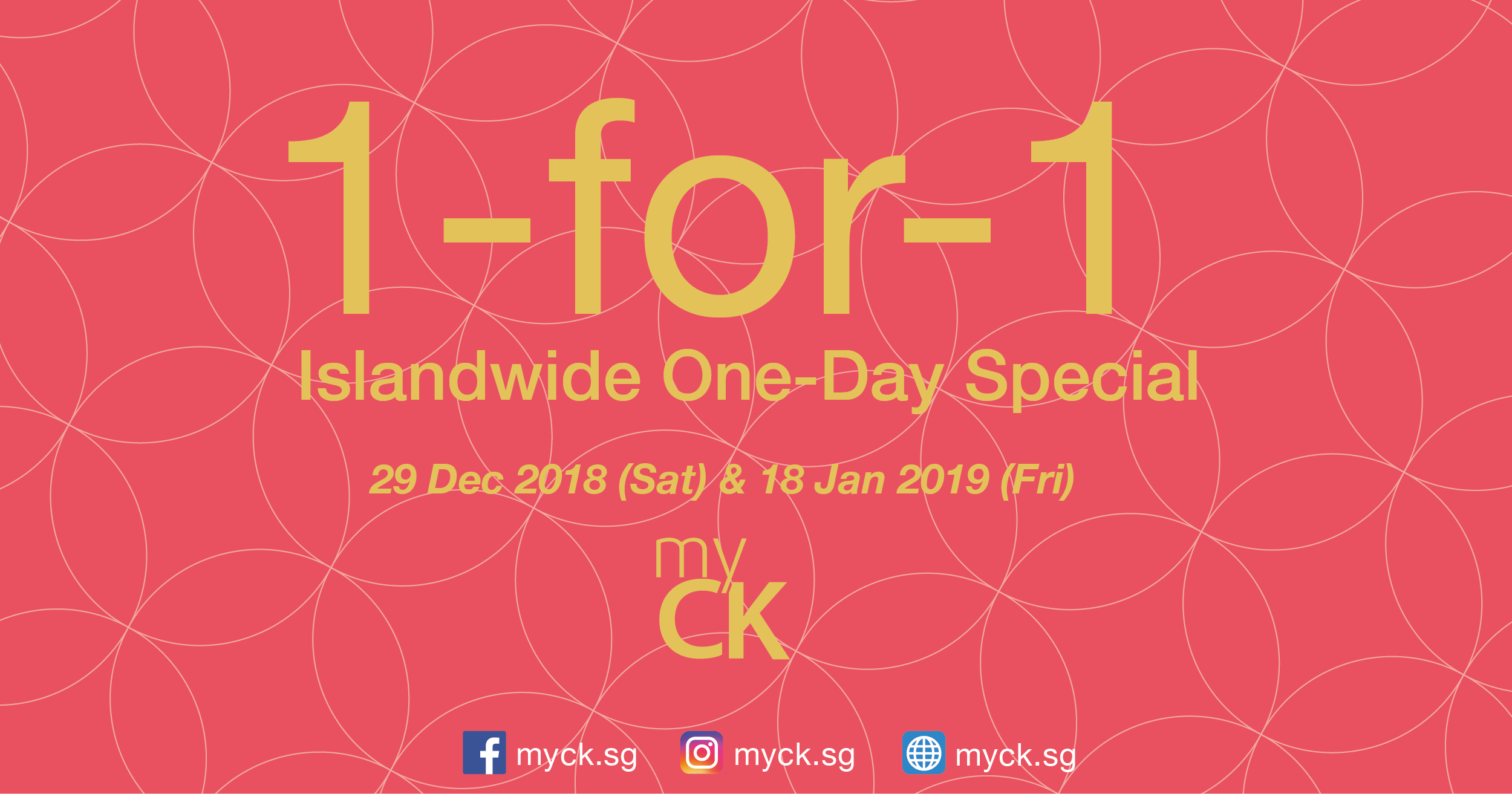 Get ready to snatch tempting 1-for-1 deals at myCK on the mentioned 2 days! The offers are available at all myCK branches except Block 205 Bedok North (BD), Block 513 Tampines Central (TM1) and Blk 303 Woodlands St. 31(MS). Over 40 items are up for grabs and it's definitely something not to be missed out! Terms and conditions apply.
To view the non-exhaustive list of participating products, click here: https://bit.ly/2LE3BkA
Visit myCK stores to discover the full range of products from the 1-FOR-1 One-Day Special.
CNY Special Deals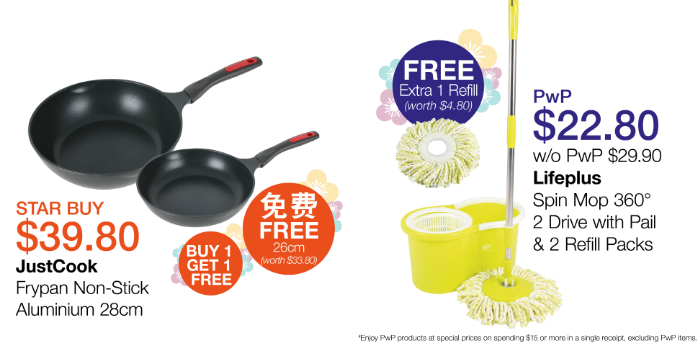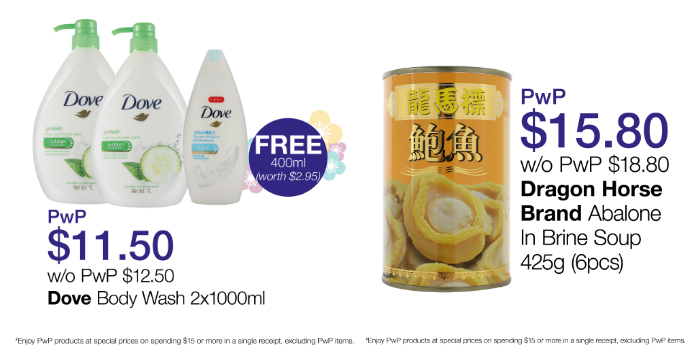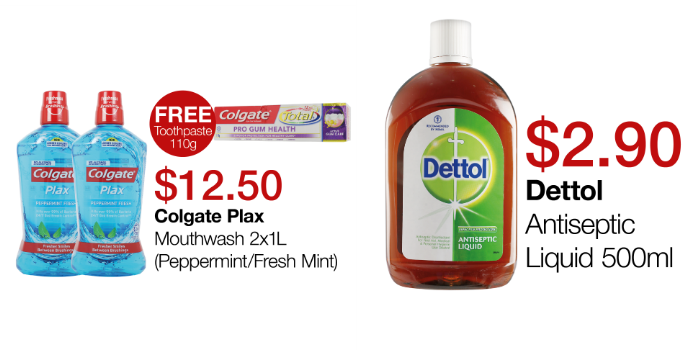 myCK House Brand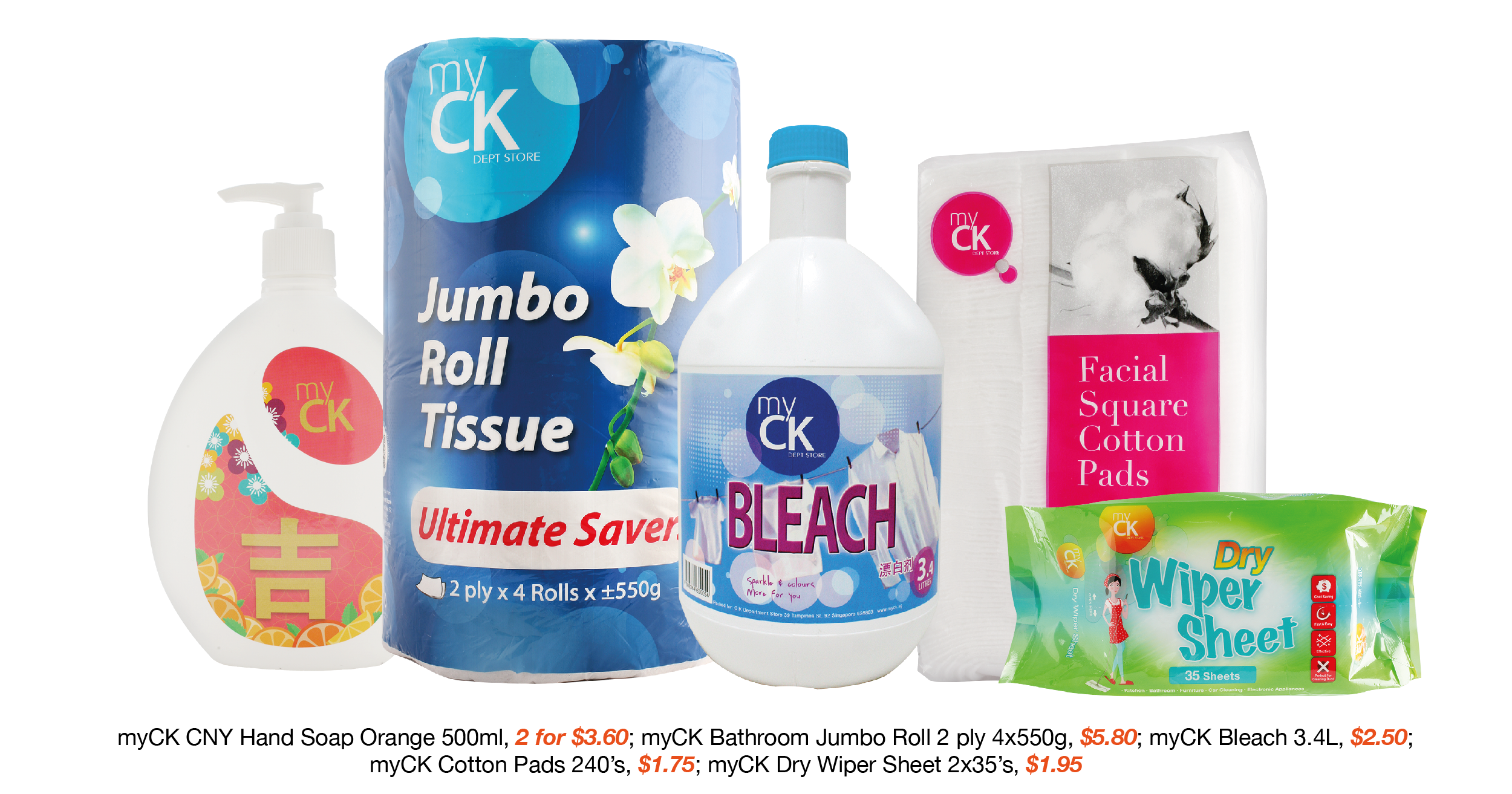 More great offers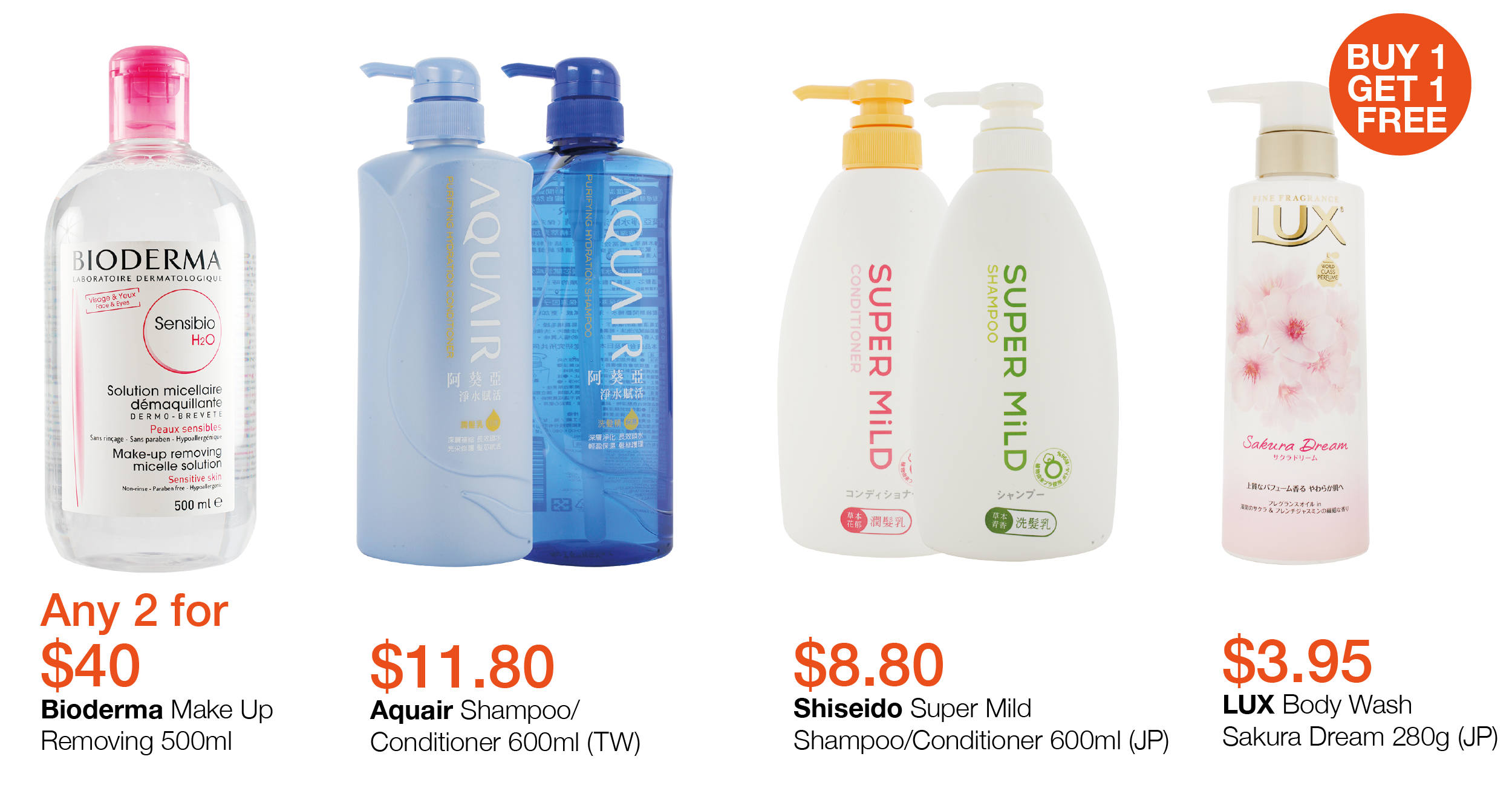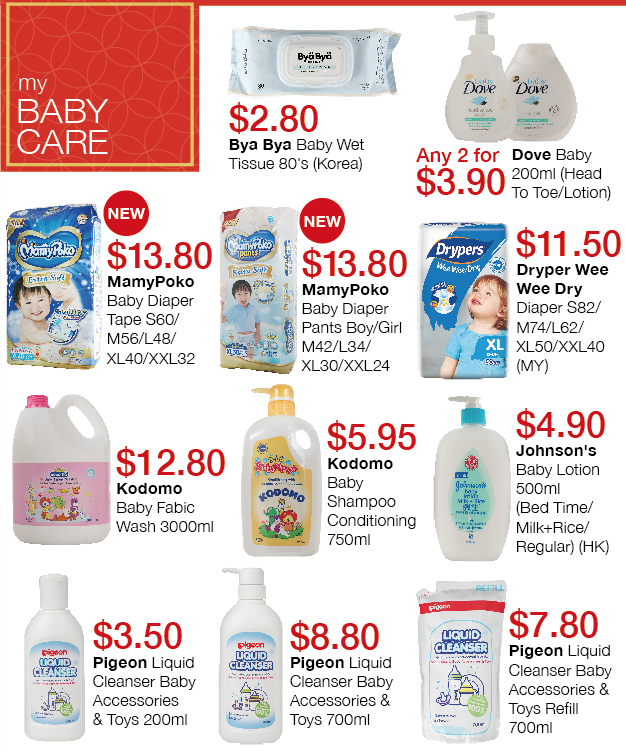 Want to keep abreast of all the CNY in-store offers at myCK? Click here: http://bit.ly/2fDMbrt
myCK Chinese New Year Apparel Promotion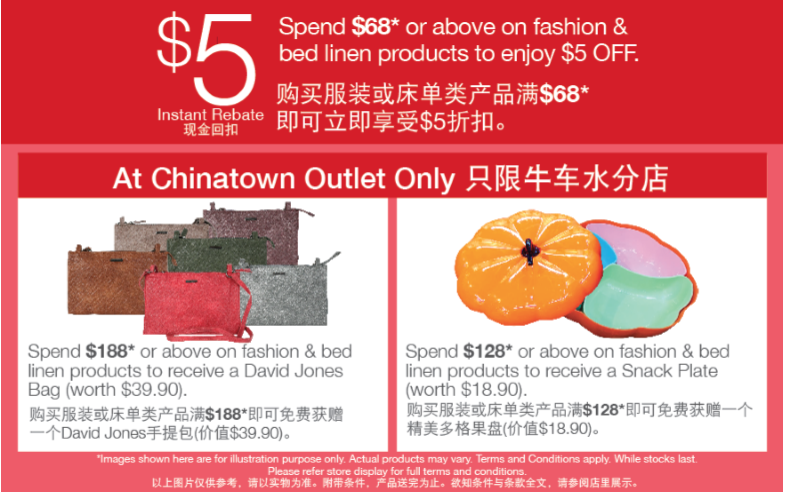 Shop apparels and bedlinen and be entitled to an additional $5 off. Exclusive Gift With Purchase at myCK Chinatown! The latest CNY Collection have hit the shelves:
If you wish to find out more about apparel on offer, click here > http://bit.ly/2e7lACM
$6,888 To Be Won In myCK CNY Lucky Draw (From 28 Dec 2018 to 15 Feb 2019)
Shop at myCK this Chinese New Year and stand a chance to be part of their grand lucky draw! Every purchase of $38 will entitle you to one lucky draw chance to win $6,888 worth of cash and myCK vouchers! So, what are you waiting for? Head down to one of the many myCK branches now to start on your shopping spree.
To locate a nearby myCK branch, click here > http://www.myck.sg/locate.php
myCK Chinese New Year Roadshows
Catch giveaways and limited offers at myCK CNY Roadshows in the neighborhoods:
Blk 495 Jurong West St. 41 (JW) – 29 Dec 2018 (Saturday) 9:30am to 12:30pm
Blk 336 Smith St. New Bridge Centre (CT) – 29 Dec 2018 (Saturday) 5pm to 8pm
Blk 846 Yishun Ring Road (YS) – 6 Jan 2019 (Sunday) 9:30am to 12pm
Blk 336 Smith St. New Bridge Centre (CT) – 12 Jan 2019 (Saturday) 5pm to 8pm
Blk 210 Hougang St. 21 (KV) – 18 Jan 2019 (Friday) 9:30am to 12:30pm
Blk 336 Smith St. New Bridge Centre (CT) – 18 Jan 2019 (Friday) 5pm to 8pm
Blk 478 Tampines St. 44 (TM3) – 19 Jan 2019 (Saturday) 9:30am to 12:30pm
Blk 336 Smith St. New Bridge Centre (CT) – 26 Jan 2019 (Saturday) 5pm to 8pm
Blk 291 Yishun St. 22 (YS2) – 27 Jan 2019 (Sunday) 9:30am to 12:30pm
Blk 201E Tampines St. 23 (TM2) – 2 Feb 2019 (Saturday) 9:30am to 12:30pm
Blk 504 Jurong West St. 51 (JW2) – 3 Feb 2019 (Sunday) 9:30am to 12:30pm