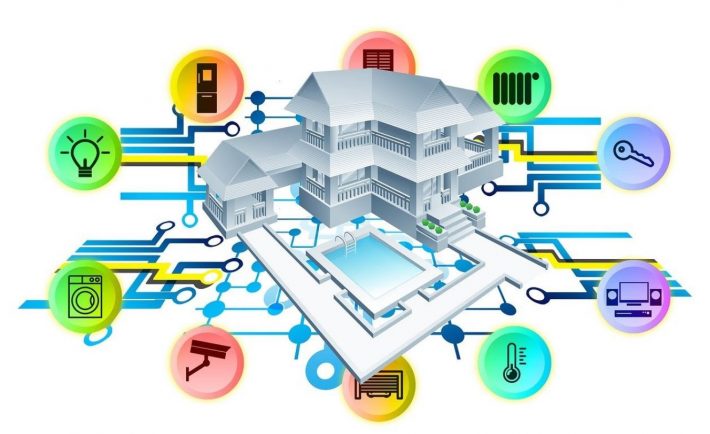 Image by Gerd Altmann from Pixabay.
While it may appear so, your house can be a dangerous place. You've likely faced one of these problems—water leaking, electric malfunction, or the worst of them all, invisible gas leaking. When these things happen, you'll have to react quickly to prevent further damage or even more dangerous complications.
Let's not forget burglary, which is continuously rising around the world. In fact, the F.B.I stated in 2018 that there's a burglary every 25.7 seconds in the United States. Whatever happens, from accidents to break-ins, the aftermath will cost you a lot.
If you don't want to put out fires constantly, you should prepare your home in advance. In this case, the old saying "Better safe than sorry" fits perfectly. 
Thankfully, we live in a time when you can prevent this with some elegant solutions.
Smart Home is a Safe Home
There are many products designed to protect your home in various situations. They vary in quality and price. However, the best home security system needs to have these features:
Outstanding customer service

Smoke and CO monitoring

Easy to use equipment

 

User-friendly mobile app

High-end technology

Customizable plan

Door, window, and movement sensors
Moreover, great price, no contract, and additional options are an advantage. However, don't settle for less and do your research before installing anything. After all, it's your property we're talking about.
How Does a Security System Work?
A smart home security system connects to your Wi-Fi network and other internal networks, enabling you to control security devices using your smartphone with an app. You'll be notified if any anomaly occurs, such as movement, the opening of the doors and windows, and so on.
Depending on the package you purchase, you may have additional options such as: 
Remote door lock

Garage doors openers

Surveillance

Lights

Gas leakage

Water sensors
Regarding window and doors sensors, they work on Z-Wave or Zigbee technology due to their low power consumption. On the other hand, security cameras use a Wi-Fi network that has better bandwidth, thus providing better video streaming. Quality security systems have both, and both can be set up to a customized setting.
Settings Customization
Regarding security systems, you can set up triggered reactions/rules for certain events, such as unlocking the doors if smoke or gas is detected or recording the video with a camera if the sensors identify movement.
You can choose between systems that store the recordings on the SD card, to a cloud, or the combination of both. On your app, you'll be able to control the command center, create rules, receive notifications when the alarm is triggered, lock and unlock the doors, set up thermostat temperature, and even watch live and recorded videos.
Some systems come with a panel, usually fixed on the wall, that allows you to manage everything from there, as you would from your phone.
Budget-Friendly
Budget and quality can go together, but with some limitations. Various DIY kits are quite easy to install, and you can even upgrade them with additional sensors and components. If you're thinking of buying an entry-level kit, beware of its limitations. They're usually sufficient for only one or two wireless protocols and add-on components.
On the other hand, more expensive ones offer more wireless protocols and possibilities to upgrade. One of the many reasons to install security systems is a professional monitoring service. Some DIY kits don't offer that option, so make sure to double-check beforehand.
Professional Home Security Systems
Without a doubt, we're talking about some high—level security here.
Other than 24/7 professional monitoring, components, wireless connections, and console, professional home security systems offer various options you couldn't achieve with DIY kits. Things like:
Door and window sensors
Door locks
Glass break detectors
Indoor/outdoor cameras
Light switches
Motion detectors
Water/smoke/CO detectors
Thermostats
Video doorbell
Moreover, you can have a company employee who'll try to call you if your alarm goes off. Even before he calls 911. Other benefits of these systems include stability, professional set up, and maintenance. Moreover, you don't have to do a thing except paying a bit more than you would for DIY.
Today, all of the security systems, even DIY ones, come with voice control options, such as Amazon Alexa, Google Assistant, and Siri. You can unlock doors, open the garage, turn the lights on/of, and do a lot more.
Security Has a Price
If you go for the Do It Yourself version, you'll have to pay a monthly or annual fee if you decide to activate monitoring. This is without the hardware.
The price with monitoring goes from $10-$29, depending on the provider. Some require a monthly or annual contract. On the other hand, professional services are more expensive.
Monitoring for such service can start at $29 per month with a three—year contract. And with hardware, backup, and installation, the price can easily go up to $3000 upfront and $60 monthly fee.
Which System Will Suit You?
The answer depends entirely on your needs and possibilities. For example, if you want more security and can pay more, then professional home security systems are what you need. On the other hand, if you're on a small budget and want any kind of protection, you should go with DIY.
Keep in mind, safety comes first, and it's better to invest in prevention than in fixing the problem afterward.