Are you ready for an extraordinary night of home decor and furniture shopping? Look no further than X' clusive Home x Nova Furnishing @ Sims Drive's Night of Exclusive Discounts, where the stars align on September 16th to bring you unbeatable deals and exclusive offers that will transform your living spaces.
Participate, Share, and Win
Join their event, share your favorite finds on social media, and tag them for a chance to win additional prizes. It's your opportunity to showcase your style and win big!
Follow their Facebook page to get the latest home furnishing promotions!
Like and tag 3 friends in this post for a chance to win valuable home decor prizes!
Comment with #furnitureoutletsimsdrive to let them know you're interested in their home furnishings!
Share this original post on your profile to share this exciting event with your friends!
Don't wait – take action now!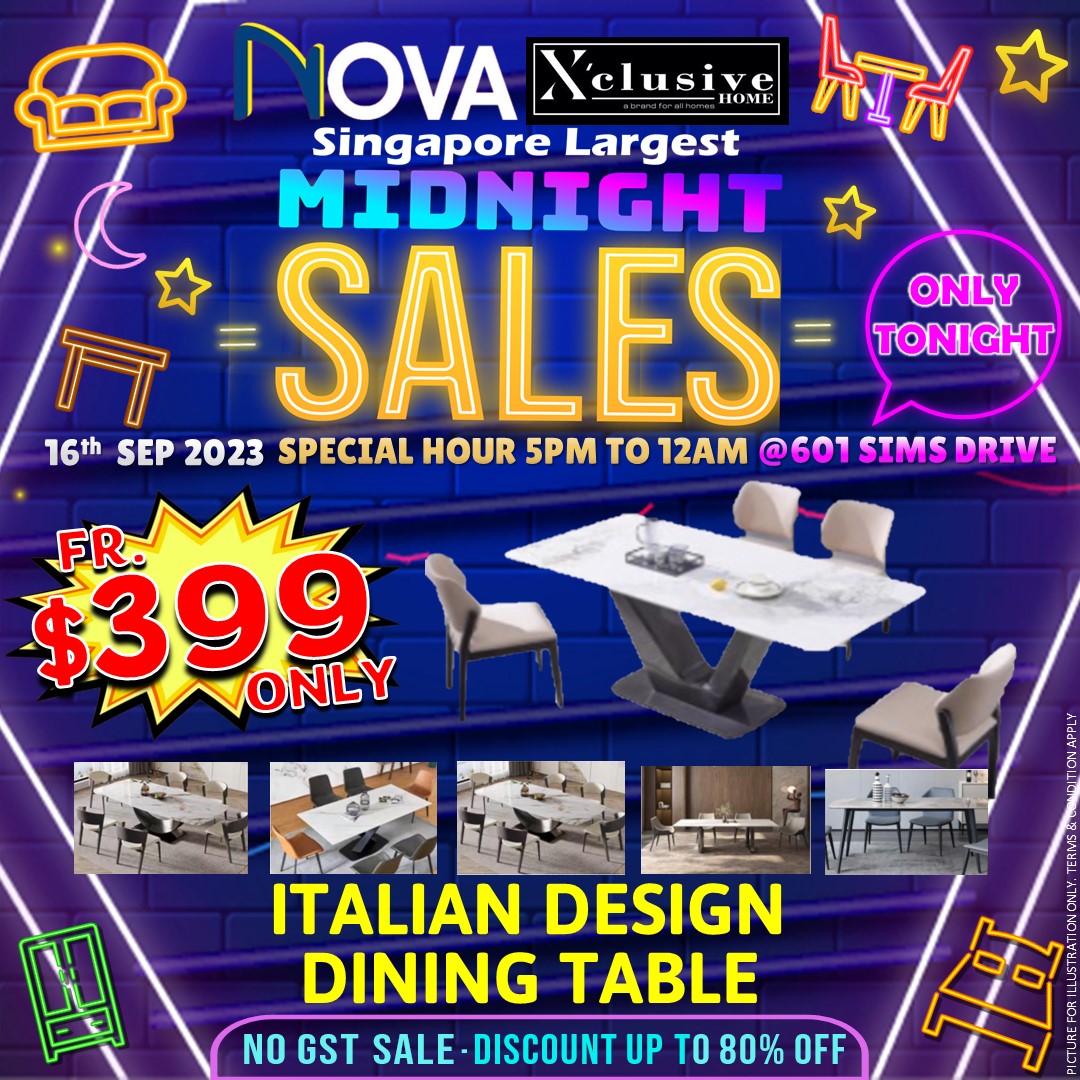 At @601 Sims Drive, they believe that your home should reflect your unique style without breaking the bank. That's why they're thrilled to invite you to an evening where elegance meets savings. Whether you're looking to revamp your living room, upgrade your bedroom, or add a touch of sophistication to your home office, you won't want to miss this event.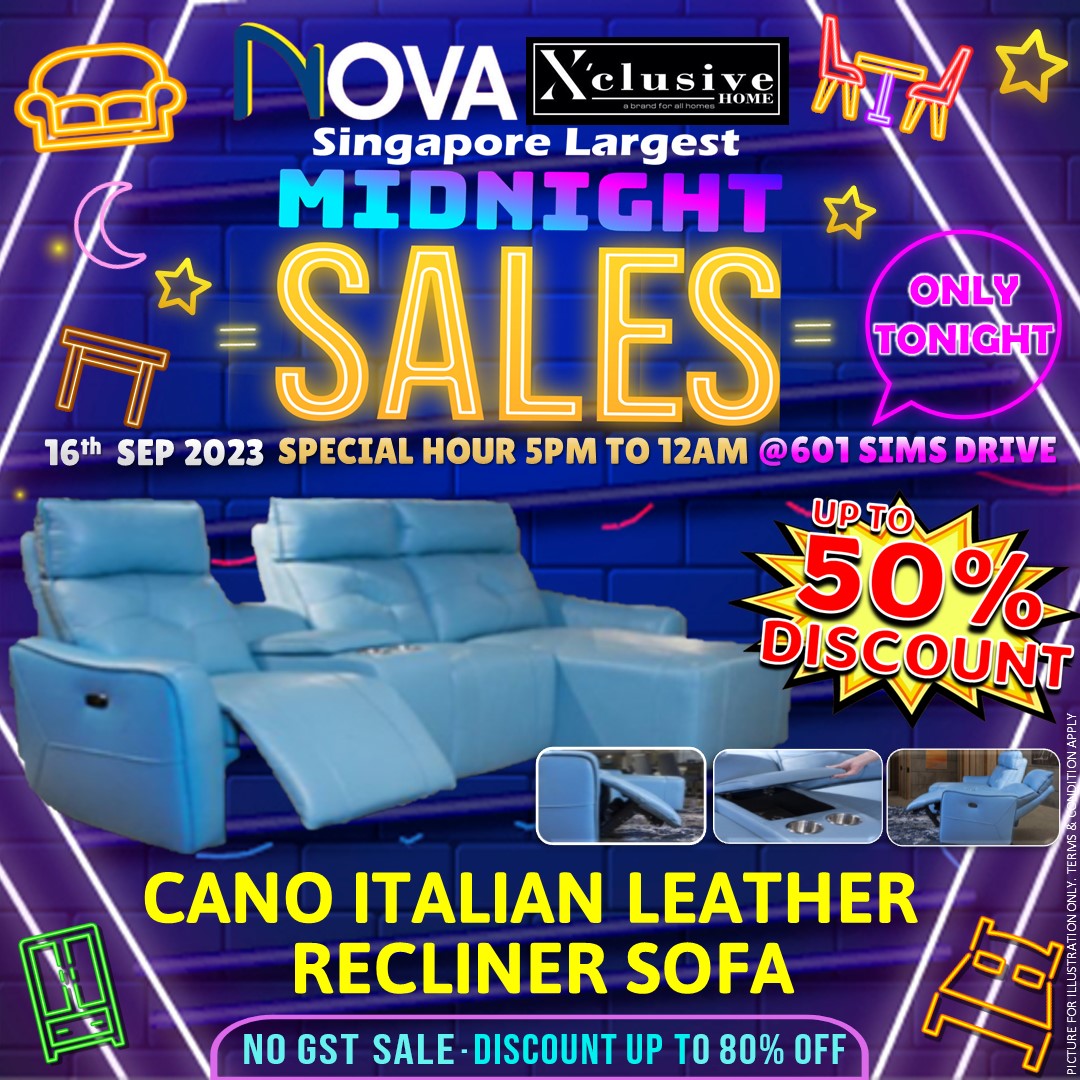 Whether you need bedroom, living room, or dining room furniture, they've prepared unique discounts for you. From sofas to mattresses, from dining tables to bookshelves, their product range is extensive, catering to all your home needs.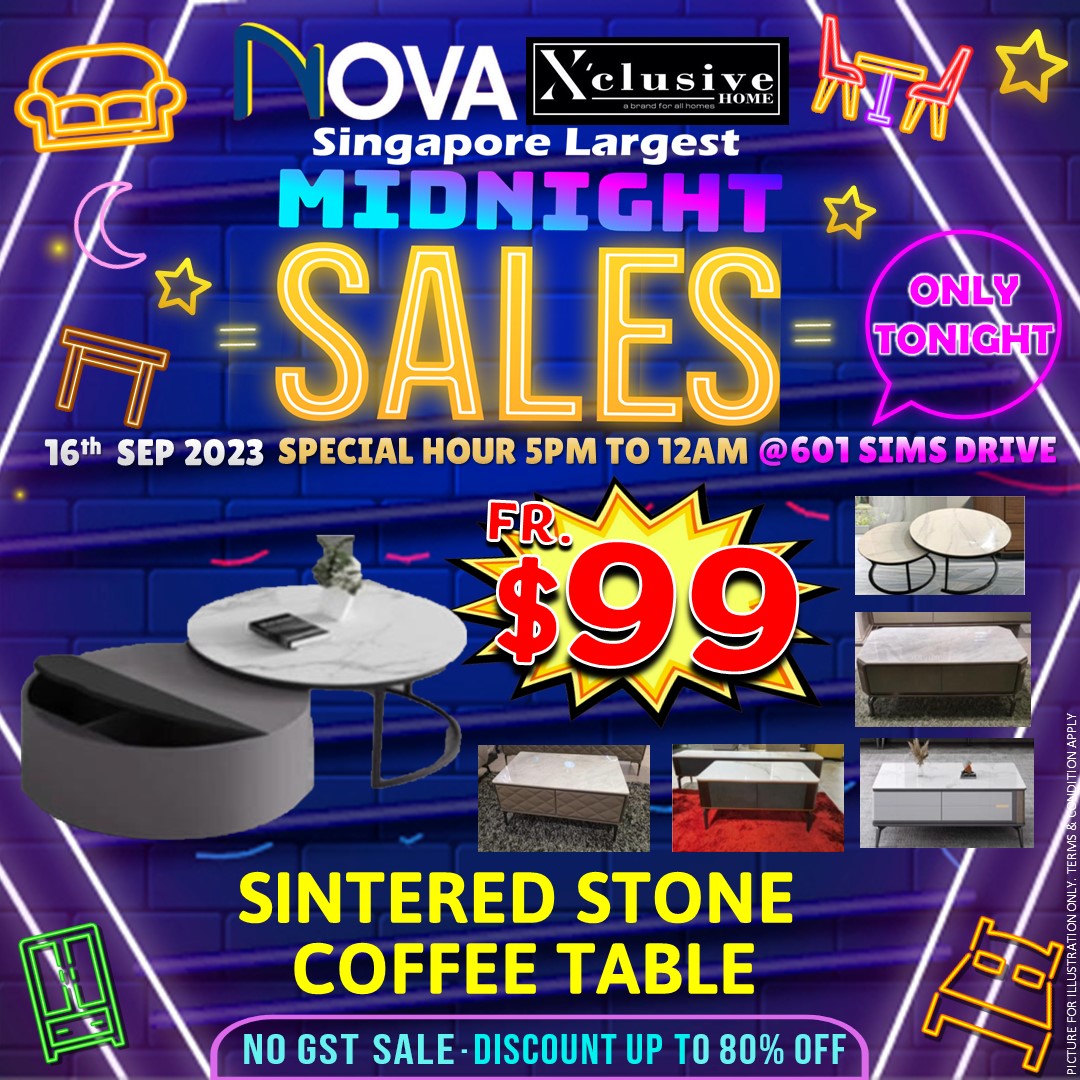 Whether you're decorating a new home or giving your current space a fresh look, X' clusive Home x Nova Furnishing@ Sims Drive's Midnight Extravaganza is your excellent opportunity. Don't miss this rare event!
Mark your calendar for September 16th to seize these extraordinary one-day-only offers:
Bedroom Oasis Upgrade: Elevate your bedroom with an incredible offer – purchase any mattress for just $1, and we'll include a premium bedframe. Plus, enjoy the added comfort of 1 bolster and 2 plush good sleep pillows for a truly restful night's sleep.
Italian Dining Excellence: Immerse yourself in the epitome of Italian craftsmanship with their exquisite dining tables. Explore a collection meticulously designed to elevate your dining experience, with prices starting at just $580.
Luxurious Living: Experience ultimate comfort and luxury with their Cano Italian Leather Recliner Sofas, now available at an incredible discount of up to 50%. These sofas offer the perfect blend of style and relaxation for your living space.
Coffee Table Elegance: Complete your living room with sophistication and functionality. Their stylish coffee tables, starting at only $99, make the perfect addition to your home decor, providing both form and function.
More Affordable Prices, More Incredible Deals!
Here's what they have prepared for you:
🅿️ Free Parking: No worries about parking! They provide ample free parking spaces to ensure your visit is hassle-free.
🚕 Free Grab and Taxi Reimbursement: Make bringing your shopping home even more convenient. With each purchase, you can get one Grab or taxi ride reimbursed for free. Shopping has never been this convenient!
💰 Flexible Payment Options: Enjoy 0% installment plans for up to 24 months, making your dream shopping more affordable. Plus, purchase a king or queen-sized mattress and receive a free single-sized mattress. Redecorate your bedroom in style!
❄️ Experience the Cool Mattress Topper: Through their mattresses, experience the perfect blend of support and coolness. Enjoy an unprecedented comfortable sleep.
💲 Value-added Offers and Customizable Furniture: When you purchase a mattress, get a bed frame for only $1.00 extra. Moreover, they offer up to 80% customization options to match your unique style!
🎁 Exclusive Gifts: As a token of appreciation, every customer will receive a free pillow and an NTUC shopping voucher. Enjoy extra benefits while shopping with them!
💥 One-on-One Discounts: With their one-on-one discounts, you maximize savings. It's a win-win situation!
Shopping has never been more worthwhile! They offer tempting deals to ensure you get the maximum value for the minimum price. Come and enjoy these fantastic offers!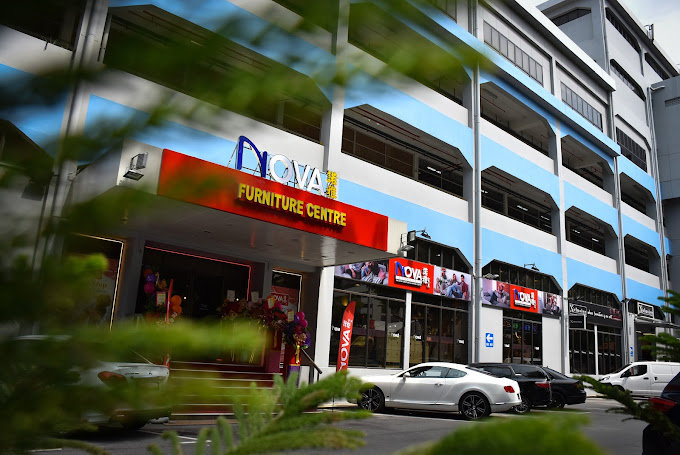 Event Details
Date: 16th Sept 2023 (Saturday)
Time: 0600pm – 1200mn
Location: No. 601, Sims Drive, #01-13 to #01-15, Pan-I Complex, Singapore, Singapore 387382
For appointments, contact them via Facebook Messenger or WhatsApp.
WhatsApp Appointment:
Facebook: https://m.me/X'ClusiveHome-WarehouseatSimsDrive