Becoming a parent is one of the best gifts a person can receive. Parenthood is a selfless role that safeguards the wellbeing of the family. It may not always be easy to keep your babies healthy and happy, but you can find support with a trusted partner.
Give your little ones all the goodness needed with the nutritionally complete milk-based formula of Nature One Dairy®. The products of Nature One Dairy® are Australian-made and added with essential nutrients including Prebiotic GOS – a premium nutrient that help build good gut health, Lutein – to help filter any damaging lights for good eye health and contain high level of DHA and ARA to support the development of brain and eye.
Each 900g tin starts from $25.50, which can serve up to 35 cups of milk! Best of all? Nature One Dairy® is having a grand giveaway from 1 Sept – 31 Oct 2022.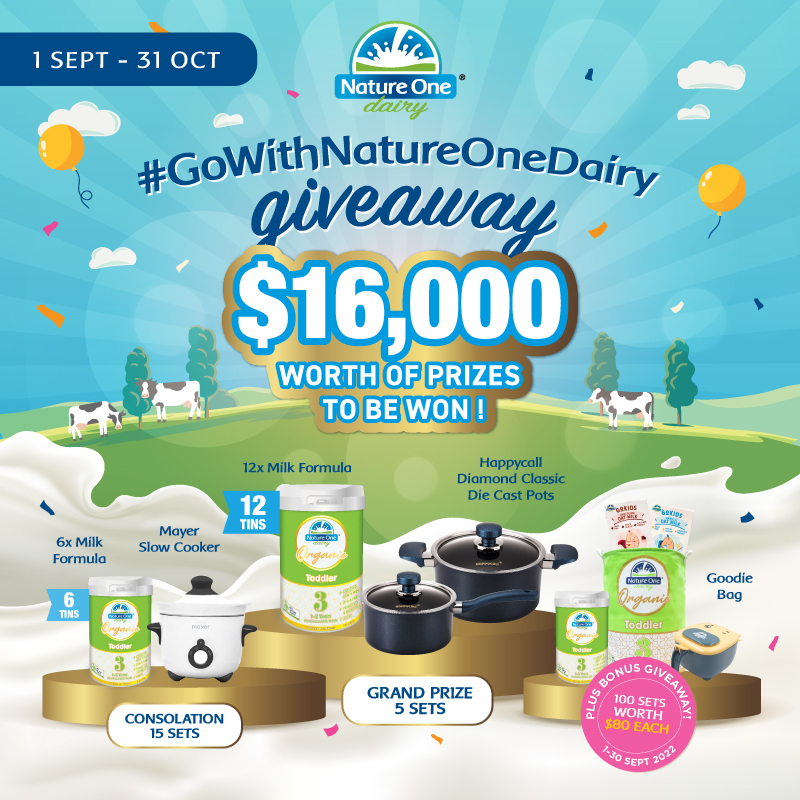 WIN $16,000 WORTH OF PRIZES WITH THE #GoWithNatureOneDairy GIVEAWAY
Increase your chances of winning irresistible giveaways from Nature One Dairy® by purchasing at least $50 worth of participating products in a single receipt. The #GoWithNatureOneDairy Grand Draw is valid for purchases made between 1 Sept to 31 Oct 2022!
As a friendly reminder, entries must be submitted on bit.ly/3dq3YS5 by 31 Oct. You will then receive a confirmation email for your submission. Exciting prizes include:
Grand Prize worth $700 each -2 cartons of Nature One Dairy® milk formula of your choice (12 tins) and Happycall Diamond Classic Die Cast Pots
Consolation Prize worth $300 each – 1 carton of Nature One Dairy milk formula (6 tins) of your choice and a Mayer Slow Cooker
WHAT'S MORE? AN EXCITING BONUS GIVEAWAY!
Be one of the first 100 shoppers to spend $150 or more on a single receipt and submit your entry to redeem a Nature One Dairy® Goodie Bag worth up to $80!
100 sets of Goodie Bags are up for grabs in the Bonus Giveaway from 1 Sept to 30 Sept 2022. Hurry! Submit your entries as goodies come in limited quantities. Winners will be contacted via email on 3 Oct 2022.
WHERE TO SHOP
Drop by the nearest participating retailers to join the exciting #GoWithNatureOneDairy Giveaway!
Participating retailers include Cold Storage, Giant, FairPrice, National HealthCare Pharmacy Group, Prime & Sheng Siong, RedMart & Shopee Supermarket and Nature One Dairy Official stores on Lazada Mall & Shopee Mall.
Score your chances of winning by purchasing participating products including Standard Toddler Nutritious Milk Drink Step 3, Premium Toddler Nutritious Milk Drink Step 3 & Premium Junior Nutritious Milk Drink 4, Organic Toddler Nutritious Milk Drink Step 3 & Organic Junior Nutritious Milk Drink Step 4, Goat Toddler Nutritious Milk Drink Step 3, Student Nutritional Formula, Pregnancy Formula, ActivePro Complete Nutrition Formula, FortiPlus® Nutritional Adult Formula, GlucoCare Low Glycemic Index Formula, Instant Full Cream Milk 1KG & Instant Skim Milk 1KG, as well as GoKids Vanilla Oat Milk & GoKids Chocolate Oat Milk.
What are you waiting for? Join the #GoWithNatureOneDairy Giveaway to help protect your loved ones and support their growth. A healthy baby is a happy baby!
Nature One Dairy® is your partner in parenthood. Visit natureonedairy.com to learn more about this campaign or follow Nature One Dairy®'s socials on Facebook and Instagram. Better yet, get a FREE sample here.
*Campaign is not valid for all Step 1 and 2 infant formula.