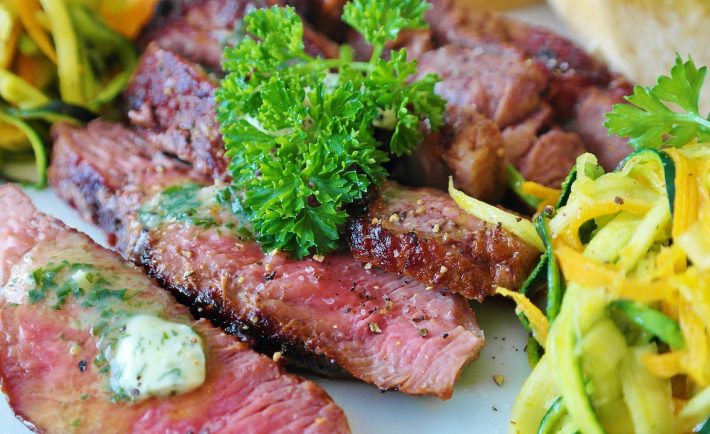 Steaks do not usually come cheap. I am sure you have walked into a restaurant and glanced at the prices. Mentally, you are calculating the cost with the service charge and GST. Eating steak is something you eat on a bougie day. That should not always be the case!
A juicy, savory, and smoky steak can cure a sad day. Here are 6 Best Places for Delicious, Under S$30 Steak in Singapore:
#1: THE FEATHER BLADE
The Feather Blade has its loyal following with its bestseller The Feather Blade Steak (S$23). This steak is a no-frills, no-fuss steak. It can be ordered in your preferred doneness. Personally, I like medium doneness. How about you?
Apart from the steak, you can pair it with sides such as deep-fried Potatoes (S$9) or fragrant nutmeg and parmesan Spinach (S$8).
Location: 61 Tg Pagar Rd, Singapore 088482
#2: UNO BEEF HOUSE
Finding affordable steak to indulge in is quite the task because you have to get your money's worth. In the slew of hawker centres and coffee shops, you will see the Western food stall called UNO Beef House. It is known for its sizzling hot plates of affordable steaks available in different cuts.
You need to try their Black Pepper Ribeye Steak, which comes with their signature fried potato ball, tomato, and baked beans. This is available in 3 cuts — sirloin (S$14), ribeye (S$16) and tenderloin (S$19).
Location: 51 Lorong 6 Toa Payoh, Singapore 310051
#3: HAMBURG STEAK KEISUKE
What is better than an inexpensive steak? A cheap steak with a sprawling buffet spread. This buffet comes with salad bar and unlimited eggs too. We are talking about all kinds of eggs — from creamy scrambled eggs to fluffy tamagoyaki.
Visit Keisuke and try the Prime Beef Hamburg Steak Set (S$20.90) which is served tender and nicely charred on the outside. Alternatively, cheese lovers can order the Triple Cheese Prime Hamburg Steak Set (S$22.90). Cut it open and watch the cheese flow!
Location: 72 Peck Seah St, Singapore 079329
#4: BIZEN OKAYAMA • WAGYU STEAKHOUSE
One of 2022's buzzwords is Wagyu. Not all Wagyu is created equal, especially that of the budget-friendly variety. Run by the people behind Aston's, Bizen replicates its quality with its Japanese Wagyu. This eatery serves juicy, affordable Wagyu steaks in Singapore.
You can find almost any cut of steak you want on their menu, including the Round steak for S$20.50. It comes with two sides.
Location: Multiple branches including one in Plaza Singapura
#5: iSTEAKS DINER
iSTEAKS Diner has a myriad of steaks including the New Zealand Ribeye (S$25.50 for 200g) and Australian Ribeye (S$29 for 200g).
If you do not want to spend too much, I would recommend getting their 200g cut of New Zealand Striploin ($22.50). Trust me, you will get your money's worth with its tender inside and deliciously charred exterior.
Location: 1 Maju Ave, #02-03/04/05/06 myVillage, Singapore 556679
#6: PICANHAS'
With the motto: "Steaks For The People", the halal steakhouse Picanhas' specializes in pincanha. Try the Queen of Steak (S$25). Each slab of steak is dried brined, slow-cooked, and then finished on the stove with binchotan butter. You will be surprised with its immensely rich flavor.
This steak is best paired with Sides (S$7 each) such as Cream Spinach or double-cooked Potatoes with sriracha mayo. Finish your sweet meal with the Crepe Butter Pudding (S$15.00).
Location: 90 Club St, Singapore 069458
[Disclaimer: 2023 may signify changes in the menus of the abovementioned eateries. Prices are subject to change.]