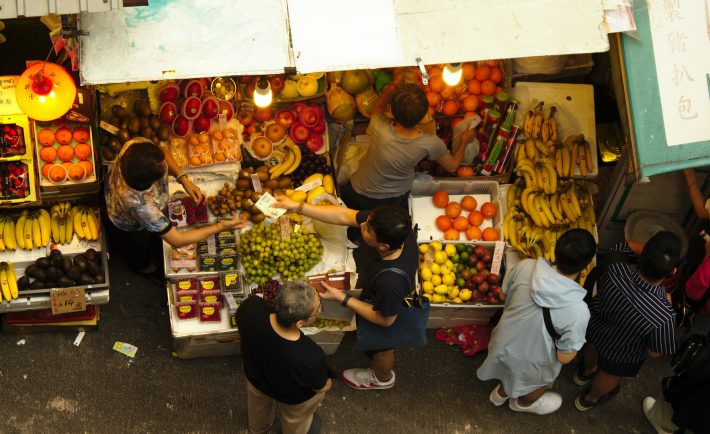 Just like the shopping centres and community parks, wet markets have been the glue that binds our communities together. Get the freshest and cheapest ingredients when you head down these wet markets early in the morning!
*Please note that the regulations in these wet markets are subject to changes to follow the COVID-19 restrictions. It goes without saying that your safety remains a top priority.
#1: CHINATOWN WET MARKET
The Chinatown Wet Market is one of the unique wet markets in Singapore as it stores exotic meats such as live frogs, eels, and turtles. It is situated in the iconic Chinatown Complex building. This market offers both the eccentric and familiar ingredients for your special recipes. After shopping, you can head upstairs to explore the meals sold by the food vendors. These vendors sell old-school Singaporean food like popiah, dumplings, and lor mee.
Location: Chinatown Complex, 335 Smith St., 050335
#2: TEKKA CENTRE
Tekka Centre is the largest wet market in Singapore with 284 stalls. Its wide space is home to fresh produce and dry goods for all kinds of needs. This market is haven for both food enthusiasts and fashion lovers. Nestled in the heart of Little India, the Tekka centre is a melting pot of diversity. Greet the vendors and ask for quality seafood. The centre is known for its famous Sri Lankan crabs!
Location: 665 Buffalo Rd., 210665
#3: CHONG PANG MARKET + FOOD CENTRE
The Chong Pang Market + Food Centre has captivated both the nearby patrons and the distant customers for several years. This wet market serves quality meats and produce as early as 5 AM. Apart from shopping, you may visit this place to get a satisfying digestive experience. The dozens of food stalls serve hungry residents until late at night. Try the famous Chong Pang Nasi Lemak while you are there.
Location: 105 Yishun Ring Rd., 760105
#4: ADMIRALTY WET MARKET
Part of the newly renovated premises at the Admiralty Place Neighbourhood Centre, the Admiralty Wet Market offers fresh ingredients for your daily meals. It is a short walk away from the Admiralty MRT Station. Its newly renovated premises features improved ventilation and lighting as well as a more efficient layout to enhance your shopping experience.
Location: Block 678A Woodlands Ave. 6, 731678
Singapore's wet market is one of the best places for bargain hunters. What are you waiting for? Roll up your sleeves and have an interesting experience with these four wet markets.