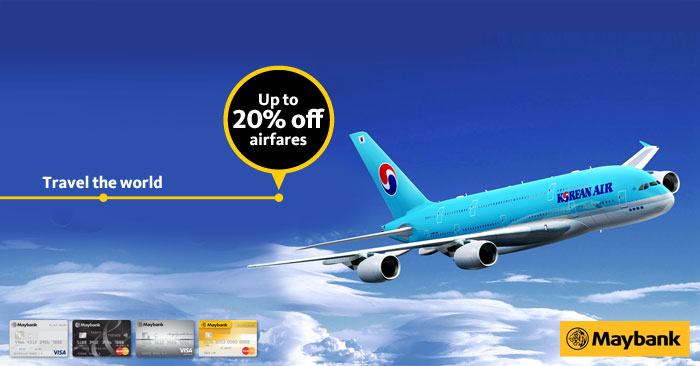 Travelling to a foreign country, no matter with your friends, family or by yourself, is truly an enjoyable affair where you can explore the world and discover yourself. Don't ruin your trip and the beautiful memories that come along with it by stressing yourself out when you find out that you spent way more than you should have.
Discover the best fares with Korean Air to some of the top destinations in the world.
If you are a Maybank Cardmember, you will be on your way to score the best deal with Korean Air — one of the top 20 airlines in the world.
From now till 28 February 2017, enjoy up to 20% off airfares to Korea, Americas, Japan and China when you pay with a Maybank Credit or Debit Card for travel period till 30 June 2017!
Visit www.koreanair.com or download Korean Air's mobile app to purchase your flight tickets. Then, input the following coupon codes at payment section under "Use Promotional Coupon" and pay with your Maybank Card.
"KEXMAYBANK10EY" for 10% off Economy class tickets
"KEXMAYBANK15PR" for 15% off Business class tickets
"KEXMAYBANK20FR" for 20% off First class tickets
Here are four travel tips based on four different travel destinations that can help you to stretch your every dollar and make the most out of your trip
South Korea
The first thing many travellers do when they touchdown at the airport is buy a SIM card so that they can remain connected to their friends and family back at home. At South Korea, you may skip this step and save up the money as Wi-Fi is readily available all over the country. Much like Singapore, free Wi-Fi is available at cafés, dining places and shopping malls. Simply ask the ajumma (auntie) for the Wi-Fi password and they will gladly give it to you. Alternatively, you may rent a pocket Wi-Fi at the airport for only $2.99 USD.
Japan
If you are planning to visit Tokyo, you will notice that there are two airports to choose from – Narita and Haneda. Instead of booking a flight to the more popular Narita airport, fly to Haneda airport instead as it is closer to the city centre. This means that the train ride into the city is not only cheaper, it is also faster. As Haneda airport is catered towards domestic flights, not many international flights land there. Fortunately for you, Haneda airport is one of the many destinations that Korean Air travels to and you will be delighted to know that it is applicable for the Maybank Card promotion.
Hong Kong/China
Hong Kong is often compared to Singapore in terms of its standard of living. This makes travel and accommodation in this city very expensive. Do buy an Octopus Card – the equivalent of an EZ-link card – while travelling on the train in Hong Kong as it is cheaper than purchasing a one-way ticket. If you wish to save on your accommodation, you may choose to stay in Shenzhen and take the train via Luohu port into Hong Kong. For $150 SGD a night, you may book a 5-star hotel in Shenzhen, whereas it can only get you a 4-star hotel in Hong Kong.
America
When travelling to America, the one thing you must do is hit the outlet malls and shop till you drop. However, these malls often require you pay an additional tax on the stuff that you buy, and you end up buying something that did not have much discount. Instead of heading to the popular and touristy malls, ask the locals if there are any tax-free outlet malls within the state. If you are a student, remember to bring along your student card with you while shopping as some shops do offer student discounts on top of the actual discounts. When deciding what to eat in America, do opt for family-owned restaurants as they sometimes offer discounts when you pay cash.