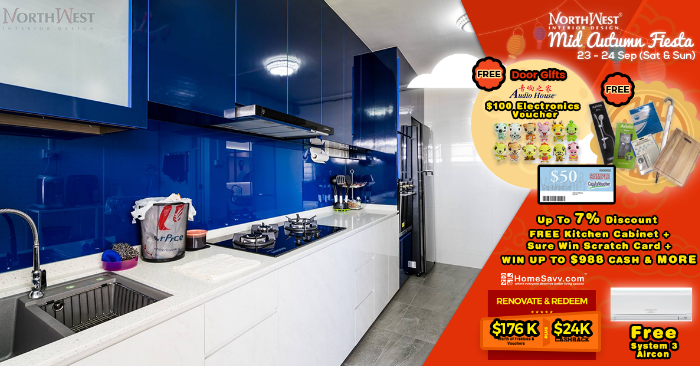 NorthWest Interior Designer < NEW Launch Premium Reno Package | Mid – Autumn Fiesta Exclusive Only > [ 23 Sep – 24 Sep (Sat – Sun) | 2 Days Only]
RSVP Today | Limited Slots (First-Come, First-Served): https://goo.gl/o3qa1j
Superb News To Homeowners That Are Looking For a Recognize and Reliable Interior Designer to renovate their dream home this year.
NorthWest Interior Designer is releasing their Newly Launch Premium Reno Package on 23 Sep – 24 Sep (Sat – Sun), 10am – 8pm.
===Additional Freebies====
FREE 4 in 1 Door Gifts (Yes! Receive ALL 4 items & vouchers!)
CapitaLand $50 Cash Voucher (Unlimited)
Audio House $100 E-Voucher (FIRST 200)
1 Set of 12 Zodiac Signs Design Lantern (FIRST 200)
Choose 1 Door Gift (Shower Head, Door Bell, Umbrella, Wooden Chopping Board & Mini Spray | FIRST 200)
===Additional Discounts===
Up To 7% Discount of Total Contract Sum (Rotate a wheel for 3 times and get 3 Lucky Numbers. The higher points you get, the higher DISCOUNT you RECEIVED!!)
===Sign Any Package & You Get===
FREE Mitsubishi System 3 AirCon + FREE 20FT Kitchen Cabinet + 15ft Wardrobe + 10ft Solid Surface Worktop & MORE (Total SAVINGS Up To $2000)
SURE-WIN Scratch Card (Up to $988 Cash Voucher)
Grand Lucky Draw: 1 x Mercedes Benz + $30,000 + $88,000 Cash
HomeSavv Reno Happy Hour: Redeem Your Preferred Gifts/Electronics Online, Worth Up to $176k Worth of Freebies & Vouchers + $24k Cash Rebate
Many More Mystery Gifts!!
Come and Join NorthWest Interior Designer <Premium Reno Package NEW Launch | Mid – Autumn Fiesta> 23 Sep – 24 Sep (Sat – Sun), 10am – 8pm
Showroom: Betime Building, Tradehub 21, Ark @ Gambas
RSVP Today | Limited Slots (First-Come, First-Served): https://goo.gl/o3qa1j