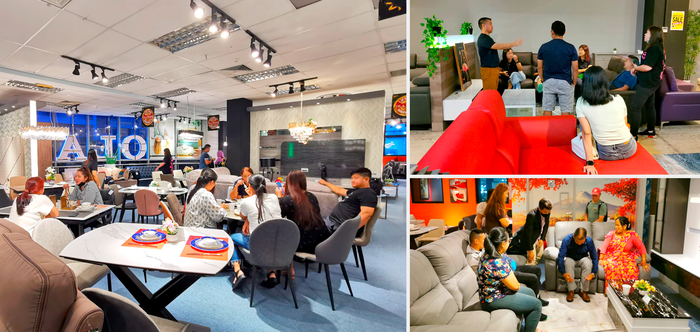 Attention to all furniture lovers! Looking for some amazing deals on high-quality furniture? Look no further than the upcoming midnight sales event at one of the most famous furniture showrooms in town — OLAHOME at 53 Ubi Avenue 3, #03-01, S408863. From purchase with purchase deals to storewide discounts, this event promises to be a shopping experience like no other.
OLAHOME offers a wide selection of sofas, dining tables, international branded mattresses, customised wardrobes, and other home furniture items. Customers can choose from a variety of styles and designs to suit their unique tastes and needs.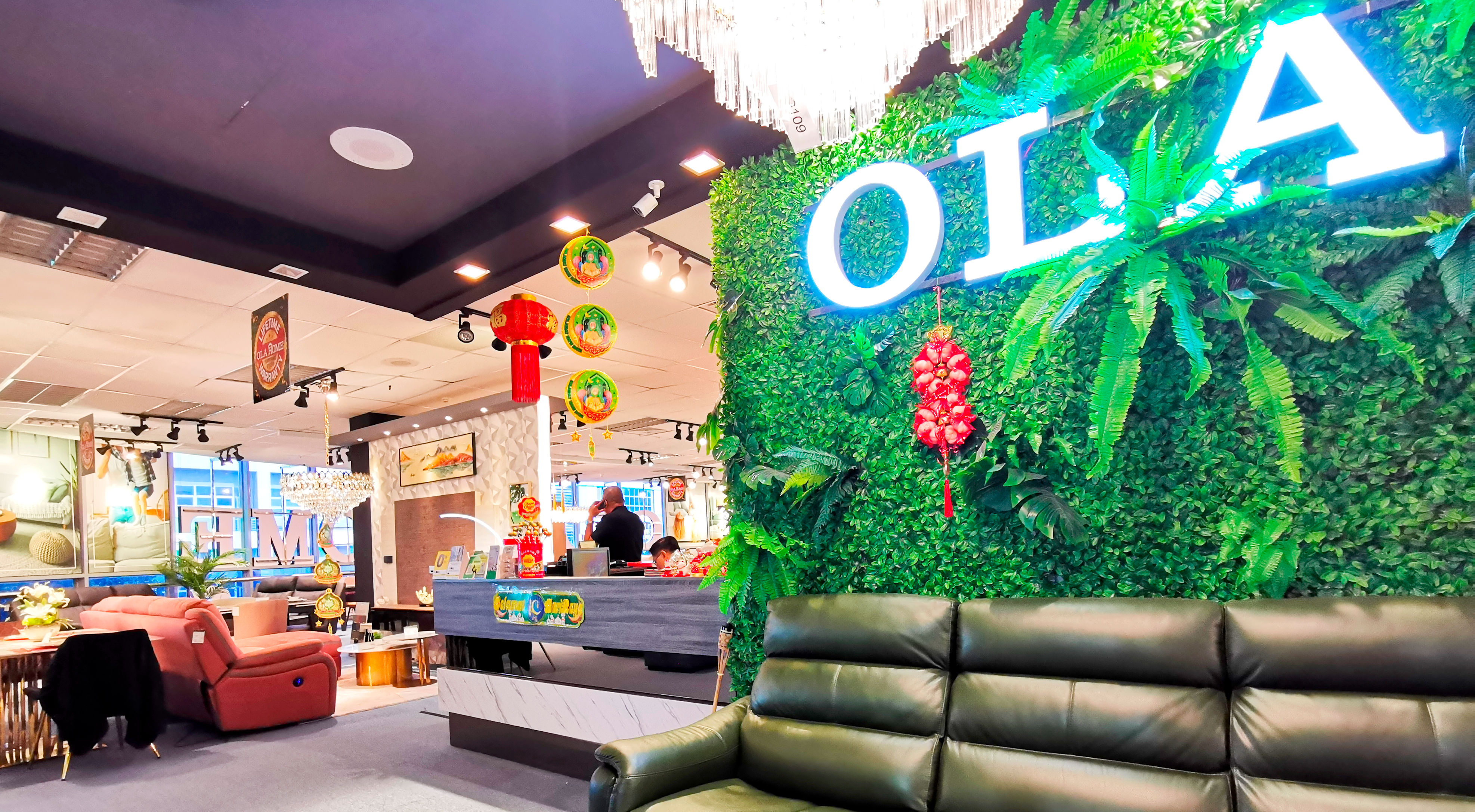 Buy a Selected 3+2 Sofa and Get a Free Coffee Table worth $499*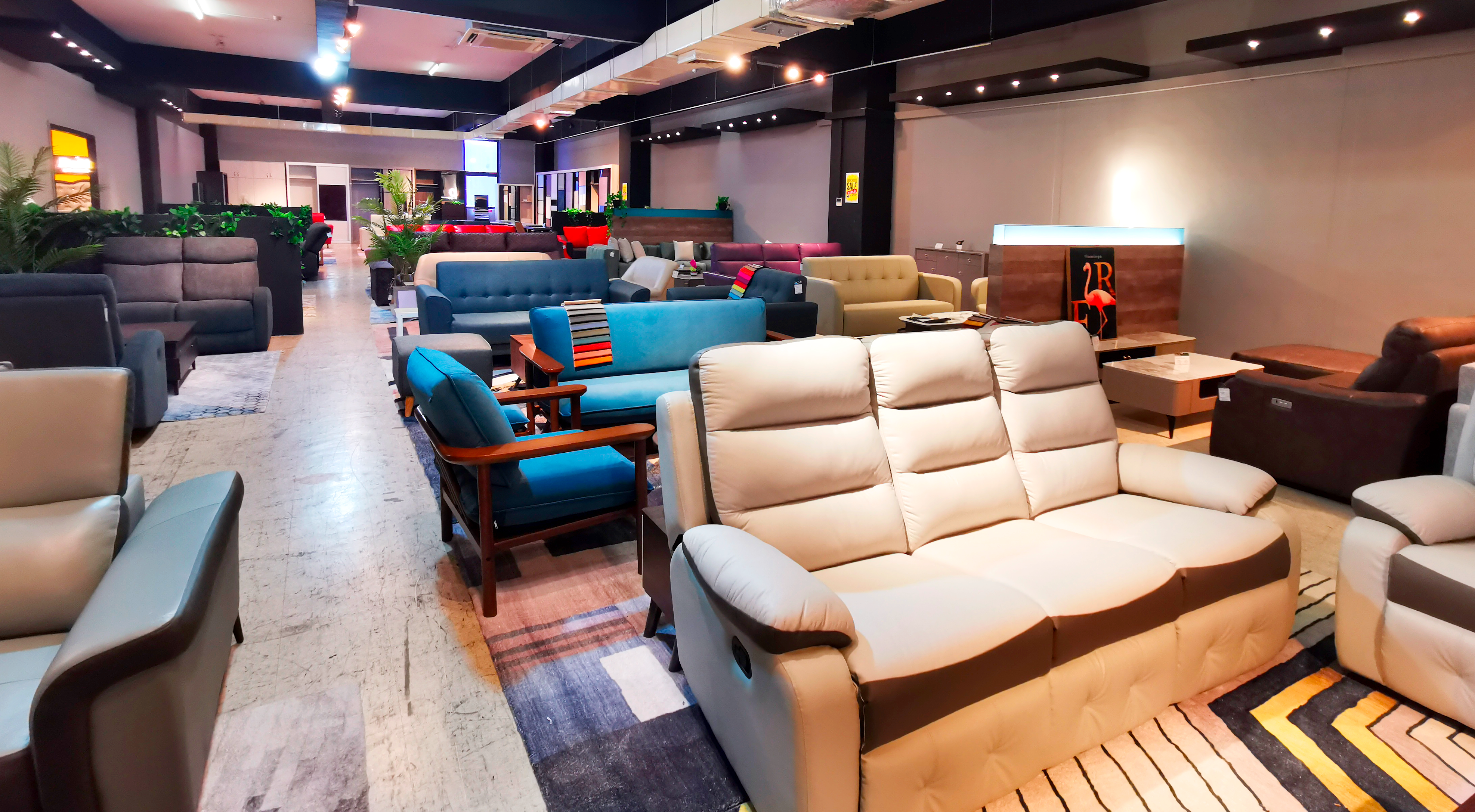 One of the best deals at the upcoming midnight sales event is to buy a selected 3+2 sofa and get a free coffee table promotion. This is a great opportunity to upgrade your living space with a stylish new sofa and matching coffee table, without breaking the bank.
In addition to amazing purchase deals and storewide discounts, customers who participate in the midnight sales event will also have the chance to win a recliner armchair in a lucky draw. This is a great opportunity to take home a luxurious piece of furniture that will add both style and comfort to your home.
Many Other Gifts and Prizes Included
The midnight sales event at the famous furniture showroom is not just about furniture deals. The event also includes a number of gift and prize giveaways, including an ice Cool Mattress Protector, Memory Pillow and Golden Cutlery Box. These items are perfect for enhancing your sleeping experience and improving your overall comfort.
SURE WIN activity during the 3 hours Midnight Sale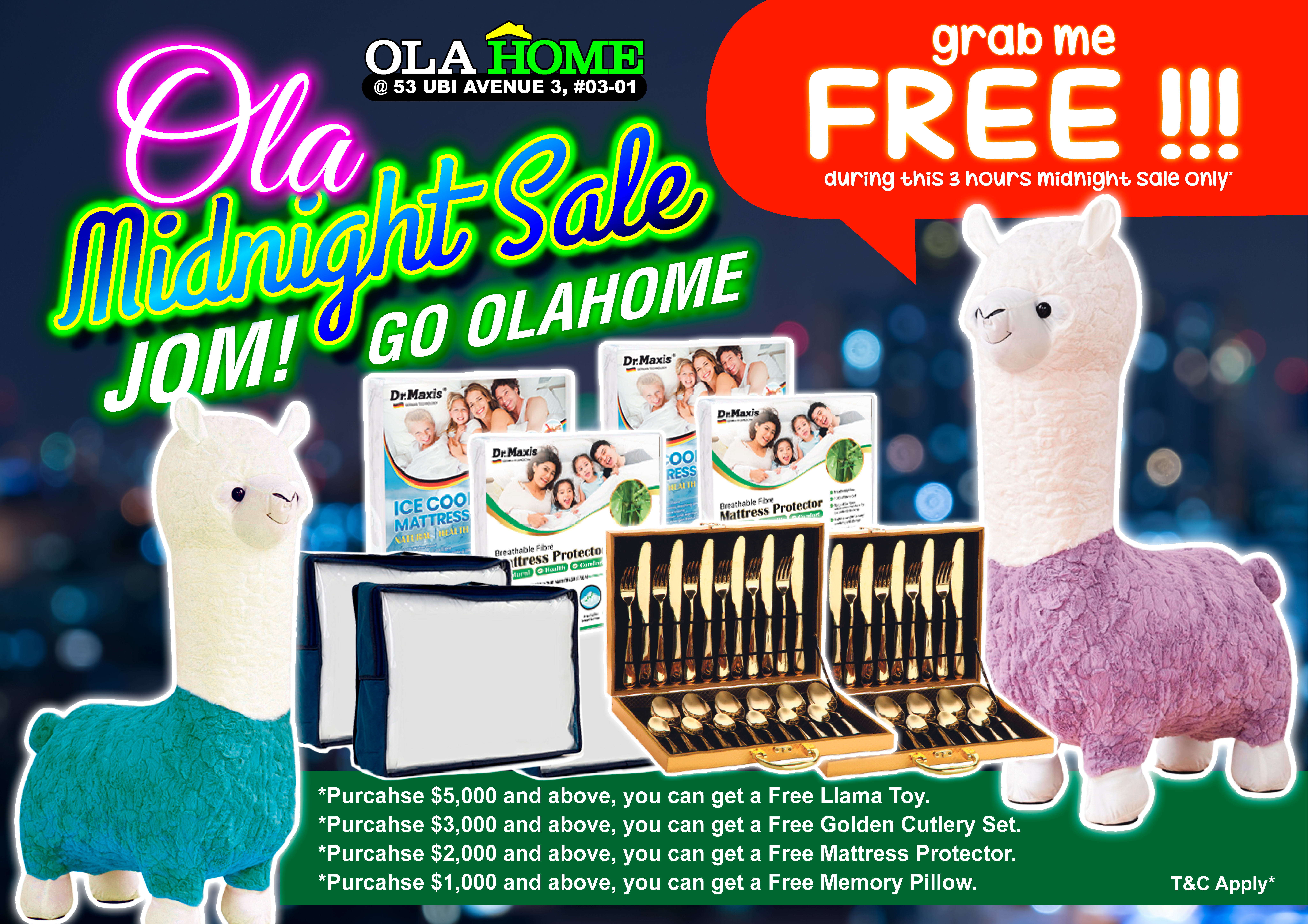 For purchases amounting to $5k and above, a cute llama toy is included as a bonus. A golden cutlery set becomes yours when you spend $3k and above. If you spend $2k and above, you'll receive a mattress protector. And for those who spend $1k and above, you can acquire a memory pillow.
Expert Staff and Wide Selection of High-Quality Furniture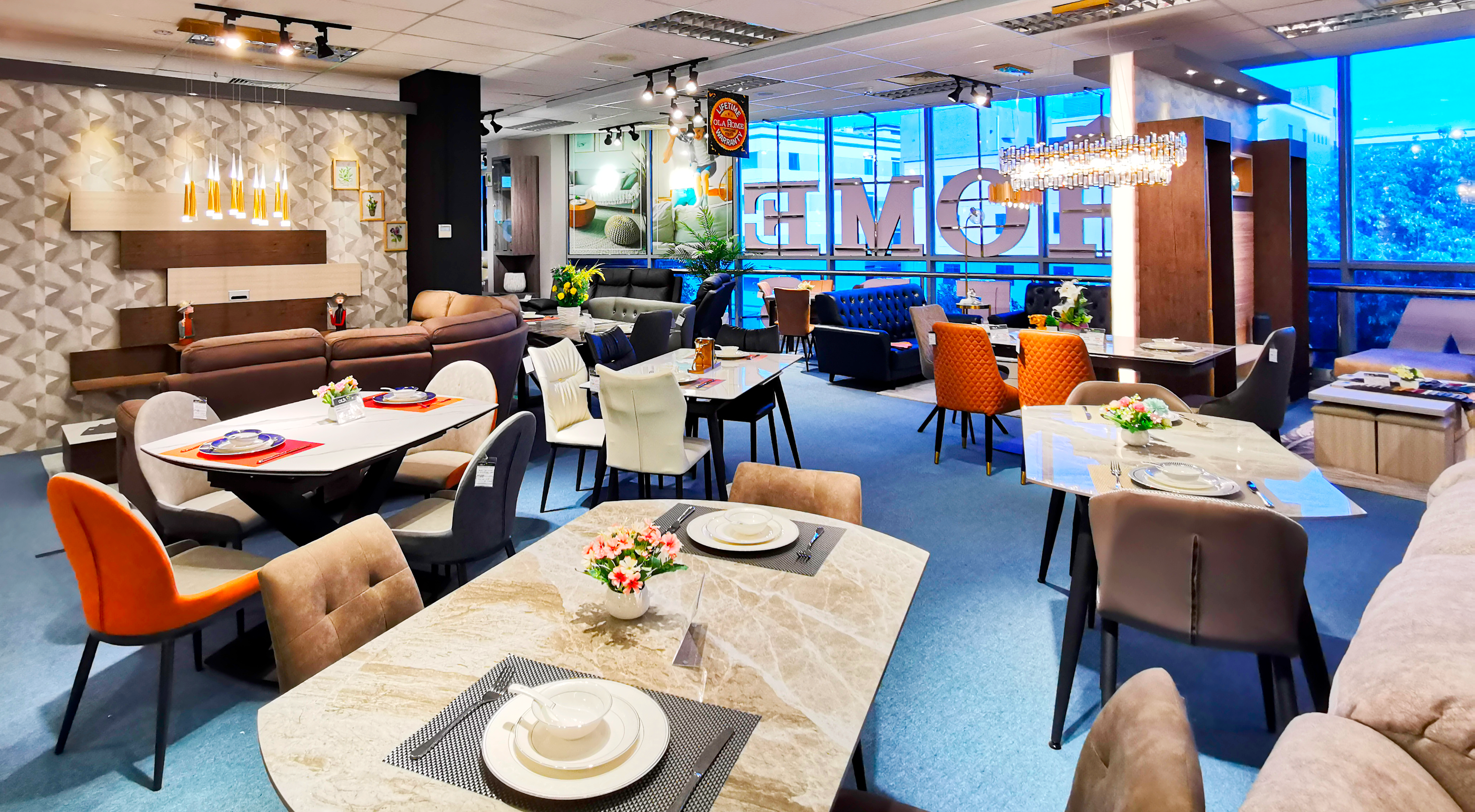 Aside from the amazing deals and prizes, the famous furniture showroom also boasts a team of expert staff who are ready to help you find the perfect furniture for your home. From classic and traditional to modern and contemporary styles, the showroom offers a wide range of high-quality furniture to suit your unique taste and needs.
The midnight sales event at the famous furniture showroom is designed to be a convenient shopping experience for all customers. With extended shopping hours, you can browse the showroom and take your time to make the right decision without feeling rushed. And with a team of knowledgeable staff on hand to answer your questions and offer advice, you can be sure that you will find the perfect piece of furniture for your home.
With 'Purchase with Purchase' deals, storewide discounts, and amazing prizes like a recliner armchair and ice cool mattress protector, the midnight sales event at the famous furniture showroom promises to be an unforgettable shopping experience.
So why wait?
Stand Chance to Win a Recliner Armchair worth $699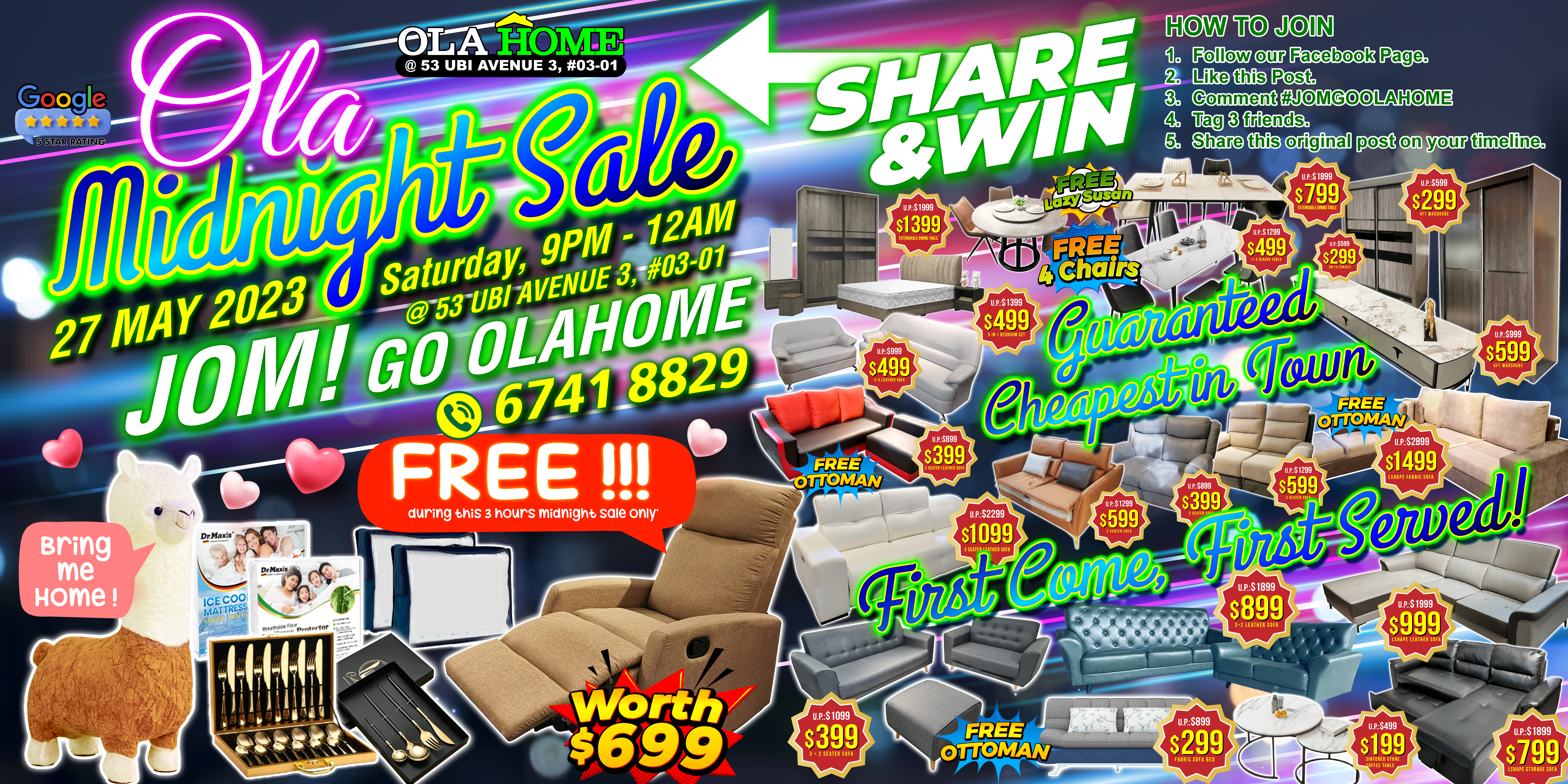 There's still a chance for you to walk away with a mystery gift. All you need to do is participate in the 'Like & Share and Comment' campaign by following these simple steps:
Follow OLA HOME Facebook Page https://www.facebook.com/olahome.ubi
Like the original post ( bit.ly/3MHTvkb )
Comment #JOMGOOLAHOME
Tag 3 Facebook friends
Share the original post ( bit.ly/3MHTvkb ) on your Facebook timeline
The giveaway runs until May 27th, 2023, at 9 pm. Lucky winners will be announced during the midnight sales Facebook live event.
EVERYTHING MUST GO!!!
All Cooling mattresses up to 80% OFF
All Hotel Series mattresses up to 80% OFF
All Designer bed frames are up to 80% OFF
All Storage beds & pull out beds up to 80% OFF
All sizes are available S/SS/Q/K
During the 3-hour sale, OLAHOME will reduce its prices substantially, providing customers with Massive savings. Additionally, OLAHOME is offering complimentary food and beverages, and also providing reimbursement for transport costs of up to $30. To claim the rebate, all you have to do is submit a receipt or screenshot of your Grab or Gojek, or TADA ride upon checkout.
Here are the benefits you can expect to enjoy:
GST waive guarantee only for special items*
Warranty up to 20 years*
Free delivery and installation* only for special items*
0% Interest Instalment Plan up to 12* Months!
FREE Taxi claim upon checkout*
Buy Now, Pay Later (GRAB, ATOME)*
T&C Apply*
Head over to OLAHOME's showroom on May 27th and take advantage of the amazing deals and prizes. Remember to participate in the 'Like & Share and Comment' campaign for a chance to win a mystery gift. And don't forget to bring your family and friends along to this exciting event!
$100 Voucher for you when make an appointment for the Midnight Sale
It is recommended that customers make an appointment ahead of time to avoid any inconvenience due to overwhelming responses during the event. And you are able to grab a free $100 Voucher from OLAHOME.
Date: 27 May 2023 (Saturday)
Time: 9pm to 12am
Venue: 53 Ubi Avenue 3, #03-01, S408863
MAP: https://goo.gl/maps/JH8MammsKxZFVR6h9
PM for Facebook appointment
https://www.facebook.com/olahome.ubi
WhatsApp Appointment:
Edi Fairuzi +65 9090 3234
Bonnie +65 8692 2673
ZACK +65 9685 3693