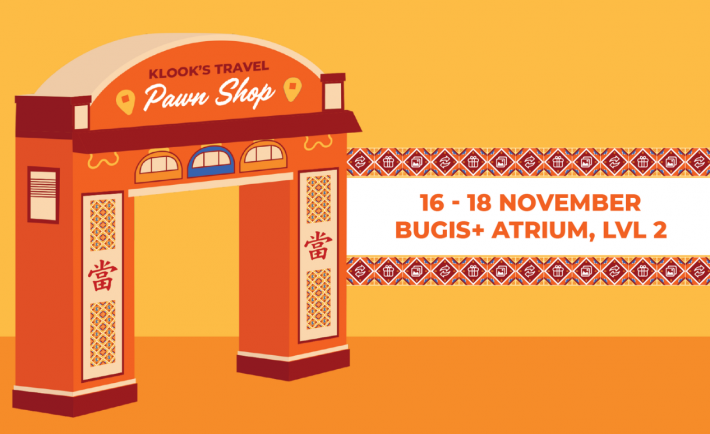 Klook, a world-leading travel activities and services booking platform is launching their first-ever Travel Pawn Shop! A unique concept by Klook, it is driven by how millennials store most of our travel memories on social media platforms, like Instagram and Facebook. With the understanding of how important experiences are to travellers, Travel Pawn Shop aims to bring Singaporeans closer to their perfect holiday!
A modern twist compared to traditional pawn shops, Klook's Travel Pawn Shop does not require any monetary or valuable items as collaterals but just your travel memories. Yep, all you have to do is exchange your old travel memory, in the form of a picture, from your past trips, for a new experience for your future trip! There is no hidden gimmicks so if you have been eyeing an activity overseas which you have been wanting to do, you may now get a chance to do so for free if you attend Klook's Travel Pawn Shop! Besides pawning your memories, there will be other activities for visitors to look forward to which you can find out more below.
Entering Klook's Travel Pawn Shop
Klook's Travel Pawn Shop will be held from 16 – 18 November at Bugis+ Atrium. To enter the Travel Pawn Shop, one would have to post a travel memory on Instagram or Facebook with the hashtag #klooktravelpawnshop. The travel memory would serve as an entry ticket, which can be exchanged for a pawn shop ticket for Travel Pawn Shop which look like this: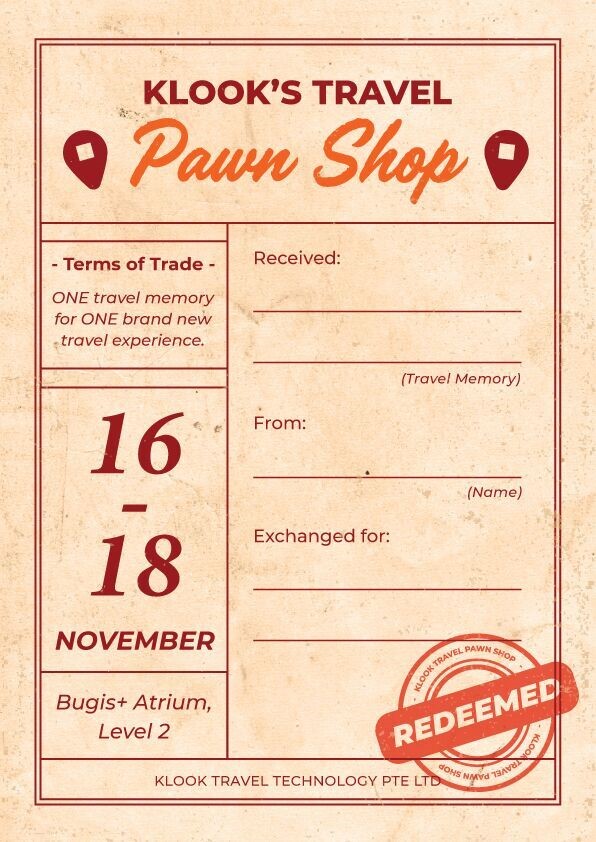 Upon entering the pawn shop, travellers would get a chance to choose an experience from the shelves from Japan, Korea, Thailand, Taiwan or Hong Kong! For those who are going to other countries besides the ones listed above, do not fret as Klook is also offering the option to select Klook credits for its travellers that can be used at any of Klook's 250 destinations!
Klook will be giving away 10,000 experiences over the course of 3 days at the Travel Pawn Shop, and experiences ranges from Go-karting down the streets at Akihabara in Tokyo, cooking classes in Bangkok to exploring the streets of Jiu Fen in Taipei! I mean, there is just something for everyone so just go take a look!
Other Activities
If Klook's Travel Pawn Shop is not enough to get you down to the event, there will also be other travel offers to look forward to. Klook would also be conducting hourly flash deals on 17 – 18 November from 2-6PM where visitors would be able to score deals on activities such as Universal Studios Japan, Everland, Ocean Park and more! Furthermore, buying from Klook is quick and easy and do not require you to queue most of the time at the attractions, so if these deals are not up your alley, I wonder what is!
Besides hourly flash deals, an "Ask Klook" booth will also be on site where visitors who have questions on activities which Klook offers can approach the staffs. They will also be providing travel advice if you need them, so be sure to ask.
Lastly, for those who are already on Klook, and would like to refer a friend, do head over to the "Bring A Friend" booth at the event, as both of you can each receive $10 vouchers!
Klook's Travel Pawn Shop
Date: 16 – 18 November 2018
Time: 10:00AM – 10:00PM
Venue: Bugis+ Atrium, Level 2, 201 Victoria St, Singapore 188067
For more information on Klook's Travel Pawn Shop pop-up event or to book an experience, visit Klook's Facebook event, or Klook's Website.